Overlooking Hamilton Harbour, the 18-storey Ken Soble Tower is a building with a long list of problems including a deteriorating envelope, lack of insulation, inadequate ventilation, and end of life systems.
During the next two years, however, the 50-year-plus concrete rental apartment tower will be given new life.
Its rebirth may set the stage for the conversion of similar apartment housing stock of the same vintage and era.
The transformation of the CityHousing Hamilton-owned building at 500 MacNab Street North is considered to be the first Passive House retrofit of an existing residential tower in North America.
The building which is currently unoccupied, will be converted into a sustainable, energy-efficient and comfortable structure with new amenities.
Project highlights will include the installation of a R38 overcladding consisting of a high-performance rain screen system and rock wool insulation, plus Passive House windows, a centralized HVAC system, and a modernized ventilation system with new air handling units and direct ducting into the suites.
Other work includes the building of a new community room and solarium, plus accessibility and interior upgrades.
Project lead is ERA Architects Inc. Its consulting partners include CityHousing Hamilton, mechanical consultant Reinbold Engineering Group, structural and building science consultant Entuitive Engineering, and Passive House consultant Trans Solar which is based in Germany where the energy standard was pioneered.
Other partners are Canadian Passive House consultant JMV Consulting and electrical consultant Nemetz (S/A) & Associates Ltd.
PCL is the construction manager. The project will begin with a selective, highly coordinated (and just-tendered) removal of the outdated mechanical, plumbing, ventilation, and other systems and installing modernized ones in both the tower and a three-storey adjacent annex.
"It will be total upgrade," says ERA associate Ya'el Santopinto.
Improving accessibility in the 146 units is one of the project's key social goals.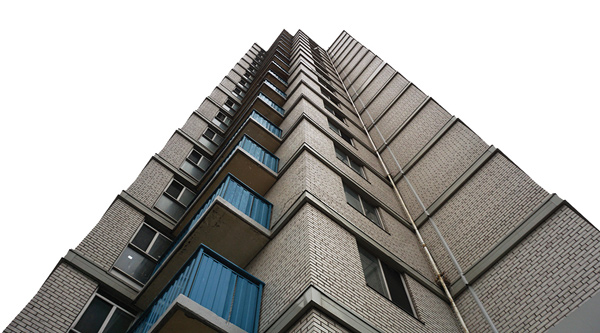 Where that converges with energy performance targets is a plan to chop off the tower's concrete slab balconies and replace them with Juliette ones.
An interior step limited accessibility to the old balconies. Removing them will also help eliminate thermal bridging, says Santopinto.
Although there are more than a few project hurdles, the building will consume 70 per cent less energy and reduce greenhouse gas emissions by more than 90 per cent when construction is completed in 2020, she says.
Designed to the specific Passive House category known as EnerPHit, the Ken Soble Tower project could be the standard-bearer for refurbishing thousands of post-World World II apartment buildings across the country, adds Santopinto.
"Those building are structurally solid, but their mechanical systems are on the brink of failure or are severely distressed, their envelopes are failing, and they are poorly insulated."
ERA became involved in the project about two years ago when it conducted a feasibility study for CityHousing Hamilton. It then started design in the fall of 2018 after the agency gave the project the green light, says Santopinto.
As the tower has been designed to attain Passive House accreditation, the design had to be approved by a third-party certifier. A similar audit process will be conducted at the end of construction, she says.
The architect credits Reinbold Engineering for its "nimble, creative approach" in addressing the numerous design and mechanical issues.
Passive House is intended to reduce the total load within each space of a building to the point heating and cooling can be delivered using only ventilation supply air conditioning.
Reinbold's focus was on the development of "a semi-centralized energy recovery strategy", says associate Cara Sloat.
"We are reusing the existing supply and return shafts for refurbished or new ductwork."
And within each unit will be variable air volume boxes which enable tenants to control the temperature, she says.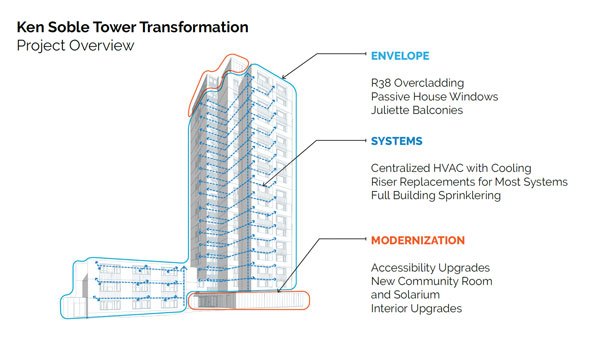 One of the issues Reinbold had to grapple with the fact that Passive House doesn't take into account Ontario's high humidity levels.
The active cooling solution was the design of a variable refrigerant system connected to the semi-centralized heat recovery system, says Sloat.
Passive House is a very airtight and highly thermally insulated standard and, as such, achieving balanced ventilation and ensuring there are no uncontrolled wall penetrations will be critical during construction.
Other challenges for the construction manager and subtrades will be ensuring the wall assemblies are seamlessly reassembled when the new mechanical and other systems are inserted, Sloat says.
The history of the project goes back to 2016 when CityHousing Hamilton began assessing whether it should retrofit or sell the tower which is the oldest highrise in its 7,000-unit housing inventory, says its senior development project manager, Sean Botham.
Rather than embark on a series of piecemeal repairs, staff recommended the non-profit agency's board of directors "take a step back and take a holistic look," and that eventually led to the decision to approve a Passive House conversion, says Botham.
New accommodation was found for the occupants.
The tower, which had been occupied by single people under 60, will be repurposed for seniors' housing. But none of the previous tenants will be denied reentry if they qualify, he says.
At this time project costs are not being revealed as some value engineering is underway. However, it will be approximately half the cost of new construction.
The agency was able to secure a Federation of Canadian Municipalities Green Municipal Fund grant and loan, Botham says.
The Ken Soble Tower project will not be a one-off. CityHousing Hamilton has embraced Passive House for the redevelopment of two 91-unit townhouse complexes and five new buildings, all of which are in different stages of planning, he says.
Passive House is being used extensively by the European Union and cities such as Vancouver and New York and "the thought was why not Hamilton?"