Addressing the critical issue of climate change requires taking action on a number of different fronts including full-scale adoption of technologies which don't provide an immediate payback, says the principal and founder of an architectural firm which specializes in low-carbon design.
Unfortunately, not enough action is being taken, says Sheena Sharp of Coolearth Architecture Inc., the co-designer of the Mount Dennis Childcare Centre, the City of Toronto's first Net Zero facility.
"We seem to be put in two camps, continue life as-is based on fossil fuels and destabilize the planet or change our economy to stabilize it."
A strict overreliance on building code regulations to drive change and not installing or even considering equipment, components, or technologies with cost recoveries longer than a "five year payback" define the first option which is basically the status quo, she says.
The second path, and one which is needed if Canada is to honour its commitments under the 2015 Paris Agreement on Climate Change, is to embrace technologies and measures which would help reduce or even eliminate a dependency on fossil fuels.
Many of those measures are uneconomic — which means the savings will not pay for the costs, or at least not right away.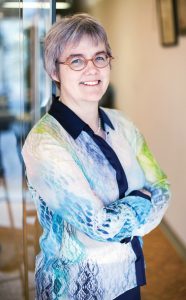 "If they did, we would not be having this conversation. People would just be doing what needs to be done."
Some of the targets developers and the construction industry, including mechanical and electrical engineering professions, should be aiming for is ensuring that new buildings are designed and constructed to be super energy-efficient and that every existing building in Ontario be renovated within the 35 years —"most in the next 11 years"— to meet that same level.
Still other strategies include striving for much smaller energy loads, higher insulations, and increased air tightness, says Sharp, adding that the mechanical consultants "must work hand-in-hand," with architects on envelope design.
In the United States, the Army Corps of Engineers requires air tightness testing on federally owned buildings ranging from office buildings to aircraft hangars. Sharp predicts it's only a matter of time before that becomes mandatory in Canada for both public and private sector buildings.
"We test every batch of concrete on a construction site. Why can't we do it for air tightness?"
Another environmental approach is offsetting loads and being reimbursed for it — which is not really a new concept and is already being implemented by some property owners and managers in co-operation with local utility companies.
For example, businesses with critical refrigeration requirements such as warehouses, grocery stores and food storage depots can decrease temperatures at night when overall energy demand in a city or region is slack. During the day they can ease on their energy use because their products will remain safe even as temperatures rise within the premises.
"Buildings and the (electrical) grid can work together. We have the technology," says Sharp, citing, as examples, geothermal, heat pump, and pre-warming/precooling systems such as ThermoDeck, which incorporates ductwork in hollow core slabs.
Not to be overlooked, however, is the impact that smaller units such as desk computers and refrigerators can have on building performance.
"Occupant equipment is the last frontier," says Sharp, who is the owners' representative for the Ontario Association of Architects' Net Zero carbon renovation of its Toronto headquarters.
Included in the soon-to-be-completed project has been the replacement of desktop computers with more energy-efficient laptops. But there was one item which wasn't immediately considered.
"We were missing our energy targets," says Sharp, pointing out the cause was determined to be a 20-year-old commercial refrigerator.