The ownership team undertaking a $13-million restoration of Hamilton's iconic seven-storey Westinghouse building is being rewarded for its risks at almost every turn, says project owner Meir Dick.
The founder and CEO of Electric City Developments comes from the startup sector and says a significant goal of his is to fully respect the original beauty and social purpose of the 102-year-old structure, located on Sanford Avenue off Barton Street in east Hamilton.
Everyone in that part of town knows the stately former Canadian headquarters for electrical manufacturer Westinghouse Company, built in 1917 to reflect the leading-edge status of the electrical firm, and when Dick decided it was time to tackle a rebuild, he found ample support among his fellow members of the Barton Street Business Improvement Area.
The plan is to create 80,000 square feet of Class A commercial space in a building that was left fallow in the 1990s.
"I bet you this building will still be here after all the buildings that are being built right now," said Dick during a recent site visit. "Westinghouse built this with a world-class architect to reflect their industrial pride, this was built like a rock. This building has such a magnetic force around it. Anyone I talked to about taking on the Westinghouse building, people came from everywhere wanting to be a part of it."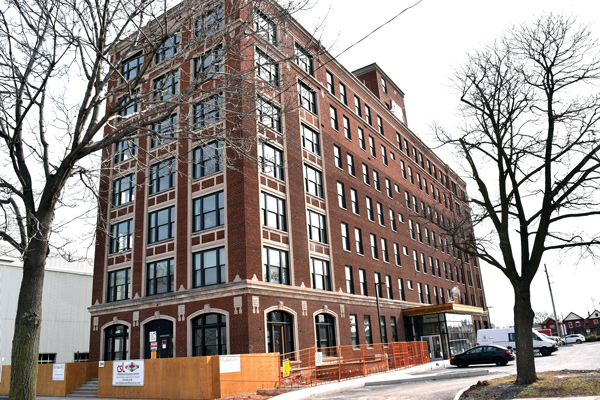 Dick believes Electric City and its partners are inheritors of Westinghouse's legacy as innovators — for example, in 1893, Nicola Tesla, then a Westinghouse employee, advised on the design of the technology that was installed to harness the hydroelectric power of Niagara Falls.
Dick said he is looking for tenants such as architects, the creative sector and other professionals "at the top of their game" who will be inspired by features such as giant steel trusses, grand windows, exposed terra cotta insulation, marble mosaic tile and plaster crown moulding that the original designers Prack and Perrine incorporated into the structure.
McCallumSather is leading the restoration design and the firm has set up new offices in the second floor, taking up shop in January. In a statement, the firm's CEO Joanne McCallum said, "We were so impressed with the building's bones and its strong roots to the community that there was no doubt we wanted to play a role in its transformation."
Dick said the fears that come with gutting interiors have largely dissipated, replaced by happy surprises, such as when contractors tore up substandard flooring and uncovered the marble tile, and when teams attacking the main-floor auditorium found cedar flooring.
"We had this garbage tile on the ground floor, and we said it's got to go, and then we looked at the historical photos and saw the mosaic tile and said, what are the odds it is still there, preserved under this, so that is where we got really lucky. We get the original flooring from 1917," he recalled.
Dick sees the main floor of the new Westinghouse HQ, as the development is called, serving as a community hub with pop-up art galleries and concerts scheduled for its open spaces and there may even be picnic baskets available for neighbours who might want to enjoy the adjacent Woodlands Park. The firm Equal Parts Hospitality has been hired to explore programming.
But the restoration itself has not been a complete picnic.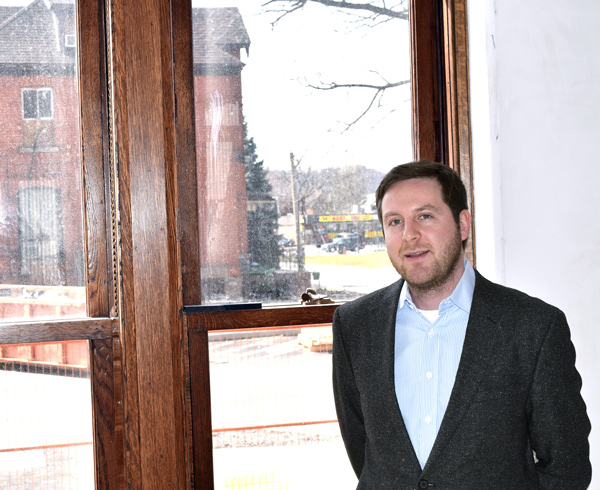 "Trying to get a fully compliant accessible elevator into a shaft that was built 100 years ago meant we had to extend the shaft," said Dick. "With concrete floors and steel columns, you are working within constraints."
The facility has 360 windows, many with deep window wells. Windows were either replaced with heritage-quality Pella wood units or, in the case of the large ground floor windows, restored to their original state by local conservation firm Heritage Mill. The total bill for the windows alone was $1 million.
"When you see how the construction was done and the attention that was paid to these grand windows, and to the lobby entranceway, this was not built merely as a corporate headquarters, it was built as a palace for Westinghouse," said Dick.
The developer itself is not seeking any specific sustainability targets, said Dick, though McCallumSather on the second floor is hoping to achieve LEED Platinum.
Rather, he explained, Electric City is aiming to proceed ambitiously with such features as light sensors, photovoltaics on the roof, a high-efficiency heating and cooling system and electric charging stations and see where they stand as the project approaches completion.
Other firms working on the project are contractors CSL, Designs by Dall and RDH Building Science.
Work on the restoration began in January 2018 and Dick expects features such as a new vestibule and the revamped elevator system to be completed by the end of April. The first four floors have pretty well been spoken for with tenant office buildouts now taking place.
The whole project should be wrapped up in 2020.