No stranger to adaptive reuse of buildings, the Waterloo, Ont.-based firm of Edge Architects is marrying the old and the new on an ambitious office redevelopment project in downtown Kitchener.
The project encompasses restoration of the former, century-old Huck Glove factory, the addition of three storeys on top of the building and construction of an adjacent six-storey addition.
All told, the redevelopment will accommodate 145,000 square feet of office and commercial space with ground-floor retail.
The project is being spearheaded by developers Momentum Partnership and KingSett Capital. Zehr Levesque is providing construction management services. LEED Silver is being targeted.
Edge Architects said the development will function as "an iconic feature" of a master plan that includes three residential condo towers and a private pedestrian-focused street moving through the site.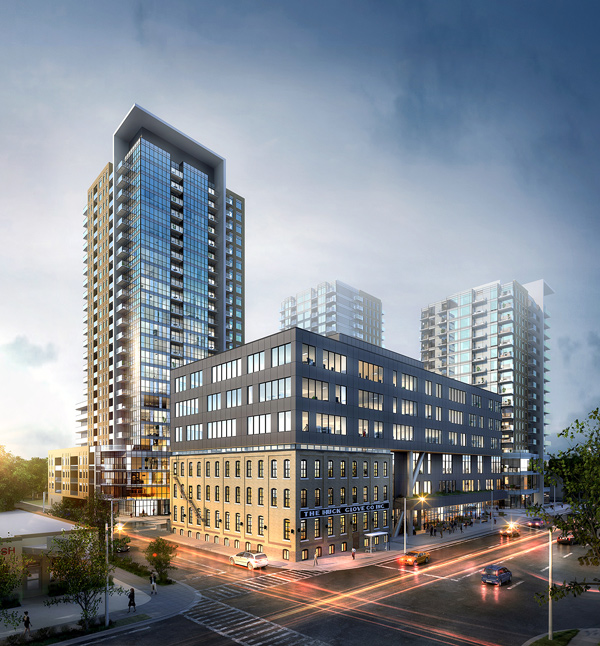 A building permit has been issued for the Huck Glove redevelopment project, now called GloveBox, at 120 Victoria St. S. in the heart of the city's innovation district.
Matt Bolen, a principal in Edge Architects, said via email that construction is expected to get underway sometime this spring although the schedule has not yet been finalized.
The project team includes GSP Group (planning and landscape architecture), WalterFedy (civil engineering), Jablonsky, Ast & Partners (structural engineering), DEI & Associates (mechanical and electrical engineering), Ecovert (LEED consulting) and McCallum Sather (heritage consulting).
From a design perspective, Bolen said one challenge was maintaining the quality of the inner streetscape concept of the three-storey atrium space that links the old and new portions of the development.
In terms of restoration of the former brick and beam factory, Bolen said the existing wood floor structure will be used as a permanent formwork for a new structural topping.
"This will allow the existing structure to accommodate the required structural loads…of a Class A office building," he said.
Once ground is broken, close attention will have to be paid to the co-ordination of cranes onsite, which also includes the three-tower Garment Street condo project.
"Also, LEED certification will add a layer of complication to all aspects of this office building's construction," he added.
Since it was retained to design the GloveBox project, Edge Architects has been working in close collaboration with ABA Architects, which designed the condo towers.
Edge's previous reuse projects include the conversion of a three-storey building on Gaukel Street in downtown Kitchener, originally constructed in 1890, into office space.
As part of the 25,000-square-foot project, the existing brick and beam warehouse shell was restored and the interior renovated.