The photo is black and white, a bit grainy, frayed at the edges, torn in one corner.
It's from 1963 and shows a construction worker in soiled clothes, wearing a hardhat, gloves and toolbelt, walking along a six-inch-wide steel girder on a tall building high above downtown Toronto.
Another picture, this one from 1965, shows a worker using a drill on a column at the edge of the Toronto Dominion Centre. A third, from 1967, shows a number of construction workers resting insouciantly on some steel supports a couple of storeys up at an unfinished arts centre in the city.
The snapshots, taken by staffers of the now-defunct Toronto Telegram, are part of a City Builders research and public history project associated with The Robarts Centre for Canadian Studies at York University.
The project is a multi-media venture that aims to record the history of immigrant construction workers, particularly the Portuguese, Italian and Irish, who built Toronto and their labour organizations after the end of the Second World War.
It offers a fascinating glimpse into the working experiences of Toronto's immigrant construction workforce in the post-war period. The project is funded by the Labourers' International Union of North America (LIUNA) Local 183 and the Mariano A. Elia Chair in Italian Canadian Studies.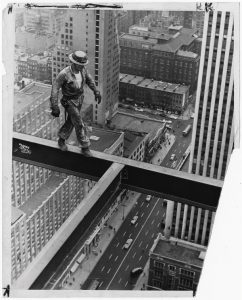 Dr. Gilberto Fernandes, post-doctorate fellow at the Robarts Centre, who's been working with a team on the project for nearly two years, says the legacy of the immigrant workers is visible in the buildings, bridges, subways and roads they built, but little of their history is documented.
"I started looking into it and found that construction has such an incredibly rich history. I'm also motivated by the fact that there's been very little written about it from a historical perspective," he says.
"It's such a complex industry with so many different trades and sectors and unions, which makes it difficult to tackle, but there's so many different stories to tell and so many ways to tell them."
Originally, Fernandes had proposed a 15-minute documentary and several short videos but soon found that wouldn't be enough.
"There was so much there I wouldn't even know how to start a 15-minute documentary," he describes. "I felt like I would be doing such a disservice to this history which has been outrageously understudied."
The project quickly evolved into a two-part documentary with approximately 19 short oral history videos featuring retired construction workers and union members.
The videos, along with text, infographics, film footage, audio recordings, newspaper clippings, interactive digital maps, timelines and other archival records are posted on the www.toronto-city-builders.org website.
More than 3,200 photos have also been digitized from the Toronto Telegram archives with the Clara Thomas Archives and Special Collections.
The first documentary focuses on a campaign in the '60s and '70s, led by labour activist and LIUNA Local 183 founder Gerry Gallagher, to improve workplace safety legislation in Ontario.
The second focuses on a labour organization of Italian immigrant workers in the residential construction sector that was led by Bruno Zanini, a petty criminal and aspiring opera singer-turned-labour organizer, and Scottish immigrant Charles Irvine, who organized the Brandon Union Group with other trades.
The group engaged in two major strikes in 1960 and 1961 — the latter being one of the largest and most violent in the city's post-war history.
A travelling multimedia exhibit with artifacts and extensive augmented reality digital content highlighting the contributions made by the immigrant workers has also been developed and was featured at the Columbus Centre in North York in March.
Fernandes got involved in the project as a result of his research into the migration and spread, or diaspora, of the Portuguese in Canada and the U.S.
He is a historian of migration, race and ethnicity in North America who graduated from York's PhD program in history in 2014 and, as he investigated further, found that construction was a big part of that history.
"In my previous research on the community, I didn't have a chance to look into the construction industry connection just because I was asking different questions, but it's such an important part of that community's history and vice versa that I felt I had to look into it," he states. "It made total sense to look into the construction industry. How could I not?"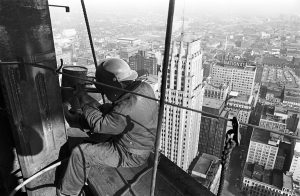 Fernandes says the Portuguese and Italian communities were often marginalized in the mid-part of the 20th century and the construction industry offered a venue for them to respond collectively and make their voices heard on issues of social justice and equal rights.
The biggest surprise from his research?
Fernandes says he was taken aback at the lack of safety precautions and the number of deaths that resulted from construction in Toronto. His research confirmed 241 construction workplace deaths from 1950 to 1979.
"The human costs of building this city is incredibly high. That would be the one that is the biggest takeaway for me and hopefully it's the biggest takeaway for anybody looking into this history," he says.
"I hope that Torontonians realize that."
Fernandes also figures the death rate in construction was actually much higher as those reported are just the ones recorded in news reports and don't include workers who died after an incident or from a long-term occupational illness from exposure to asbestos, for example.
He suspects many deaths were also never reported because it was just the nature of the industry, especially in the residential sector.
"These men were just fodder. Nobody cared. There were 100 other men to take that job."