TORONTO — Oxford Properties Group has unveiled initial drawings and plans for a four-acre, 4.3-million-square-foot mixed-use project to rise in downtown Toronto that it says will be the largest in the city's history.
The $3.5-billion project, billed as Union Park, will feature 3.3 million square feet of office space across two towers, approximately 800 units of residential rental apartments and 200,000 square feet of retail, stated a June 26 release.
The development will be situated north of the Rogers Centre and the CN Tower. Oxford said it also intends to develop a two-acre urban park on top of the Union rail corridor in conjunction with several partners. Isabella Valancy Crawford Park will be upgraded and the PATH system will be extended west from the Skywalk to Peter Street.
Union Park was designed by Pelli Clarke Pelli Architects, designers of the International Finance Centre in Hong Kong and the Salesforce Tower in San Francisco, with support from Toronto's Adamson Associates, the executive architect for Canary Wharf in London and The Stack in Vancouver.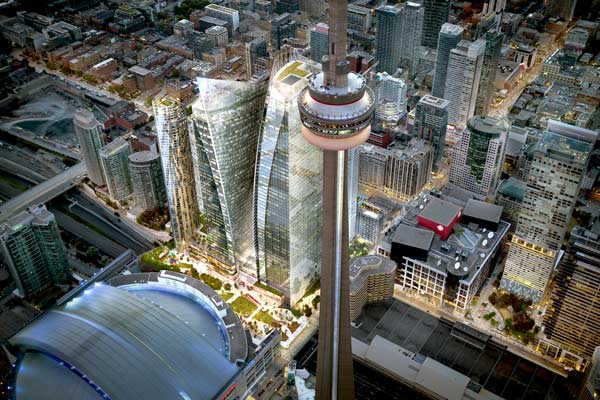 The urban park over the Union Station rail corridor, spanning between Blue Jays Way and the John Street Bridge, was designed by OJB Architects.
The two office towers are targeted for 58 and 48 storeys with 1.8 million and 1.5 million square feet of space respectively, while the residential towers will reach 44 and 54 storeys.
The development is expected to create 22,000 construction jobs. The developers are aiming for LEED Platinum.
Oxford Properties is the development arm of OMERS, the Ontario Municipal Employees Retirement System.
"This is a transformational project in one of the most exciting development nodes in Toronto," commented Eric Plesman, executive vice-president of North America, Oxford Properties, in the statement. "Befitting its status as one of the largest redevelopment projects in North America, and the largest in Toronto's history, Union Park will feature world-class design from a globally renowned architecture team."