Among 12 Ontario projects that have earned LEED certification since July 1, the fit-out of the 11th and 12th floors of Menkes' 35-storey One York office building to accommodate the new Canadian headquarters of BentallGreenOak was almost a case of gilding the lily.
One York, completed in 2016 and later certified LEED Platinum, already has the distinction of being the top ranked LEED project in all of Toronto — scoring 89 out of 110.
Part of a multi-use project that includes 1,313 condo units in two other towers as well as retail, public spaces, a four-level underground parking garage with nine electric vehicle charging stations and 12 car-share spots, One York has also achieved other recognition from such programs as Fitwel and HOOPP Leap Forward Pitch — in fact it's the highest rated Fitwel office building in the world.
But for BentallGreenOak, a globally active real estate investment management adviser with more than 750 institutional clients, there was no question that its new offices would be built with ultimate sustainability and wellness in mind.
"We, generally speaking, certify all of our buildings, especially on the office side," explained Keith Major, managing partner, Canadian office and industrial services for the firm.
"If you are going to ask your clients to do it and it is the right thing to do, you might as well step up and do it too. For us, we were going to build the right spaces for our people anyway, but for us to be able to say we are committed to it…that is a much stronger message to the broader community and potential employees and our competitors and peers in the marketplace."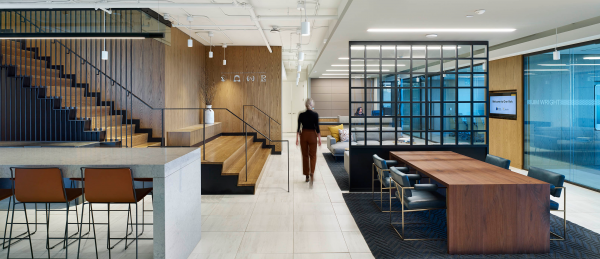 One driver for the move was that BentallGreenOak's parent company Sun Life was taking space in the top half of the building. Another, Major said, was the building's configuration — it's long and slender with floor-to-ceiling windows which gives all employees access to significant natural light.
"We wanted to have a very good environment for our people to work in," Major said. "It was one of our core things to look at, the right to light."
Consultants helping the firm achieve LEED Gold for commercial interiors were LEED consultant WSP, interior designers HOK, mechanical engineers Smith and Anderson, electrical engineers Mulvey Banani, project manager Avison Young and builder EllisDon.
"We looked at WELL and LEED together and thought about a holistic approach to the building space and how you work and function within the space," said Major. "That led to certain decisions."
Among them: employees have standing desks looking out across the city or at the lake through the glass exterior walls; the lighting system has motion sensors that keep energy costs low; building materials were locally sourced; and office equipment reflects Energy Star standards.
"All this creates a good palette to start from when thinking about the employee experience," said Major.
Then there was a decision on access between the two floors. BentallGreenOak decided to incorporate a staircase leading to casual spaces in the vicinity of the coffee machine in one central location near the 11th-floor reception area.
"We really thought about how many meeting rooms and spaces we would have to enable people to have chance meetings," said Major. "It's all intended to bring people through that space, so you see more people and feel a little more connected to the organization."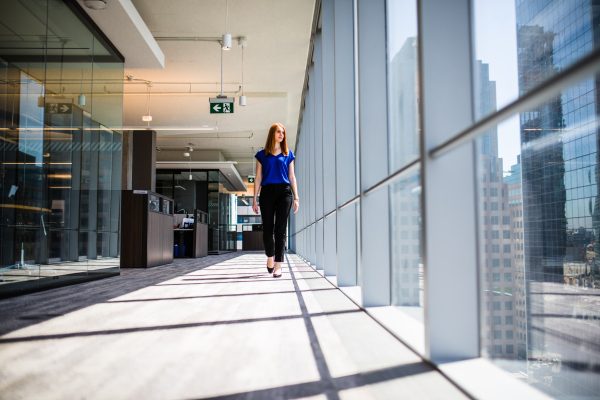 The HQ accommodates a staff of 200-plus, and surveys taken have indicated significant employee satisfaction, he said.
But it all starts with the good shell created by Menkes, the landlord. Menkes director of sustainability Jon W. Douglas said the developer aims to partner with its tenants to ensure sustainability and other goals mesh.
"Across our portfolio, it's nice to support them in their initiatives and to do the best they can to achieve in their space," he said.
Achieving the superlative LEED score at One York resulted from building on previous successes.
"We were pushing ourselves to the next level from our previous project, 25 York Street, which kind of opened up the south core," Douglas said. "It was the first LEED Platinum project in the city so we took those great things from that building and we said, 'what do we do to get to the next level?' We pushed ourselves on that."
Attention to detail means scrutiny of every material used, said Douglas — 100 per cent of the wood used on the project was certified by the Forest Stewardship, and the use of VOCs (Volatile Organic Compounds) found in paints and other materials was monitored and minimized.
A full case study of the sustainability efforts at One York can be accessed online. Asked to name a particularly outstanding feature, Douglas pointed to One York's water conservation measures. Two large rainwater collection cisterns were installed to serve the whole site, one collecting rainwater for reuse in toilets and urinals, the other serving the drip irrigation system used to support landscaping.
"There are a thousand little things that add up to the great space we delivered here," said Douglas.
Follow Don Wall on Twitter at @DonWall_DCN.