When the final stop of the Finch West light rail transit (LRT) line is operational at the northwest Toronto campus of Humber College, one of the first buildings students will notice after exiting the train will be the Barrett Centre for Technology Innovation.
"It will be the new threshold for the campus," says Duff Balmer, design principal with Perkins & Will Architects which collaborated with Bird Construction in the design/build of the LEED Platinum and net-zero-energy, five-storey glass and zinc structure. Thornton Tomasetti was the structural consultant.
Oriented towards the future LRT station, the centre cantilevers over a structurally-independent glass and steel atrium. As soon as people enter the premises "they will be able to read the building which advertises itself."
By that phrase, Balmer means visitors will be able to look at the different floors and have an understanding of the activity occurring on each.
That is no small achievement considering the complex nature of the centre whose purpose is to foster "work-integrated learning" so that the transition between education and real-world experience can be bridged.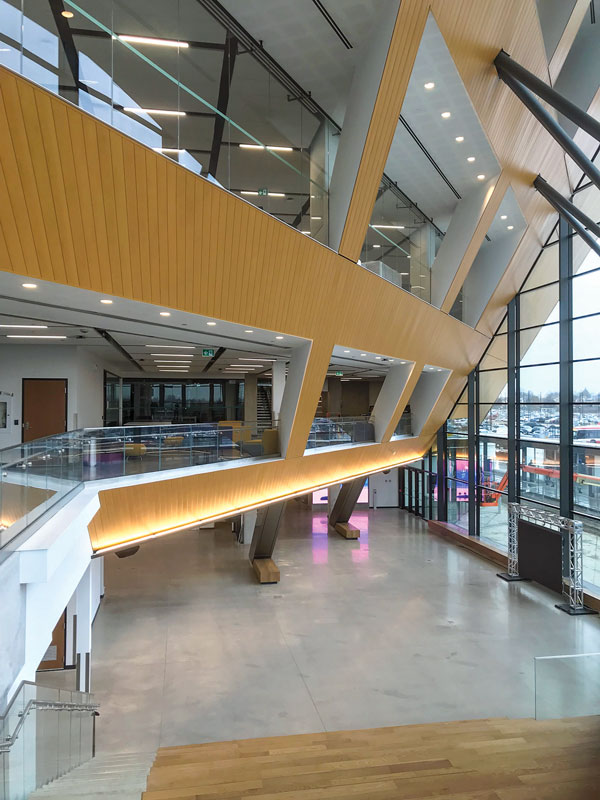 Officially opened earlier this past spring after 18 months of construction, the 8,639-square-metre (93,000-square-foot) facility is intended to build on Humber's expertise in areas such as automation, robotics, system integration, user-experience testing, and applied research. It is being heralded by the college as "defining the next generation of education."
"This was a challenging building to design and construct," acknowledges Humber's capital development director, Scott Valens.
Although the college had been considering the idea of the centre and had even submitted a funding application to the federal government's Strategic Investment Fund, the catalyst for the project was a $10 million investment from the Barrett Family Foundation, the largest private donation in the college's history, says Valens.
In the early part of 2016 the college prepared a design plan outlining the program requirements. Then, in May of that year, it issued a request for proposals with a long and stringent list of design, construction, and sustainability objectives and a "hefty" technical component.
Among those requirements was that the facility be built and designed to achieve LEED Platinum status and consume less than 100 kilowatts of energy per-square-metre per year.
"We wanted a dynamic building that onlookers would say 'what is that and what's going on inside,' " he says.
As Valens makes clear, there is a lot occurring within the multidisciplinary centre, especially now that the fall semester is underway.
While there are no traditional classrooms, the centre houses fully serviced, modular-style collaborative learning spaces with equipment that is unique to North America.
Some examples include digital media studios, the SEW Eurodrive Innovation Lab where research will be carried out related to robotics research, and the Festo Industry 4.0 Digital Factory which demonstrates the digital assembly process.
Another laboratory has its own independent ITS (internet transaction server) which will enable projects and experiments to carry on without compromising the security of the college's main server, he says.
Students who are primarily, but not exclusively, in their final year are working with industry partners on projects which are germane to that specific industry.
"We wanted them to be transparent," says Valens, referring to the spaces' full-height windows. Their purpose is to give visitors and students in the other workshops an idea of the activity being conducted inside those rooms.
To foster collaboration and dialogue between the various user groups, there are also a number of seminar rooms and break-out spaces.
Another feature are a series of small 'truth' windows at key points which offer close-up views of the building operation systems which most non-technical people never see in other buildings. An example is the fire pump room.
"It also wasn't enough that the centre be a sustainable building, but one which also speaks to sustainability," says Valens, in explaining their purpose.
The design-builder was given specific material stipulations, says Valens, citing the building's polished concrete floors as an example.
At the same time the college didn't want materials "that were too precious" in case a too luxurious environment might inhibit students in their experiments for fear of damaging those materials.
Another major attribute, and one which differentiates the Barrett Centre from most other Canadian college buildings, are three furnished hotel suites. Designed by the college's interior design school, they are for the benefit of industry partners, many of whom from overseas, who will be working with the students, especially as the deadline for those projects looms.
Like many suburban colleges, Humber has to balance demands for new facilities and programs while providing parking and that was also a factor in this project. One parking lot was removed for the Finch West LRT station and a second one also had to be taken out commission to free up space for the centre.
To compensate for those losses, an adjacent 1,000-spot parking garage was erected. Constructed by Guelph-based Newton Group Ltd. as a separate project, the garage boasts an array of solar panels which is directing power into the college's power grid.