Health: 101 projects in operation or under construction across Canada valued at $29.9 billion
7 In Procurement  15 Under Construction 79 Operational
Description: Of the 285 P3 projects in Canada, the health sector accounts for more than a third. This past year saw a number of new and completed projects from coast to coast to coast. Nova Scotia is in procurement for its $2-billion Queen Elizabeth II Health Services Centre Redevelopment. Earlier this fall, Ontario released a pipeline of 10 health-care projects coming in the next five years, including refurbishments or expansions to Kingston General Hospital and Hamilton Health Sciences. On the Prairies, the Saskatchewan Hospital North Battleford has opened, replacing a century-old facility with a modern and integrated mental health and correctional complex. In British Columbia, the RFQ has closed for the design, construction and partial financing of Vancouver's new downtown health campus: the $1.9-billion St. Paul's Hospital. In Canada's North, the Stanton Territorial Hospital has opened in the Northwest Territories and Nunavut has started looking at a business case to consider using the P3 model to build new elder care homes in the Kitikmeot and Kivalliq regions.
Transportation: 79 projects in operation or under construction across Canada valued at $64.2 billion
24 In Procurement 11 Under Construction 44 Operational
Description: Transportation is currently the hottest sector in Canada's P3 market and there is little indication of it slowing down. Using the P3 model, governments across Canada are delivering complex projects such as LRTs, subways, bridges and highways to ease congestion, decrease greenhouse gas emissions and increase economic growth. This summer, the Samuel De Champlain Bridge officially opened to vehicle traffic in Montreal, while this fall the Regina Bypass, the largest transportation infrastructure project in Saskatchewan's history, opened after four years of construction. The City of Ottawa and Ontario's Waterloo Region also opened their first light-trail transit systems while construction continues on the Réseau express métropolitain (REM) in Montreal and the Edmonton's Valley Line LRT. The biggest news in this sector came in April when Ontario announced a $28.5-billion transit plan involving four major projects in the Greater Toronto Area: the Ontario Line; the Yonge North Subway Extension; the Scarborough Subway Extension; and the Eglinton Crosstown West Extension. In Alberta, two new LRTs are in the works with Edmonton preparing to return the Valley Line West Extension project to market. In the Northwest Territories, work is underway on the 97-kilometre Tlıcho All-Season Road and in Nova Scotia three consortiums have prequalified for the Highway 104 twinning project between Sutherlands River and Antigonish. In Quebec, the rehabilitation of the longest underwater highway tunnel in Canada has also been greenlit.
Water/Wastewater: 21 projects in operation or under construction across Canada valued at $2 billion
2 In Procurement 6 Under Construction 13 Operational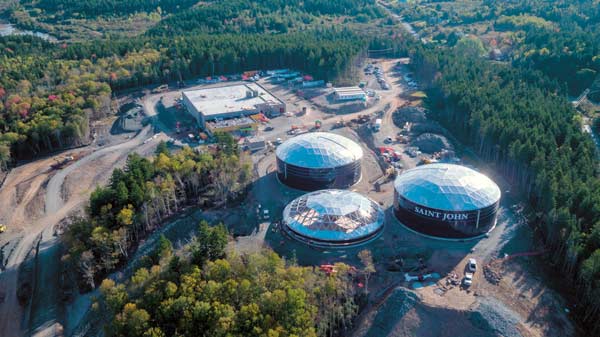 Description: The need to upgrade water and wastewater treatment plants continues to be a pressing issue for Canadian municipalities large and small. This year, Mapleton, Ont., decided to do something different and reached out to the Canada Infrastructure Bank, which announced in July it is investing up to $20 million in the township's project. The Ontario municipality is seeking a consortium to design, build, finance, operate and maintain its new and existing water and wastewater infrastructure for up to 20 years. The bank's investment will "improve the cost of project financing and attract private capital expertise while ensuring appropriate risk transfer to the private sector," CIB said in a news release. In June, the City of Saint John also celebrated the completion of its Safe, Clean Drinking Water project with the opening of the new state-of-the-art Loch Lomond Drinking Water Treatment Facility. "I am exceptionally proud to be celebrating the completion of the Safe, Clean Drinking Water Project for the residents of Saint John. Today's achievement is a result of years' worth of work and tireless dedication from a team of professional staff lead by Saint John Water, in partnership with Port City Water Partners," said Saint John Mayor Don Darling.
Education: 15 projects in operation or under construction across Canada valued at $3.1 billion
15 In Procurement 2 Under Construction 13 Operational
Description: The big news coming into P3 2019 is that Alberta is considering returning to the P3 model for five new schools. Previously, the province built 40 schools during three phases of public-private partnerships earlier this decade. "As promised in our fiscal plan, we are investing in infrastructure that is financially sustainable, drives the economy and creates jobs. Alternative financing and public private partnerships are being closely considered where they can provide on-time and on-budget results," said Alberta Infrastructure Prasad Panda. In the post-secondary market, colleges and universities are also warming to the idea of P3s across North America, typically for student residences such as Loyalist College in Belleville, Ont., which recently issued a request for pre-qualifications for a $40-million DBFOM project. The short list is expected later this month.