Public perception of what constitutes prefabricated construction can be summed up in three words: trailer park homes.
That's the observation of Maik Gehloff, senior lab instructor, University of Northern British Columbia, who pointed out that while the public might think of prefab as second-grade quality that is far from the reality of products manufactured in today's growing prefab industry.
That stigma is based on mobile homes which were initially designed as "travel trailers" in the early 20th century. They were made from light materials with minimal, if any insulation, but by the 1950s they were marketed as low-cost, year-round housing. Insufficient cooling/heating, poor air quality and other problems surfaced, however.
Nevertheless, by the 1970s mobile homes became fully stationary and the industry making them remains the most successful form of prefabrication to date, Gehloff said during a recent presentation on advanced prefabrication methods at the Wood Solutions Fair at The International Centre in Mississauga, Ont.
The building industry is among the last to use advanced prefabrication technologies. It has long been a staple in the automobile sector — first developed in the early 20th century. Later, the aerospace and watchmaking industries followed and today it is a common production practice for many consumer electronic products.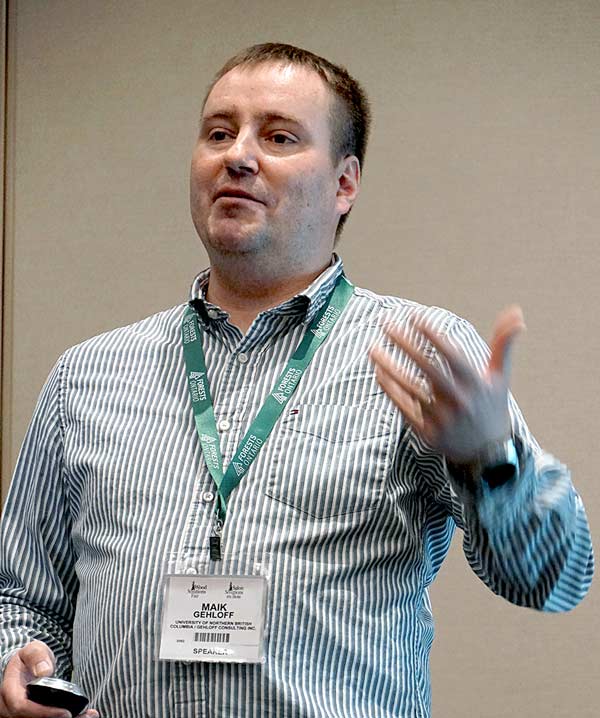 Gehloff told delegates that he sees prefabrication playing a key role in many sectors of the building industry going forward and he believes it will result in better buildings.
The idea of advanced prefabrication fits neatly into the B.C. Energy Step Code's agenda, he said. Introduced in 2017, the Step Code targets new buildings in "step five" of its framework to be net-zero-ready by 2032. To meet high insulation and air tightness requirements, that objective is achievable with prefabricated assembly designs.
"You need tighter tolerances to achieve air tightness which means you need better QC (quality control) than just putting together stuff on site."
Prefabrication is not new to the building industry. In 1908, Sears Roebuck and Company had a specialty catalogue for house kits, with the last kit blueprints marketed in 1940.
"It was a house you could put together with your friends and neighbours," said Gehloff.
In more recent decades, prefabricated roof trusses, wall panels and other off-site assemblies started taking hold.
Today, advanced prefabrication includes whole components (rooms, for example), modularized and shipped to site.
"A lot of people think that is the future of prefabrication and to some extent I agree (bathrooms and kitchens) but you are shipping a lot of air (space). Shipping panels is a lot more efficient."
Gehloff said a key advantage to prefabrication is "front-end planning" — where all details of a design are pre-determined — to avoid change orders or costly errors during erection later on site.
He said advanced prefabrication doesn't have to cost more than on-site construction, in part because of building efficiencies gained, but also because it cuts building materials waste. Statistics indicate that waste is reduced from 30 per cent for on-site construction to five per cent for prefabrication, which is typically returned to manufacturing facilities for reuse, rather than to landfill.
Gehloff said that advanced prefab technologies won't take jobs away from the construction industry, but rather shift them to other areas.
He said as far as the prefabrication industry has come in construction, the trailer park image remains a difficult one to shake. Many pre-manufacturers make it clear in their literature that their products are not at all like trailer park buildings.
"As long as they feel the need to still do that we have an (perception) issue."
The Wood Solutions Fair was presented by Wood WORKS! and the Canadian Wood Council.