Construction crews have begun moving dirt for a new outdoor test track at the southern end of the General Motors Canada assembly site in Oshawa that will be used for trial runs of autonomous and electric vehicles.
The large, oval-shaped track, being built on 55 acres of property near Stevenson Road South, is part of a $170-million investment announced in May that is aimed at putting the company on the cutting edge of auto technology development.
The venture will support GM's Canadian Technical Centre (CTC) campuses in Oshawa and Markham where the company now develops software and hardware for autonomous vehicles systems and controls.
Operators on heavy equipment began doing prep work at the site in the fall. Construction of the track is expected to wrap up in springtime.
"It's been lots of work to level the construction site," says Jennifer Wright, director of communications at GM Canada. "There is a lot of dirt to move and gravel to import onto the site to create a flat even surface to pave on."
GM hasn't released much detail about the actual surface of the track, but Wright notes that the roadway is modelled after Canadian highways to provide real-word scenarios for testing development vehicles.
"Stay tuned," she says. "We will share more in spring 2020."
The new track will be just shy of a quarter mile in circumference with banked curves to allow continual safe driving of the test vehicles at high speeds. There will be two straight sections of roadway on the inside of the oval measuring 1,200 feet long, along with service roads and other buildings.
The track will enable CTC engineers to develop and test advanced new autonomous vehicle systems like lane-keeping technology to fully-autonomous prototypes.
Wright says proximity of the track to the nearby CTC sites will allow for increased quality and efficiency in testing and faster development of new technologies in the vehicles.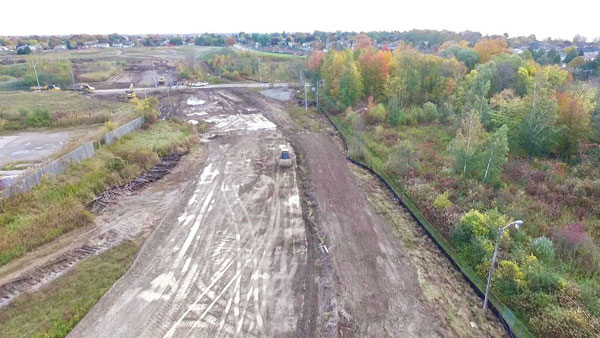 "The test track will enable CTC engineers to quickly, efficiently and safely prove and develop advanced new vehicle systems — right here in Canada."
In addition to autonomous vehicle testing, the company's product development, infotainment, active safety and trailering teams will also use the track, says Wright.
"These work streams all require extensive in-vehicle testing in a safe, effective and controlled environment."
GM decided the track was necessary because work at the CTC requires more than 4,000 people-hours of in-car testing annually on a GM-controlled development surface, a demand that is expected to expand.
"The new track will reduce costs and alleviate the current need to book GM facilities outside of Canada for required development testing," says Wright.
The new facility will also enable GM to leverage its expertise from the Milford Proving Ground and Kapuskasing Cold Weather Development Centre, a facility on a 272-acre site in the northern community that has a 2.5-mile test track and cold cells capable of recreating weather conditions reaching -45C.
Wright says the investment in the new track further positions Durham Region on the cutting-edge of automotive technology development in Canada.
Along with the centre in Kapuskasing, Ont., the track "adds to our existing advanced vehicle testing leadership presence in Ontario and is our next big step forward in GM Canada's ongoing transformation."
The company sought and received a zoning variance for the property and permits were approved by city council earlier, paving the way for construction to begin.
The track has come about as a result of the Oshawa Transformation Agreement that was signed earlier this year by the company and Unifor, the union representing workers at the plant to save jobs.
Last November, workers were informed that the GM facility, once one of the biggest auto assembly plants in the world, would be closed as part of a global restructuring plan that would see operations moved south.
However, Unifor launched a campaign and later inked the agreement with GM which will transition the plant from vehicle assembly to one focused on parts-stamping, related sub-assembly and other miscellaneous activities for GM and other auto industry customers.
GM has vowed to help maintain at least 300 jobs at the plant. Enhanced retirement packages are being provided to older workers, some will be relocated to other company operations, and others will be provided transition services.
In October, GM announced the new track was officially named the Canadian Technical Centre (CTC) McLaughlin Advanced Technology Track, honouring GM Canada founder and visionary, Colonel Sam McLaughlin. He founded GM Canada in 1907, when it was known as the McLaughlin Motor Car Company. McLaughlin retired in 1945 but continued to play a large role in the company until his death in 1972.
"Our founder in Oshawa, Colonel Sam McLaughlin, was one of the greatest Canadian innovators of his day," Scott Bell, president and managing director, GM Canada, said in a statement. "It's entirely fitting that the McLaughlin legacy and brand will now be part of GM Canada's ongoing transformation and our next big step forward in advanced technology development and testing right here in Durham Region."
Oshawa Mayor Dan Carter says the track will help propel the city forward as an active force for vehicle advancements. He says the track "will demonstrate to the world that Oshawa continues to be an innovative city and a proven leader in transformation, technological advancements and partnerships in the transportation and automobile industry."