The cancellation of Hamilton's billion-dollar LRT project, announced by Ontario Minister of Transportation Caroline Mulroney Dec. 16, could have cast a pall over the Hamilton-Halton Construction Association's 2020 Forecast held a month later, but that's not the way it's done in Hamilton, according to HHCA general manager Sue Ramsay.
The Province recently named a task force to study all transportation options for spending the $1 billion originally targeted for the LRT. But LRT or not, the Hamilton construction sector has lots of work to look forward to, Ramsay said.
"Hamilton is a community that carries on," she commented after the conclusion of the Jan. 23 forecast event. "One unfortunate event does not keep us down, and construction doesn't stop for anything. There is lots and lots of work here. I think we will continue to focus on the future and the opportunities we have."
HHCA members heard project previews from representatives of the Hamilton-Oshawa Port Authority, the Hamilton-Wentworth District School Board, Halton Region, McMaster Innovation Park and McMaster University during the morning forum, held in Hamilton.
McMaster wrapped up several large projects in 2019 and has plans to launch another batch in 2020, sparked in part by a new policy that aims to provide student housing for all first-year students who want it, explained Debbie Martin, assistant vice-president and chief facilities officer.
"There are a lot of schools moving in that direction," Martin said. "We are not there yet. Ideally you'd like to offer students a residence space regardless of what their marks are and regardless of their geographic location."
One project that just wrapped up in the fall of 2019, the $122.3-million Peter George Centre for Living and Learning, was Mac's first blended academic and student residence building on campus. At 14 storeys and 335,000 square feet, it provides beds for 518 students, classrooms, administrative spaces and wellness and daycare spaces.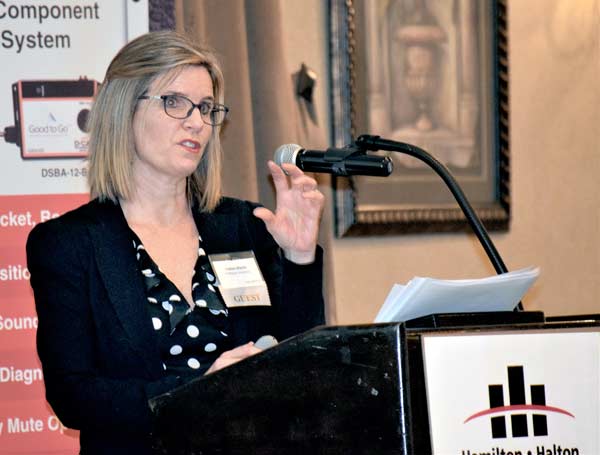 Two other residence projects targeted for 2020 launches include a downtown graduate student residence of 30 storeys with 630 beds slated for groundbreaking in late summer 2020, and a Main Street Undergraduate Residence planned for the Dalewood neighbourhood just east of the campus. Both are being developed in collaboration with Knightstone Capital.
There are, however, hurdles with the Main Street project. The facility, which in its current proposed configuration would have 1,373 student beds and a gross floor area of 572,000 square feet, is currently subject to an appeal with the Ontario Municipal Board, predecessor of the Local Planning Appeal Tribunal. Density and local community opposition are issues, Martin said.
Another major project completed at Mac in 2019 was the $56.2-million Arthur Burns Building Deep Retrofit and Tower, which added 32,000 square feet of laboratories in an existing building.
Besides the residence projects planned for 2020, McMaster is also planning a nine-storey addition to the DeGroote School of Business that will house the McLean Centre for Collaborative Discovery. Sweeny and Co Architects have been selected for design with a sustainability goal of LEED Silver being targeted.
Other smaller projects McMaster has planned for 2020 — valued at under $10 million each — include a potential parking structure/bus terminal, a multi-level parking garage, deferred maintenance, accessibility projects and a new greenhouse.
McMaster Innovation Park (MIP) presenter Frances Grabowski, meanwhile, laid out a new strategic vision for that community that includes a new master plan it hopes to have approved by Hamilton City Council soon. Plans are to change the focus of the west-end site from business park to multi-use neighbourhood that will include housing and retail.
"We are an island, we are isolated, and we want to change that," said Grabowski, the director of the MIP's project management office, of the new 24/7 live/work/play vision for the community.
An important new asset for the MIP, acquired in 2019, is the former Industrial Trading Corp building at 606 Aberdeen Ave., with its Glass Warehouse and Box components. The design firm mcCallumSather foresees dividing the facility into four "bays" that could attract tenants from the innovation sector, Grabowski suggested.
The master plan calls for infrastructure including roads and services to be built in the next two years and then eight to 12 new developments over the next seven to 10 years. Among projects confirmed, there will be a major Life Sciences BioTech facility developed on a gateway site at the park, Hyatt will be building a hotel, and the law firm Gowling WLG is scheduled to break ground on new offices in the spring.
"There is so much vision there," said Ramsay. "They have a vision of a community that is not just about business but it is about living there and working there and connecting and that collision between businesses so they can create the next big thing."
Highlights of the other presentations included news of almost $26 million in capital expenditures planned for Hamilton harbour, in addition to continuing National Trade Corridors Fund improvements, and plans for six new schools for the Hamilton-Wentworth public school system plus numerous upgrades, additions and playing field improvement projects.
Follow the author on Twitter @DonWall_DCN.