A mix of copper standing seam and flatlock seam roof systems were used to replicate the custom copper elements of Postal Station B in Ottawa — one of five Canadian winners of the 2019 North American Copper in Architecture Awards (NACAA) program recently.
The restoration project involved replacing original 1930s copper mansard roofs, gutters, cornices, dormers and a tower at the end of their life-cycle. The project's sheet metal contractor was Ottawa-based Heather and Little Ltd.; architects were Schoeler Heaton & Robertson Martin Architects in joint venture.
"It is a real testament of quality workmanship with copper," Stephen Knapp, the director of the Strip, Sheet, & Plate Council for the Canadian Copper & Brass Development Association (CCBDA), says.
"It was a difficult, hard to access installation."
In conjunction with the Copper Development Association (CDA), the CCBDA organizes the annual copper awards program for "outstanding use" of architectural copper and copper alloys, says Knapp. There were 15 North American winners in 2019 from about 50 entrants.
Among the other Canadian winners was a copper roof restoration following original 1885 plans for the Voltigeurs de Quebec Armoury, a Canadian architectural landmark inspired by French Renaissance castle designs. The contract included multiple ornamental details such as dormers, castles, violin tails, ridges, blinds, cornices, and fireplaces. The sheet metal contractor was Toitures Falardeau; architects were Architecture49, DFS Architecture & Design and STGM Architectes in joint venture.
Another winner was an interior facade of insulated and perforated bronze panels measuring 14 metres wide by six-metre-high in the Senate of Canada Building in Ottawa. Originally the Union Train Station and known as the Government Conference Centre since 1968, the building was recently opened as the temporary home for the Senate of Canada. The bronze panelized work was fabricated by MCM 2001. The building design was a joint venture by Diamond Schmitt Architects & KWC Architects.
A multiple-step patination schedule and a hand rubbed finish were done to the surface. Additional bronze detailing was done throughout the building, including custom bronze door pulls with solid folded bars at committee rooms and bundled bronze rods at the entry to the Senate chamber.
The only western Canada winner was for the Indian Residential School History and Dialogue Centre, University of B.C., in West Vancouver. It features a standing seam copper roof designed to capture water and send it to one location, creating a waterfall that symbolizes the tears of the many survivors who suffered traumatic experiences in residential school. West Vancouver's Formline Architecture did the design.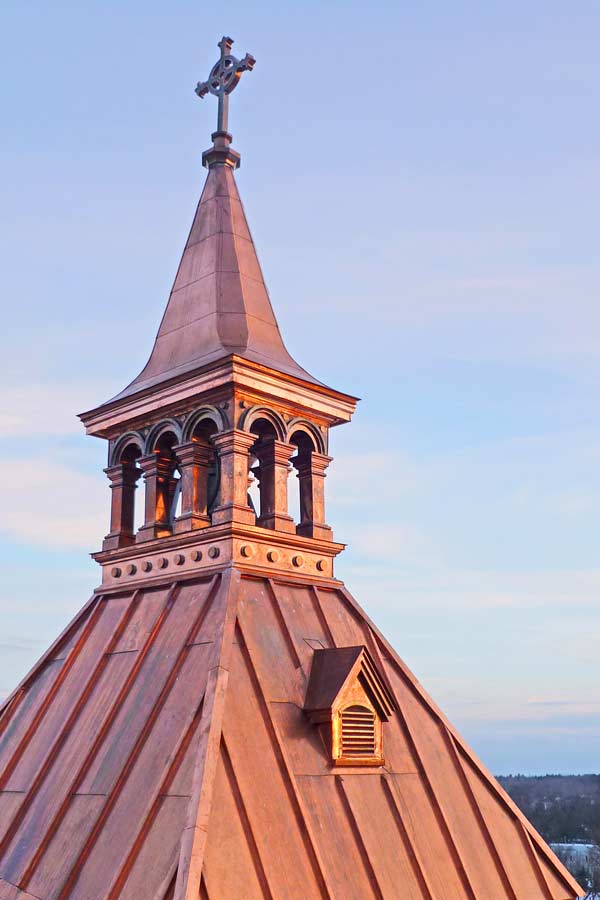 A restored copper mansard of the Saint Roch de l'Achigan city hall in the farming community 80 kilometres north of Montreal also won an NACAA award. The bell tower and its ornamental copper elements were also restored. The project's sheet metal contractor was Couverture Montreal Nord; Affleck de la Riva architectes was the architect.
Knapp says copper's value as a building material is heightened now because of its green traits, which is why the NACAA is broadening its awards program to recognize more green building applications such as buildings with LEED and similar green certifications.
Knapp says that the CCBDA and CDA are working with its union partners — the Sheet Metal International Association and the International Training Institute — to train specifiers as well as sheet metal fabricators in architectural copper details. "We do see it growing…competitive to other high-end architectural products."
Since the NACAA awards were established in 2008, there have been about 130 winners.