A 25-storey, mixed-use tower that will have an appealing, slender look thanks to the adoption of "skinny tower floorplates" is proposed for downtown Guelph by real estate development services company SkyDev.
The building, estimated to cost between $75- and $100-million, is part of an expansive plan by the company to build 2,000 rental apartments in secondary markets in Ontario.
The project, which will be the tallest building in downtown Guelph, is expected to be one of the most sustainable of its kind in the city and will dramatically alter the city's downtown skyline.
As much as 10 per cent of the estimated energy consumption of the development will be produced on-site via solar panels to be installed on the rooftop, building walls and balconies.
The tower will also have a heat recovery system, Energy Star appliances, high-efficiency lighting and low-flow showerheads, faucets and toilets. Twenty per cent of the parking spaces will have electric vehicle-charging stations and bicycle storage rooms and shower facilities.
"We're trying to check off our energy checklist and trying to produce 10 per cent of the power on-site by building integrated solar and battery backup storage," explains SkyDev president Greg Jones. "We're intending it to be one of the most sustainable buildings in Guelph, I would say.
"Our intent is to be as sustainable as possible. It's important to be sustainable for the planet but we're building buildings to own them for more than 25 years and when you build something, and you own it for a long time, you want it to be efficient because it saves occupants and our investors money in the long term."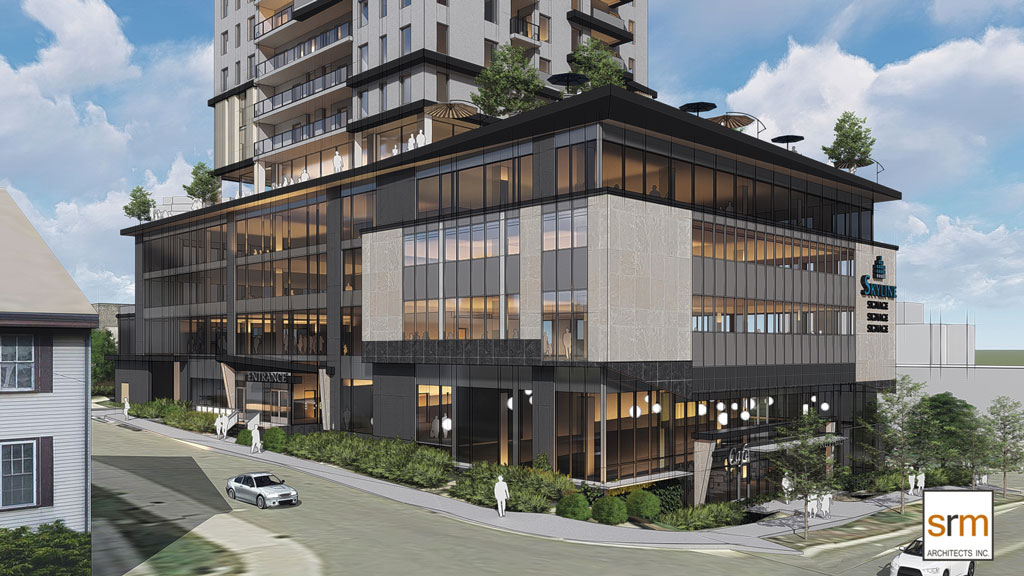 The structure will be built on a single, rectangular-shaped parcel of property at 75 Farquhar St. and 70 Fountain St., with frontage along the north side of Wyndham Street. The building is beside Guelph Central Station. Construction is expected to begin in 2023 and be completed in 2025.
Skyline Group of Companies, parent company of SkyDev, presently has its office on the property. The building would be demolished while the existing heritage facade would be preserved for re-use and incorporation into the new building design.
The company has applied to the City of Guelph for an Official Plan zoning amendment to allow for a mixed-use development on the 0.2-hectare site that allows rental apartments, office, and retail space. The site is presently zoned for institutional and office space but not residential.
Jones says the company wants to build in Guelph because it's been there for more than two decades and the location is a good fit.
"We're growing and we'd like some more office space," he says. "We'd also like to showcase rental apartments downtown and we think transit-oriented, pedestrian-oriented development is appropriate for the downtown. Many people are investing on the outskirts and we're trying to invest in the downtown.
The building, designed by SRM Architects of Kitchener, will have 360 square metres of ground-level retail space, three floors of office space totalling 6,200 square metres, and a 21-floor tower with 180 rental apartments ranging from 650 square feet (sq. ft.) for a one-bedroom to 800 sq. ft. for a two bedroom, along with four levels of underground parking and an amenity level with rooftop outdoor space.
"We're trying to respect the zoning and infrastructure plan by creating an office podium," says Jones. "Our current rendering shows four storeys but the current permission allows three to six and then having a narrow floorplate building above that. That's really the ask, is to allow rental apartments downtown beside the train station."
As it's presently envisioned, the building will have a large base or podium clad with dark stone and glass curtain walls, with a slimmer tower of residential rental units on top that has lighter, cement-based cladding and lighter and darker metal composite panels for accent and a combination of recessed and hanging balconies, which vary in location and configuration as the tower rises, along with glass balcony guards.
The tower will have skinny floorplates of only 660 square metres to create a stunning piece of architecture and urban design. Taller buildings built these days in Toronto, Hamilton and Kitchener usually feature floorplates under 750 square metres, says Jones, but those proposed for the Guelph one are even smaller.
"The idea is to be tall and skinny instead of a shorter, wider building that is more apparent in Guelph today and the idea is to mitigate any kind of shadowing and impacts in the area," says Jones. "From an urban design perspective, we think it's the best solution."