MARKHAM, ONT. — Minto Communities and Metropia have announced sales figures following the launch of phase one of their 1,200-unit Union Village community in Markham, Ont.
A March 3 release stated that 330 homes sold over four days after the February launch. Sales included a mix of single-family homes, back-to-back townhomes, rear-lane townhomes and traditional townhomes.
The community consists of two parcels of development divided by Bruce Creek. The creek and its valley are being restored to form part of a pedestrian and cycling trail system. Other natural features are wetlands, new parks and playgrounds.
The community is located at 16th Avenue and Kennedy Road in Markham.
Home sizes range from 1,267 to 4,508 square feet.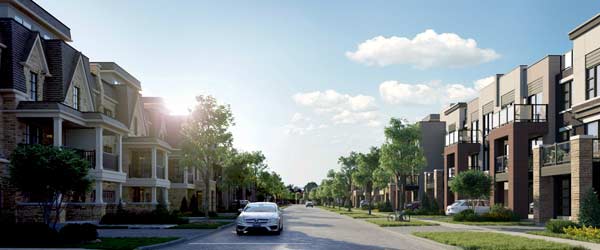 The release notes residences were designed following the principles of feng shui.
Sustainability features include Energy Star for New Homes certification, LED lighting, low VOC paint, Green Label Plus-certified carpeting and conduits to support future EV charging and roof solar panels.
"The success of Union Village really speaks to the quality of the project at every facet," said Peter Maleganovski, director of land development at Minto Communities, in the release. "We knew designing a community in the centre of a municipality like Markham would demand excellence in design and expert planning for residents. It was essential for us to emphasize the beauty of the natural surroundings and create communal spaces for families to gather."