A barrel-vault timber roof and gently curving insulated concrete form (ICF) walls clad in wood siding, made weather- and fire-resistant through a Japanese charring process called Shou Sugi Ban, are among the highlights of the striking $14 million Anishinabek Discovery Centre (ADC) set to open this July in Sault Ste. Marie, Ont.
Designing and constructing the combined education, research and cultural centre hasn't been easy.
"There is a whole story behind how these lodges are constructed. It is not just about making a form and putting it up," says Matthew Hickey, project architect of Two Row Architect, the prime consultants for the project, which supports the Shingwauk Education Trust's (SET) post-secondary education initiative Shingwauk Kinoomaage Gamig.
For example, he says part of the interior is designed in consultation with elder Edward Benton-Banai to mimic an Anishnawbe teaching lodge.
The barrel-vault roof by Timber Systems Limited is comprised of large exposed glue-laminated timbers, a wood deck and two parallel beams that represent male and female and run east to west in the open concept space. Doors at either end symbolize birth and death.
Hickey says a project management approach to the building was chosen because it allowed tendering of "pieces of the project" before the design was completed.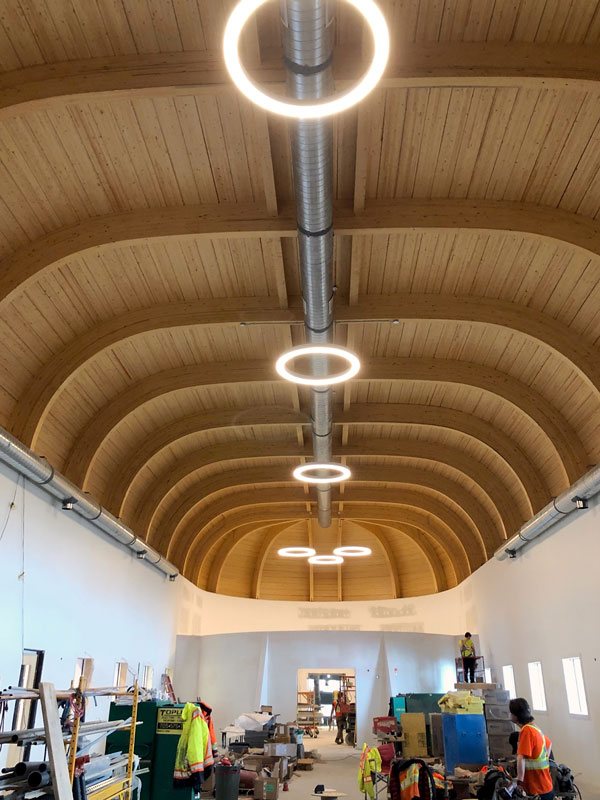 The structural walls are a case in point.
The "straight" ICFs had to be configured to bend to the curves of the building, says Dillon Baratta, construction manager of Colliers Project Leaders, the building's construction manager.
He adds that custom ICFs were specified on walls with a tight radius.
To achieve the open concept interior, the ICF walls and concrete slab are 12 inches thick "with a lot of rebar to hold them together," says Baratta.
With one end of the sloping one-storey building close to 25 feet high, numerous metal anchors were tied into the floor for stability. The builder, Northern Fencing and Contracting, was limited to a maximum of 12-foot lifts to prevent concrete aggregate separation, he says.
"It takes a lot of precision in the hands of the contractor to keep everything straight, supported properly and level," he adds.
Before the concrete slab pour in winter, the site had to be excavated to about eight feet and filled with clear stone to ensure good compaction, Baratta says.
Hickey says the site's geotechnical report showed the below grade soil included dumped fill such as old car parts and tires.
"We had to move the building about 50 feet just so we wouldn't have to put in piles or excavate deep," Hickey explains.
The building's roof is comprised of an EPDM membrane and allows for rainwater collection for reuse as gray water. The Class A archival mechanical system installed ensures temperatures stay constant to keep archives stable, the construction manager says.
A flexible design that includes a raised plenum floor allows for future changes to mechanical/electrical systems and walls to create new space uses, says Hickey.
He states small institutions like the SET don't have the internal resources that community colleges or universities do for on-staff architects or project managers to help guide "a major project like this."
"It's one of the hiccups we have run into," he says, noting the responsibility fell on his team to inform and guide the owner on everything ranging from contract documents to the construction process.
The discovery centre's signature feature is a state-of-the-art library, archives, and gallery designed to provide a repository for Indigenous-created information and Indigenous-related research and scholarship.
Shingwauk Kinoomaage Gaming will also be able to use digital technologies and the online research infrastructure available to post-secondary institutions in Ontario.
The centre shares the site of the former Shingwauk and Wawanosh Indian Residential Schools with Algoma University. It is funded by the Government of Canada's Strategic Innovation Fund.