A Nunavut man is designing a prototype of an affordable and energy efficient home using a shipping container and prefabricated components from Southern Canada that can stand up to the harsh weather of the country's Far North.
Alex Cook, whose Iqaluit-based company ArchTech works with industry experts on long-term design and building solutions for arctic homes, says the North has a housing scarcity and the cost to construct stick-built residences — common in the North — is "astronomical."
"What we are trying to do is bring those costs down by building a smarter and better product (that is) cost-engineered," he says.  
Cook is in partnership with Toronto-based Wonder Inc., an interdisciplinary firm that has built a reputation in North America and overseas for homes made from shipping containers.
He turned to Wonder because the company can ship building materials within a steel container that will serve a purpose in the home's construction.
"Instead of discarding the container, we will integrate it into the building," Cook adds.
While the design hasn't been finalized, the three-bedroom home will consist of a shipping container that comprises the ground floor and possibly structural insulated tilt-up panels (SIP) making up the second floor. Insulation values in peak zones of the house could be as high as R-90, says Jason Halter of Wonder.
An objective is to cut erection time in the North where a typical building season runs from July to late September/early October.  
Once the building has a prepared foundation, possibly including a hydronically-heated concrete garage floor, the remaining structure could be "closed in" in about four months, says Halter.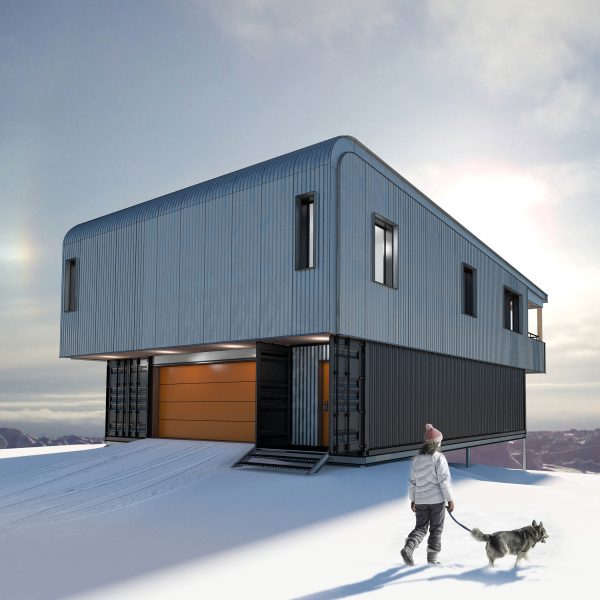 Wonder Inc. is a research affiliate of the Inner Outer Space Lab at the Faculty of Architecture of the University of Toronto. Halter says his focus is to develop building envelope systems for extreme climates including Canada's far north and desert regions of the southwestern U.S. 
To meet efficiency objectives, the house could have two to three climatic zones. Residents could enter into a low-heat "windbreak zone", separated from a "semi-tempered room" that leads to the main core of the fully-heated home, he says.
While trades from the South are often involved in Far North home construction, Cook says there are local companies that can do the foundation piles and concrete slab and trainers from Southern Canada can teach local subcontractors how to build the novel home. 
Named Qammaq, the house will be made of mould-resistant materials as mould is a common problem in many homes in the North due to high indoor humidity.
Emphasis on fire-resistant materials is also a priority.
"Nunavut unfortunately has a high rate of arson, especially in recent years," says Cook. 
The home's siting will take advantage of solar gain through triple-glazed windows on the south-facing side and a 6-8 kilowatt array of solar panels on the roof, says Halter. Metal roofing and cladding systems are proposed.
Halter will specify windows in fibreglass frames, which he says have roughly the same expansion/contraction co-efficient as glass. 
Composite windows more commonly used "tend to break apart" over time because of different expansion/contraction rates.
To eliminate thermal bridging, a thermally broken spray foam wall is being considered. 
The home will feature an open concept design, allowing for large family gatherings "which is very much part of the culture in Nunavut," says Cook.
He says the pandemic has delayed this year's planned construction start until next summer.