When the owners of an 17-storey boutique hotel in downtown Montreal decided to top the building with six floors, they turned to a Quebec company with a novel engineering solution to meet the challenges of working on the tight property with limited space for conventional tower or mobile cranes.
That company, Brossard, Que.-based Upbrella Construction, employed its patented craneless system which used elevator-style lifting actuators to raise one floor at a time over the Hotel Le Germain.
The building sequence started with construction of the roof complete with its membrane and then the construction of a two-storey shelter for crews to work in.
"Within five to six weeks we were ready for the first (floor) lift," says Jacques Gauthier, vice-president of business development at Upbrella.
A floor lift was completed every 12 days at the hotel, he says.
The shelter was equipped with a bridge crane and other light industrial handling systems so trades didn't require lift trucks or mobile cranes.
He says the finished space of a 15-storey tower can be delivered 20 per cent faster than conventional concrete construction "because we compress the work sequencing."
In conventional construction while concrete floors can be installed in a week or less, other trades can't follow until concrete comes to full strength, Gauthier points out.
"The envelope guy follows every five or six floors using material handling cranes," he explains. "The interior guys are six or seven floors behind the envelope guy."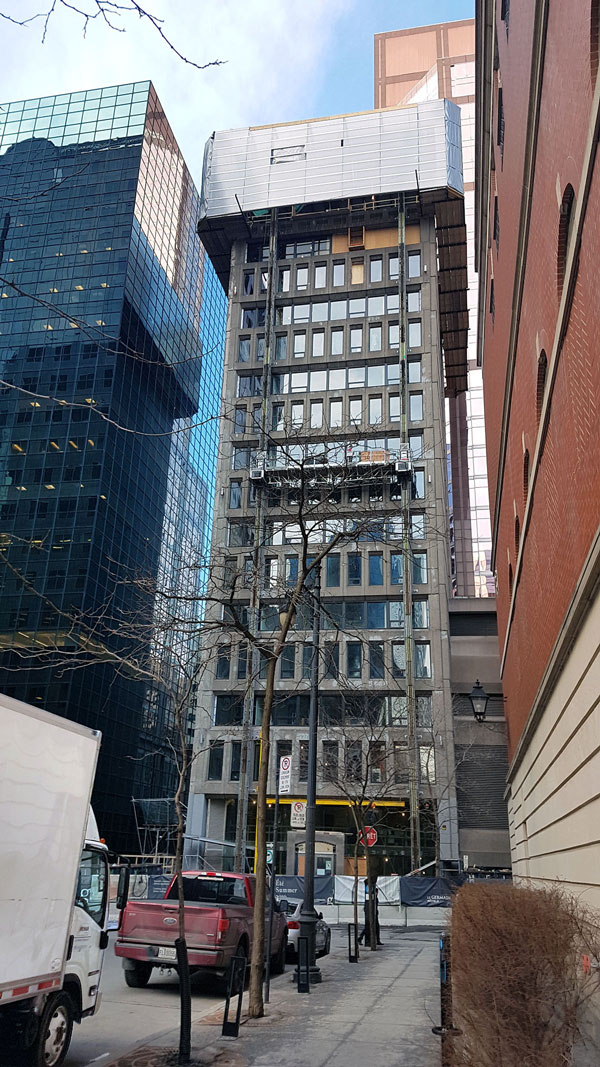 Once a floor was done, assembly columns were uncoupled and hydraulic jacks lifted the floor, including the installed building envelope, to its final height. That lifting process took 30 to 45 minutes, he says.
One of Upbrella's benefits is safety because it eliminates an overhead crane and weather issues because crews work inside the shelter, he adds. Furthermore, 80 to 90 per cent of the time the crew is on solid ground. Safety harnesses are not required for the structure or the envelope.
"Nobody is hanging and you can't drop anything 20 floors," he states.
Even on the coldest winter days last year at the Germain hotel, crews and materials were kept protected in the shelter with a minimum temperature of 5 Celsius.
"Workers are more productive (in a controlled environment). It's less risky and you can pour concrete in a more controlled fashion," says Gauthier.
To complete an Upbrella building, just-in-time deliveries per floor are critical to meeting schedules, he says.
Material is not staged onsite, Gauthier adds, but rather transported from trucks to the vertical platform on one day and then raised to the floor for assembly.
The following day envelope trades are at work, Gauthier says, adding the assembly process follows principles established in the automotive manufacturing sector.
The Germain hotel project is Upbrella's second highrise, following a 10-storey mixed-use building completed in Montreal in 2016.
While the technology has taken a while to catch the attention of developers — Upbrella's founders developed the system in 2008-2009 — Gauthier is confident about the system's future.
In Montreal it is being employed in a third tower and five more towers are in pre-construction, he says.
Each of those projects was awarded to the novel system because of site constructability issues, Gauthier says.
"If it wasn't for COVID, we would have three of our systems up on buildings in Montreal," he says.
The technology, which is being marketed in other provinces and overseas, has no height limitations.
Its first contract outside Canada is a nine-storey cross-laminated timber mass timber building in Monaco.
"It opens the mass timber market because now you can build wood in a (weather) protected environment," he says, adding Upbrella is in discussions with developers in London, England and Sao Paulo, Brazil.
As the largest cities in the world look to densify, the potential market is big, he says.
"To crack the nut I need a developer with the qualities of the Groupe Germain. They understand value and they are not shy to try new things," he adds.