A new report on highrise modular construction prepared by Arup for the Canadian Standards Association (CSA) documents the significant recent growth in the sector and identifies next steps to improve standards and ensure adequate regulation, say principals behind the paper.
The report, titled High Rise Modular Construction: A Review of the Regulatory Landscape and Considerations for Growth, focuses on highrise volumetric modular construction, which is the manufacturing and assembly of fully contained modules that can be finished off-site and erected or stacked onsite to form a completed highrise building.
The report lists 12 volumetric modular highrises that have been completed around the world in the past decade, most since 2016, including the nine-storey Alt Hotel in Calgary.
CSA standards are generally updated every five years but the CSA felt there was some urgency to review Standard A277, which offers guidelines for modular construction, given the growth in the field overall and the technological leaps being taken in the niche field of highrises, explained Dwayne Torrey, director of construction and infrastructure for the CSA.
"Watching the emergence of advancing construction technologies and the growth of modular construction overseas, it was definitely time to take the first steps to see what gaps and challenges exist and opportunities for creating some clarity and consistency for all stakeholders," he said.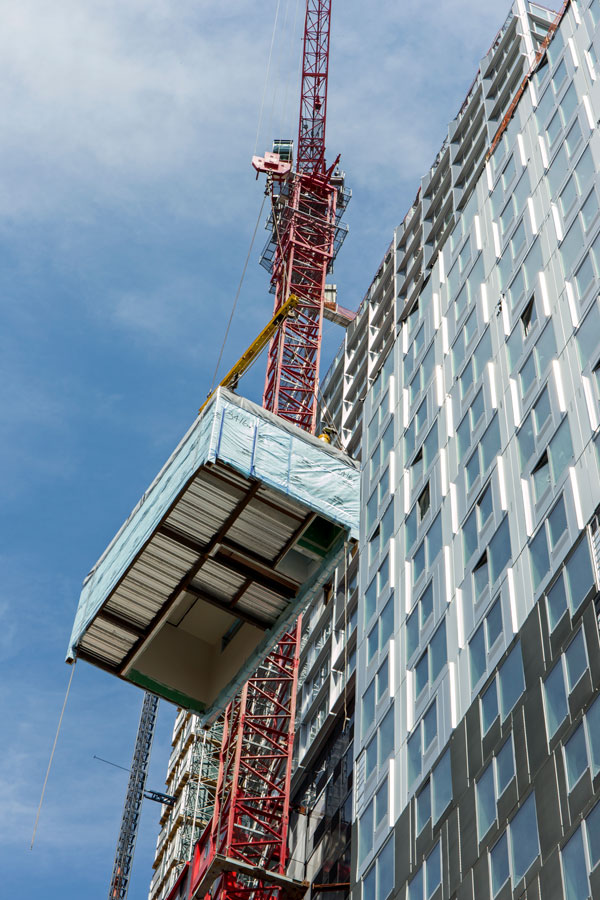 Volumetric modular construction is a fundamentally different method of construction, Torrey said, and it is likely the CSA technical committee now reviewing the Arup report and identifying steps to modernize standards might opt to create a whole new standard, tentatively labelled 250, in addition to or instead of upgrading A277.
"They are the ones who have to determine what the right path is for our standards, what modification to existing standards may be appropriate, what new standards are needed right now," he explained.
The report noted, "Current certification programs do not typically address site-built portions of the building, on-site inspections and testing. These programs may also not address transport, lifting, placement or installation at the site — though they may require that the manufacturer provide instructions on some of these aspects, as in Canada."
Arup has special expertise in the sector, having recently completed the 32-storey tower at 461 Dean Street in Brooklyn and the 19-storey Citizen M Bowery in Manhattan; the firm provided structural, electrical, mechanical, public health, fire engineering and acoustic services.
Arup project director John Barrot highlighted specific technical challenges dealt with on those builds, including learning how best to design for a lateral load, how to maximize connections between modules, incorporating mechanical systems, ensuring continuity across modules to ensure fire requirements are achieved, and reaching efficiencies in transportation and lifting.
"And there are a lot more than those," he said. "Those are different and new things for modular versus conventional."
Among the recommendations contained in the report is the need to engage in advocacy at the provincial level to expand adoption of the CSA standards. With penetration of modular construction currently at four per cent but growing, Barrot said, and highrise volumetric modular construction a niche within that, there is a distinct lack of familiarity with the system among local officials that needs to be overcome.
"It does require a lot of engagement," Barrot said. "One of the outcomes of our research with respect to standards tailored to modular construction is the burden on local authorities on how to regulate these projects because there are specific and exclusive requirements for modularization."
New standards in construction approved by the CSA are often incorporated into the National Building Code and provincial building codes, and they also are adopted by industry as the latest best-practices guidelines, Torrey explained.
It is expected the CSA's technical committee on construction modularization will complete its work, reviews will undertaken and new standards adopted by the end of 2021, he said.
Follow the author on Twitter @DonWall_DCN.