Crews are working to dismantle and remove a large crane from a PCL Constructors construction site at 160 Front St. near Simcoe and Wellington in downtown Toronto after it hit an adjacent building July 16.
Reports indicate a large crew and three other cranes are being used to dismantle the damaged crane which caused two buildings, 145 Wellington St. and 40 University Ave., to be evacuated yesterday as a precaution.
"We are working with the appropriate stakeholders to dismantle the crane with safety at top of mind," reads a statement from PCL issued July 17. "We can confirm that the crane was secured and that the site and neighbouring building were deemed safe by an independent engineer. Last night (July 16), the team finalized the engineered dismantle plan. With the inclement weather, the decision endorsed by all parties was to postpone the operation until daylight and better weather conditions. Crews have returned to site this morning to conduct the dismantle operation.
"We are thankful that no injuries were sustained during yesterday's incident and would like to recognize the swift response efforts of all onsite personnel and Toronto emergency services and thank the local community for their patience," the statement added.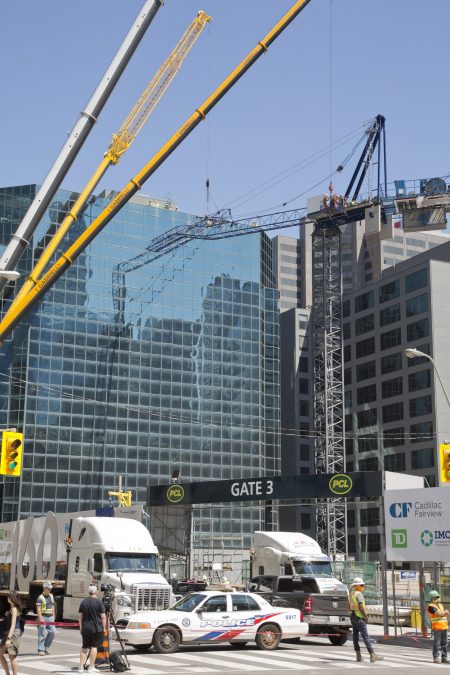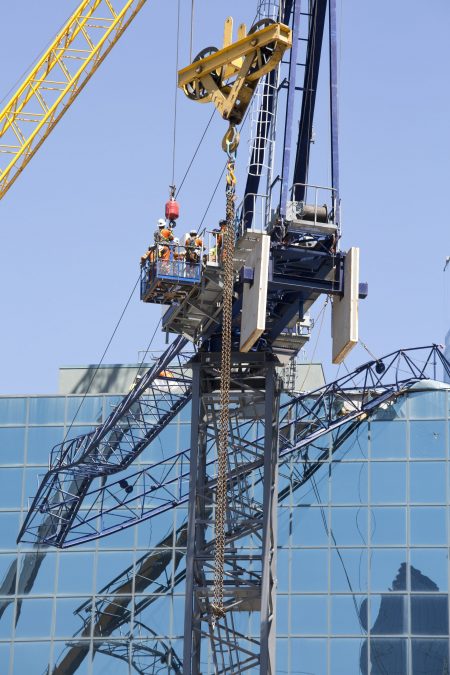 Toronto Fire was instrumental in securing the structure until engineers arrived on scene.
"We had to make sure everybody was safe. We had to do the evacuations of the buildings and we helped in securing the structure until such time as the crane company could bring in their engineers to determine how to dismantle it," Stephan Powell, district chief for Toronto Fire, told the Daily Commercial News July 17. 
"They are still in the process of bringing it down. They had to cease the process last night because once they start they can't stop because it's going to teeter. They feared the stormfront that was coming through might have proved dangerous."
Yesterday we had a construction crane crumple in downtown Toronto (see the boom). Nobody was hurt. Today I give these guys appreciation for going up in a man-basket to dismantle it, i.e. guys willing to risk their lives. I know what I'll be watching this morning. pic.twitter.com/L78L5eoRqC

— Ken K Mining 🇨🇦🌎⚒️ (@KJKLtd) July 17, 2020
@Toronto_Fire crews are working on securing the broken sections of the tower crane and taking precautions in the event that the crane collapses further. Buildings evacuated and the area is closed. No reported injuries on scene. Operations ongoing. @TorontoMedics @TPSOperations pic.twitter.com/8FOBbZcFGt

— Matthew Pegg (@ChiefPeggTFS) July 16, 2020
The crane will be dismantled and brought down. That work is expected to be completed today.

— Matthew Pegg (@ChiefPeggTFS) July 17, 2020
Toronto Police initially reported it as an industrial incident that morning and stated the crane operator was able to climb down on their own shortly after the crane struck the building.
The Ministry of Labour, Training and Skills Development (MLTSD) was notified the incident. According to the MLTSD, on July 16 two ministry inspectors and one ministry engineer attended the worksite and one requirement was issued to PCL Constructors Canada Inc. 
On July 17, two ministry inspectors and two ministry engineers returned to the worksite to continue the investigation. 
Road closures were set up as the dismantling efforts continue.
The Daily Commercial News will provide updates as they become available.
Follow the author on Twitter @DCN_Angela.