Southwestern Ontario has become known for the spike in COVID-19 cases largely because of the hundreds of farmworkers who migrate annually from Mexico and other central American countries.
Various explanations have been put forward for the spike, from tightknit working conditions, crowded transportation and, perhaps most of all, cramped living quarters.
These, for example, can be crowded bunkhouses with multiple people sharing single rooms with poor ventilation and inadequate washrooms, kitchens and recreation.
But long before anyone ever heard of COVID-19, one local developer, Liovas Homes of Leamington, Ont., had the prescience to see there was a better way to house these seasonal workers.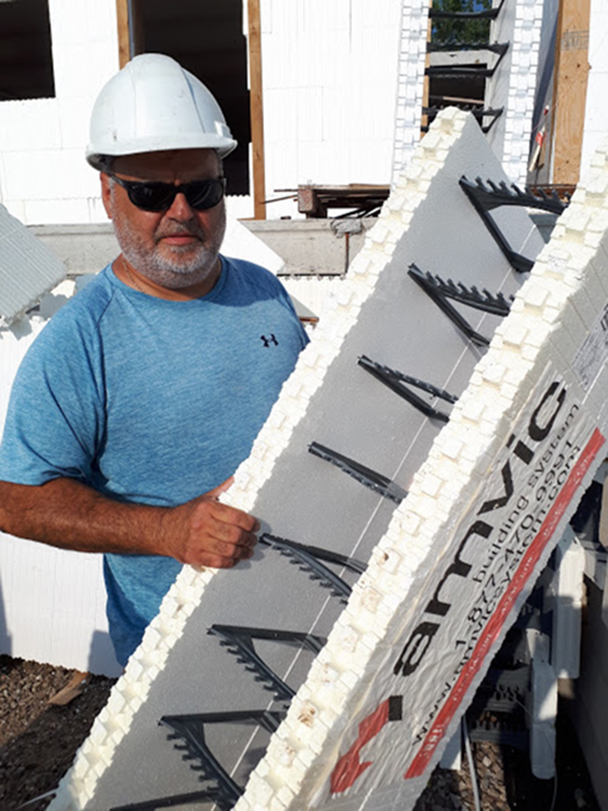 Company president Jim Liovas, well familiar with his community's housing needs as a four-decades-old builder and landlord, wondered if there might be a market for renting suburban-style apartments as homes for the migrant labourer community.
"We're always looking for new rental opportunities," Liovas said. "I wondered if anybody was interested in having a better way — a happier, more environmental and more social way — of housing these migrant workers."
Liovas made a pitch to one of the bigger vegetable growers in southeastern Essex County, Highline Mushrooms, who quickly took him up on the idea.
"They were really concerned with how their workers feel. That was a big thing for them," Liovas said. "They wanted to make sure that they had a lot of adequate space."
So Highline, Canada's largest mushroom grower, signed as a tenant to Liovas for the $20-million, 16-building development on Leamington's east side that will eventually house as many as 600 workers.
"It's basically an upper scale way of housing migrant workers," Liovas said, standing at the eight-acre site as hot water tanks were being installed and concrete poured for the sidewalks. "So instead of having 80 guys in one building you have 36."
The shells of most of the buildings have been completed. Each block-like two-storey building, on either side of the street, will have six apartments and accommodate 36 workers with each apartment having three bedrooms and three bathrooms. Each worker — two to a bedroom — will have 200 square feet of personal living space.
The apartments are being constructed as solid blocks with concrete, steel studs, doors and roofs.
"Basically, these are concrete structures," Liovas said. "Our angle was more for the efficiency and durability. This was a long-term investment for the Liovas family so we wanted to make something really solid."
Besides solidity, the buildings are designed to be energy efficient.
The walls are made of Amvic, an interlocking insulated concrete form block system that has air-vapour barrier. The sandwich-like blocks have two Styrofoam panels for interior and exterior walls held together by plastic connectors through which rebar is fed and concrete poured. The blocks are designed to have a R30 value. The interior and exterior finishes are then attached.
Instead of drywall the interior wall will be a higher end residential PVC finish which is easier to clean.
"They're four or five times the price of regular drywall but you don't want to have any kind of mold," Liovas said.
The exterior wall finish will be plastic composite panelling in a couple of grey and off-white shades.
The floors will have an epoxy finish, again a substance that is easy to clean.
In terms of design, the apartments have their own "good size" three ensuite bathrooms, Liovas said. Each apartment has its own kitchen and eating area. There is also one washer and dryer for each six-person apartment.
"It's not the most economical thing to do but you won't have 80 guys using a few washers and dryers and getting infected that way," Liovas said.
The buildings will have solar panels on the roof to offset hydro costs.
At the end of the suburban-like street there will be a variety store, to be stocked in part with ethnic products. An adjoining eight-acre site is still greenfield and Liovas hopes to develop that for other farm employers. There is also space for recreation such as soccer fields.
Liovas said that given the COVID-19 crisis among farmworkers he has fielded calls from farmers in other parts of Ontario's agricultural belt.
"We're trying to create an environment to keep the migrant workers happy," he said. "You can't just put them on a farm, you have to create an environment that they're happy with."