Most construction projects include risks and taking calculated risks is expected by all parties.
It is the unexpected or unforeseen risks that keep contractors, consultants and owners up at night. One of those risks is weather.
"(It is) among of the biggest sources of contention when it comes to delayed claims or impact claims," panellist Michael Swartz, a partner at WeirFoulds LLP, told a webinar audience recently at the Managing Risk in Construction Contracts and Projects conference presented by the Canadian Institute.
Swartz, whose advice is to build in enough float in your contract to account for inclement weather, said that keeping detailed weather notes such as reports by Environment Canada on rainfall amounts and also having a plan in place early in the project on how to deal with that weather is key to minimizing construction delays.
He said Ministry of Transportation contracts often include a formula for production that, if not met, might count as a lost weather day.
But while historical weather data helps calculate production schedules, that data has become less reliable as weather patterns become increasingly unpredictable, Robert Poole, managing director of construction solutions at FTI Consulting, told attendees.
In cases where owners and/or general contractors choose not to "close in" or winterize projects, resulting in shutdowns during bad weather, subtrades can argue that they should not be on the hook for lost time, panellist Lianne Armstrong, a partner at Lerners LLP, added.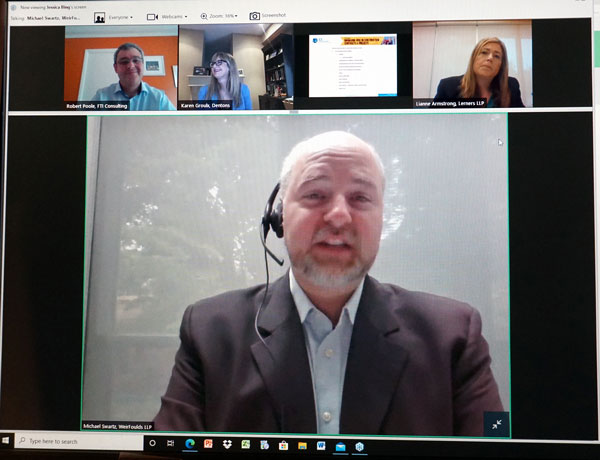 From Poole's work on large infrastructure projects, he said there have been many unexpected site conditions arise. On public projects, P3s for example, risk is often transferred to the private sector but unknowns such as underground utilities that cause delays often result in unavoidable claim disputes affecting many parties.
He cited a case where a utility pole left standing by the utility company for almost two years added to "a huge delay. Who is responsible for third party, especially utility companies, is another big bone of contention because it is very difficult sometimes to get them to do the work."
Ideally, the contractor, owner, consultants and utility companies should collaborate prior to the project start on utility relocation schedules, Poole added.
Armstrong said she's had a lot of cases where contractors had problems on a job because they relied on limited geotechnical testing provided by owners or consultants.
While owners might include specific contract language requiring contractors to do geotechnical testing it is not a panacea, however.
There has to be some understanding from the owners and consultants that this is not an exact science,
— Robert Poole
FTI Consulting
Placing all of the "dirt risk" on the contractor's shoulders can backfire on owners in court, said Swartz, noting court rulings could place liability on owners who expect contractors to conduct extensive soil tests in the short time they have to prepare a bid for tender.
Other disputes can result from inadequate plan specifications or when contractors misunderstand those specifications, leading to "a huge impact on their numbers," said Armstrong
She pointed to cases where architectural drawings were not finalized at the tender stage, resulting in constructability issues, triggering various parties to blame one another.
Another often overlooked risk is a project's property boundaries because an incorrect property line can lead to construction delays, said Poole.
Swartz said projects that run smoothly usually don't have a lot of personnel turnover — particularly in leadership roles and the smart stakeholders might identify those leaders in the contracts.
Having key backup personnel is another strategy that ensures project continuity, particularly on large or lengthy projects.
While documenting project progress is a given, Poole said inaccurate or vague documentation leads to problems.
Swartz said contractors might be ambivalent about requesting information at the tendering stage on cost estimating, for fear of giving a heads up to their competitors, but even a small estimating or scheduling error can have a "profound impact."
Owners should be asking questions when there is a big spread in tender prices, advised Poole.
He said owners and consultants have to be aware that when contractors estimate the costs for change orders that can impact the critical path of the project.
"Contractors obviously take the risk, but there has to be some understanding from the owners and consultants that this is not an exact science," he explained.
To mitigate against scheduling delays the contract draft should look at liquidated damages with subtrades or indemnity provisions, added Armstrong. While constant documentation is essential also take note of the notice of delay period and don't wait until the end of the project when damages have accumulated.