Toronto heritage restoration specialist Daniel Arellano says he has always known that using reclaimed bricks in his projects instead of newly manufactured ones created a smaller carbon footprint but he never had the data to quantify the difference.
Now he has and it proves the gap is huge, he said.
Arellano's firm Arcana Restoration Ltd. commissioned Northern Climate Pathways Inc. to research the "cradle-to-gate" production carbon footprint of reclaimed Ontario bricks in comparison to that of new bricks manufactured by the most frequently used heritage-match brick manufacturer and the results show the reclaimed materials have a footprint 79 times smaller than that of the new bricks.
The study also compared using a specific cured hydraulic lime mortar favoured by Arcana to typical sand and cement mortar and found the carbon footprint of the lime product is approximately 64 per cent less.
"I was expecting for sure that there would be a significant difference, but I was pleasantly surprised," Arellano said.
"Having data to support the much lower carbon footprint of reclaimed brick and lime mortar will help our customers make an informed choice when deciding why to work with us and when specifying material for their project."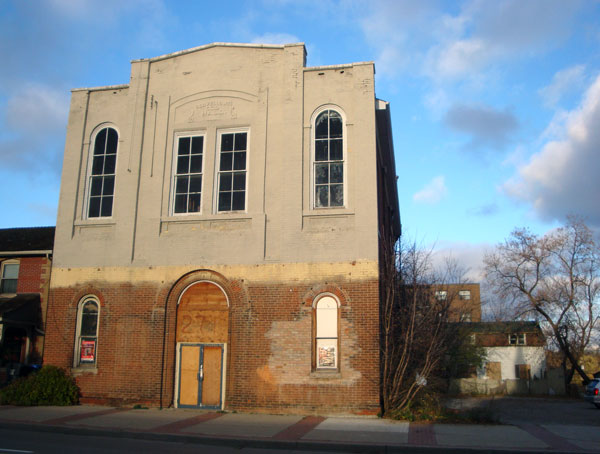 In a typical year, Arcana Restoration will use an estimated 10,000 reclaimed bricks sourced from demolition sites and now Arellano knows, and can relay to clients, that this will result in an annual estimated savings of 4,480 kgCO2 e, a measure of carbon dioxide equivalent, which is the the same as burning 2,250 kilograms of coal.
Some of the difference in the estimated carbon footprint associated with the two types of bricks stems from the fact that the go-to heritage-match brick producer is located in the U.K., Arellano explained, so there is a transportation premium, but a lot of it can be attributed to the energy-intense processes involved in manufacturing new brick.
The heritage U.K. product, available at many brickyards in Ontario, is the most favoured for Victorian-era heritage projects if there is no reclaimed brick available because it is not only a good match for size, colour and texture but it's also got similar strength and porosity to the soft, porous clay brick used in Victorian-era Canadian homes.
"Unfortunately, finding locally manufactured, good-quality matches is difficult," Arellano said.
"When I am doing a heritage-restoration project on a Victorian-era building, I match materials to what is existing as closely as possible. So I use lime mortar only and use a soft porous brick that will absorb and wick out moisture the same way that the surrounding bricks work."
Lime mortar was used 100 years ago, with Portland cement becoming more popular during the between-the-wars period, Arellano said. But lime mortar is a better match on Victorian-era restorations than modern cement in terms of strength and porosity.
"The data from this report shows that the lime cycle, when it is curing, it actually acts as a carbon sink, and this is something that I knew, but to see it in terms of tonnes of carbon recaptured during the curing process, that is interesting to see."
Cache of bricks a lucky find for Arcana Restoration
MISSISSAUGA, Ont. — One of four projects Arcana Restoration Ltd. is currently working on, the restoration of the Oddfellows Hall in Streetsville, Mississauga, built in 1875, represents a case study on the extent to which heritage restorers will go to source the right materials.
The structure has served many functions including as a live-music venue where punk rock bands played. The hall, which now has heritage protection, sat boarded up for about 30 years, but new owner Praveen Manchanda is undertaking the restoration in hopes of leasing it commercially.
Among many challenges facing Arcana owner Daniel Arellano was that a portion of the front facade had been torn down at one point for a window opening, with a subsequent owner making an attempt to rebuild it.
"The mason who did the job did a slapdash job, whatever bricks that were around were used," he said. "So one of my biggest challenges was trying to find a brick that would match. It is a very unique and beautiful brick, it very marbled, something I have not seen in Toronto at all but it is a bit more common out here in Streetsville."
He searched far and wide with no success and was faced with the possibility of having to go to a bespoke brick maker who would make custom bricks, which would have been very costly.
"Then I got very lucky, a barnyard find. I learned there were several thousand bricks that had been sitting in a farmer's field outside of Guelph for 35 years," Arellano said.
A sharp-eyed mason involved in the demolition of the old Milton jail in 1985 had recognized the quality of the bricks and arranged for a friend to store them.
"Sure enough, the size and the marbling, they are an exact match," Arellano said.
The jail had been built in 1877 and Arellano figures the bricks came from the same brickyard as those used for the Oddfellows Hall.
He spent a Saturday in the hot sun checking out every brick for imperfections and selecting only those of the highest quality.
"As far as the bricks that we did pull, even though they have been sitting in a field for that long, they're every bit as good as any of bricks that are on this building," Arellano said.
Follow the author on Twitter @DonWall_DCN.