Move over big yellow rubber ducky.
Four elegant steel bridges costing $100 million are sailing from Nova Scotia to Toronto's waterfront redevelopment with the first expected to be set in place this fall.
The bridges are the first of up to seven eventually planned for the east Toronto waterfront area around Cherry Street where the Don River mouth diversion is well underway and moving towards the final phases of the $1.25 billion Port Lands Flood Protection Project.
Cherubini Group in Dartmouth is fabricating the four bridges and Troy Garnett, vice-president of sales and business development says the first unit, the 340-tonne, 57-metre-long, 21-metre-wide and 10.21-metre-high Cherry Street North transit bridge will be loaded onto a barge there and floated down the St. Lawrence into Lake Ontario and onto Toronto harbour in late October or early November.
"It's going to be a spectacle and we're going to get lots of drone shots of it coming in," he says. "There's lots of detail involved and we're lucky to have been involved. We're pretty excited."
Why so many bridges?
The bridges will allow access to Villiers Island via three north-south bridges across Cherry Street and an east-west bridge at Commissioners Street crossing the Don River.
As part of that there will three new outflows for the Don River that will require bridge points to be widened to accommodate higher outputs, especially in extreme weather conditions.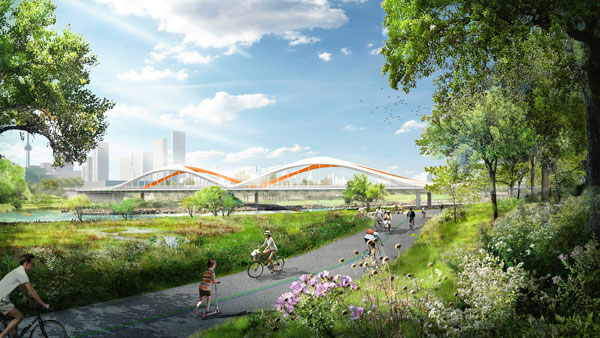 "At peak, such as we had with Hurricane Hazel in 1954, the water flow is two thirds of the Niagara River," says Julius Gombos, senior vice-president of project delivery at Toronto Waterfront Revitalization.
The three outflows will replace the hard-right turn into the Keating Channel which restricts flow and the resulting build up of pollution, sediment and debris and then triggers flooding.
"The water would hit those pinch points and surge up the side and cause flooding."
The bridges will also bring more traffic, both pedestrian and vehicular, into the area as it grows into a destination attraction and more redevelopment starts to happen across the waterfront. With lands being serviced it also attracts developers to building housing and other structures.
Project director Simon Karam says the single span Cherry Street North bridge is engineered to handle LRT loads but since there's no transit line there yet, it will easily handle buses. The future engineering load was programmed much like the Bloor Viaduct which included a subway load underneath it long before the line was approved for construction.
Taking a journey across the St. Lawrence
"Cherubini Canada has a logistics team on board the ship and they will give us 24 hours advance notice as they clear Kingston coming from the St. Lawrence up to Lake Ontario," says Karam. "They have SPMT (Self Propelled Modular Transfer) cranes on board and they will drop in place. That part will take a few days and then it will take up to three months to weld it in place."
The second bridge will be the longer four-span Commissioners Street bridge weighing 1,210 tonnes, which comes in two sections to make up its 153 metre length with a 53 metre width and 10.16 metre height. The cantilever section was to arrive this fall but looks like it won't make it before the Seaway closes for winter and it will mostly likely arrive in 2021.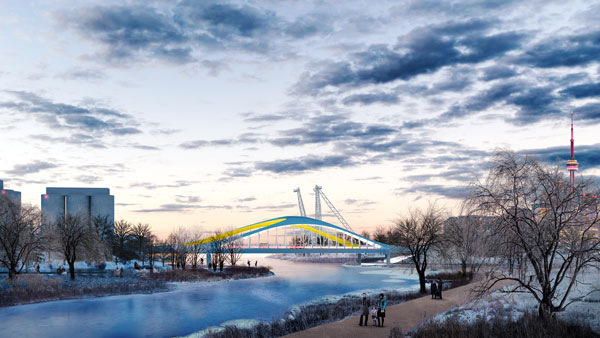 In summer 2021 the third bridge, the three-span (20-70-20 metres) Cherry Street South unit at 790 tonnes, 111 metres long, 21 metres wide and 11.15 metres high will arrive and be installed.
In fall 2021 the twin mirror of the Cherry Street North transit bridge at 450 tonnes, the one for vehicular traffic, arrives for installation, according to the plan, he says, and that will go through the same installation process beside the transit component.
With those four bridges in place there are penciled in plans as transit demands increase for a second Commissioners Street bridge and second Cherry Street South bridge plus one more at Lake Shore Boulevard as a four span bridge, each section 24.4 metres and 37 metres wide, but there are no hard timelines.
The engineering was led by Entuitive, Grimshaw and Schlaich Bergermann Partner (SBP). Road designers were WSP and DTAH and Michael Van Valkenburgh Associates (MVVA) provided landscape architectural services.
Jewels on the waterfront
The steel bridges were designed to transcend their function and serve as jewels in the crown of the waterfront as it redevelops from a forgotten backwater of Toronto's industrial past to a new role as a recreational centre and new neighbourhood.
"You'll see it all coming in as it enters the harbour from Queen's Quay downtown east," says Gombos, adding it should make for a series of visually interesting features along the waterfront over the next year or more.
The steel is standard grade 350 W, says Karam, and gets three coats of antioxidant paint. However, instead of galvanizing corrosion, they're using a metalized coating which has similar protection properties to galvanized but is easier to apply once the welds and installations are complete.
The plan is to maintain the sleek and elegant form and surface of the bridges wherever possible and a lot time and effort went into finalizing the designs to ensure they set the right tone, says Gombos.
The steel was all sourced in Canada and fabricated at Cherubini Canada's Dartmouth facility. With 150 bridges around the world under their belt, they're well experienced at the task.
There were, however, some 3D bends required which meant outsourcing the fabrication on some of the pieces.
To fabricate the bridges shipbuilders at Central Industry Group (CIG) in the Netherlands are bending steel to create the shells. They sourced the steel in Europe and then shipped the components to Nova Scotia for incorporation into the final products.
He says the finished effect of the white finish will give the steel a look similar to the exposed steel at Lester B. Pearson International Airport's Terminal Three.
Getting the contract took a little doing, he says, and Cherubini mocked up bridges to demonstrate they had the expertise to deliver.
"They really put us through our paces," he says. "We are right on the water and we have big facilities so we can handle big jobs like this. There's lots of room and the other units are also being put together at the same time."