The Citizen Care Pod family is growing.
"We started off with the Citizen Care Pod, which is a smart screening and testing unit for COVID-19 and since then we have developed some other members of the family," said Zenon Radewych, principal of WZMH Architects, which designed the pods. "One of them is a patient care visiting centre for long-term care homes and hospitals. The third thing we came up with was the education pod."
The pods, which are portable, retrofitted shipping containers, were developed by a multi-disciplinary team led by Citizen Care Pods Corporation, co-founded by Carl Demarco and Radewych, with WZMH Architects and PCL Construction in collaboration with Insight Enterprises and Microsoft.
PCL Construction, using modular construction methods, is manufacturing and assembling the pods.
"They're all based on the idea of repurposing a sea container, but they are all a little bit different and they all serve different functions," said Radewych.
"Because we're using repurposed sea containers we don't have to actually build the floor, the walls and the roof, it already exists, we simply modify those elements. The benefit we have is we can produce these very quickly versus portables, (which) sometimes can take six to eight weeks to manufacture. We can do it in two to four weeks."
The pods are customizable.
"They all start off as two 40 foot sea containers that have a certain amount of windows and a certain amount of doors but the interior finishes and what we put inside the units themselves and the lighting can be customized to suit a specific client's needs," Radewych said. "The only thing that's not customizable is the sea container, it's either 20 feet long or 40 feet long, that's the module we work with."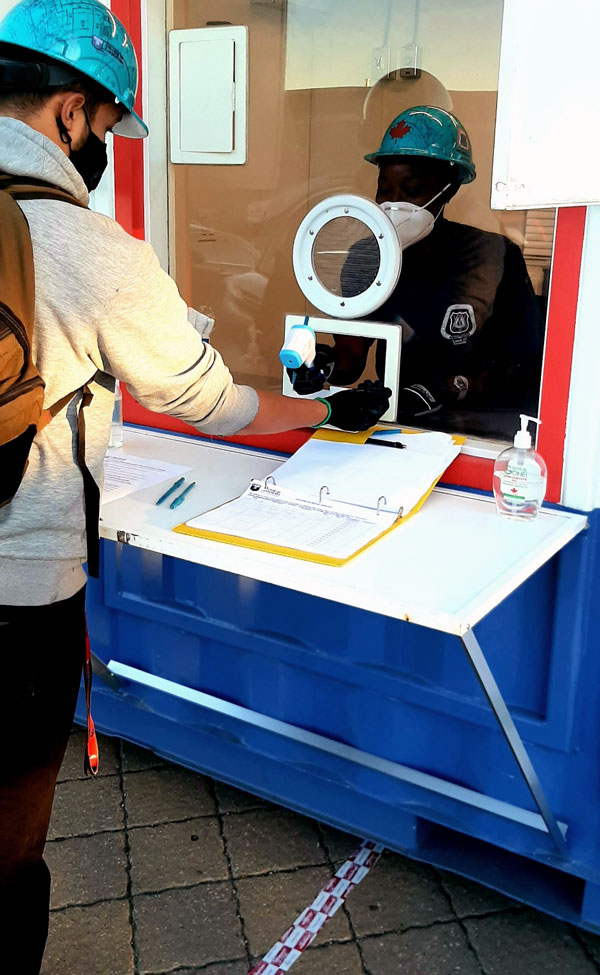 The College of Carpenters and Allied Trades recently resumed in-person instruction at its campus in Woodbridge, Ont. and a Citizen Care Pod has been installed at the entrance to the facility to expedite screening and testing for students. Each day before entering the facility, students go to the pod to have their temperature taken by the attendant and are asked to fill out a questionnaire. Until last week, the college was using a tent for screening but with the colder months ahead, the pods are a solution that can be used all year round.
"When we reopened with a number of COVID-required restrictions on size of classes, protocols of health and safety for those entering, whether it's visitors, instructors or students, we realized we needed to have something implemented," said Mike Yorke, president of the Carpenters' District Council of Ontario, who said he first heard about the pods during a panel discussion he took part in.
"The whole pod system is a made-in-Ontario solution. We said we could use something like that at the college to give it a trial run as a model of good union citizenship and show that it can be used elsewhere in our community, whether it's in public institutions like a city hall or a college or hospitals."
The education pods were designed for elementary schools, secondary schools, colleges and universities in an effort to safeguard the health and safety of teachers and students as they return to classrooms during the pandemic. They are made of steel, fully insulated, heated/air conditioned, equipped with operable windows and have separate entrances and exits for teachers and students. Other options include UV disinfectant lighting and cameras for temperature screening. It's different than a portable, Radewych said.
"Because it's made out of steel, it will not have a lot of the issues that a lot of school portables have like mould build up because of wood siding," he explained.
"It's a lot more robust and, in our opinion, a lot more flexible.
"We're getting interest from schools throughout North America."
Yorke said the college is running out of space with class sizes restricted to six individuals plus the instructor, which is half of what it used to be. To create more space, the cafeteria at the college has been divided into two classrooms.
"We may have to start looking at that and part of the reason is we are restricted by COVID requirements," said Yorke. "We have been, over the last number of months, actually in the market for more space, primarily classroom space. Given that we're in Vaughan, it's not that easy to acquire."
The patient care visiting centre pods will sit outside long-term care homes or hospitals and will have a physical connection such as a tunnel. The residents or patients can visit with family and loved ones socially distanced in a room inside the pod.
"It's stopping people from going into the hospital and potentially transferring the disease to other people," Radewych said. "I think there's going to be a big demand for these over the next few years."
Follow the author on Twitter @DCN_Angela.