LAVAL, QUE. — The developers of Laval's Espace Montmorency, the largest mixed-use development project ever planned for the city, have announced that Deloitte will become a tenant of the new community in early 2023.
Deloitte's new Laval offices will be located in Espace Montmorency's Tower 2 located at the corner of Jacques-Tetreault and Lucien-Paiement streets. Deloitte joins Groupe Selection and Montoni, which will both be transferring their head offices as soon as the project is complete in summer 2022.
The $450-million Espace Montmorency development will consist of about 10 buildings, with 332,000 square feet of rental office space available. The development partners are Montoni, Groupe Selection and the Fonds immobilier de solidarite FTQ.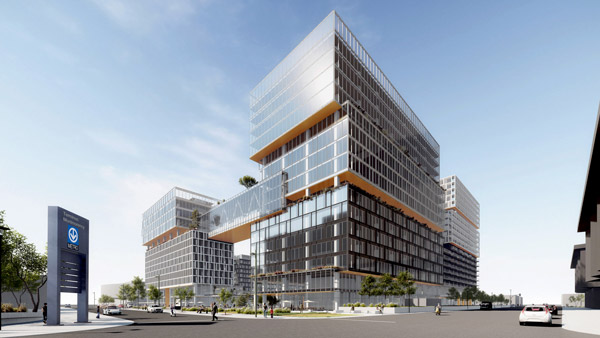 The project is being targeted for LEED ND certification for neighbourhood development as well as for LEED Gold certification. The site is located east of Autoroute des Laurentides, between Du Souvenir and De la Concorde West boulevards, next to Place Bell, with direct access to the Montmorency metro station.
The current phase of construction includes parking and commercial podium; towers 1 and 4 for residential use; tower 2 for office space; and tower 3 for a 188-room hotel. The project delivery date is summer 2022 and design is by Sid Lee Architecture.
The residential component of the project will offer 700 residential units over 20 floors (3rd to 20th floor), for a total of 635,000 square feet. Groupe Selection is working with fridom on 200 boutique apartments geared to 55-plus buyers, with Rez on 300 rental units and with Yimby on 200 rental units.  
"We're very pleased to welcome a premier tenant like Deloitte," said Dario Montoni, president
Groupe Montoni, in a recent release. "This confirms the drawing power of this large-scale, innovative project in Laval, a centrepiece of the new downtown. Deloitte will benefit from Espace Montmorency's multifunctional design and choice location near major arteries, public transportation and knowledge institutions.
"I'm proud of the concept we developed with our partners for this project, which is following a strict schedule that aims to deliver the 4 towers in spring 2022."