The company behind Ontario's first six-storey mass timber residential rental building in Toronto sees it as a viable new model for midrise housing.
R-Hauz Solutions Inc.'s co-founder and principal Leith Moore says the 13,500 square foot pilot in the Beaches neighbourhood is "a repeatable product" that speeds design, development and construction.
Conventional wisdom suggests concrete and steel are the choice for six-storey residences but R-Hauz's "unique" solution is comprised primarily of cross-laminated timber (CLT), says Moore, adding the pilot conforms to the city's midrise guidelines.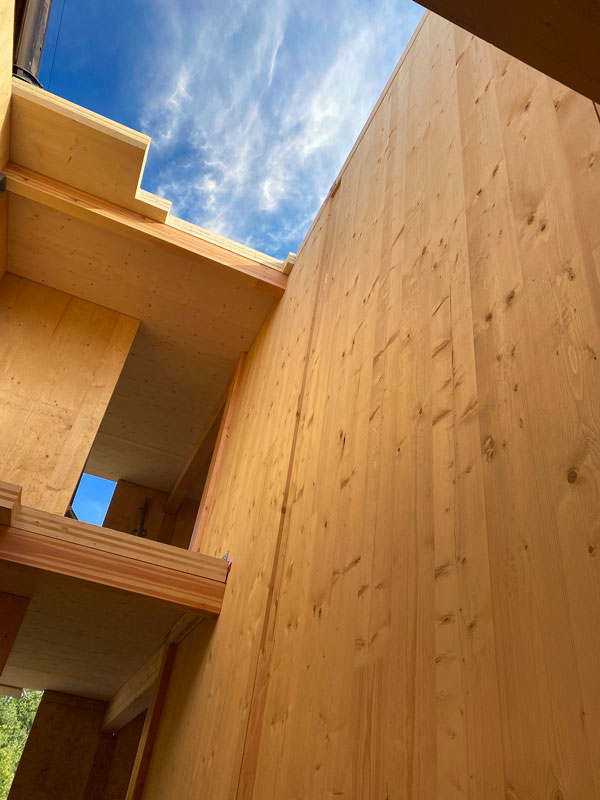 The largely prefabricated CLT structure will be assembled in less than six weeks, after the foundation has been completed, shaving weeks off the time to construct a concrete structure, he says.
"We really can be much faster in the front end because we're a slab-on-grade and because of prefabricated construction we are much faster in the back end," he explains.
The mass timber design on Queen Street East consists of a 20-foot-wide six-plex and a 40-foot 12-plex.
Mark Butt, vice-president of construction for Buttcon Limited, the project's general contractor, says because much of the CLT is prefabricated in a plant, there are fewer potential safety issues onsite.
The project requires a crew of five to seven carpenters, not atypical of a framing crew for a similar-sized stick frame project. But CLT goes up much quicker, he says.
Butt points out as the building is constructed to the property lines on its blind sides, it is not possible to manually install the exterior panels onsite. An easy-to-install prefabricated panel system proved to be the solution.
Gage Metal Cladding Limited, CMV Architects and Timber Systems designed the details for the wall system. Moses Structural Engineers is the structural engineer for the project.
"A big plus to this kind of building is we can get it watertight very quickly during construction," allowing interior subtrades to start work on lower floors earlier than concrete building construction, Butt says.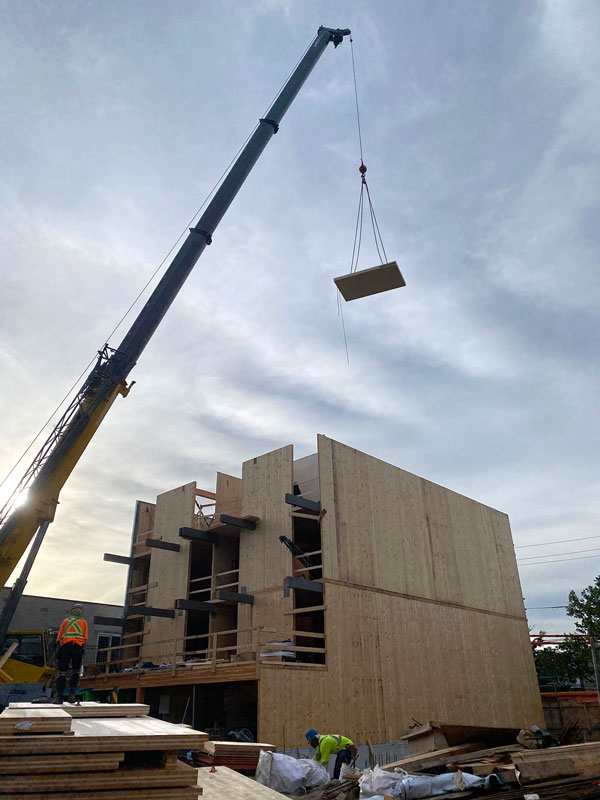 Mass timber construction is not without its hurdles. For one, the concrete foundation walls must be "very level" and the CLT anchor bolts require precise placement because the timber only has a two- to three-millimetre tolerance, the contractor points out.
He says the high cost of CLT — partly because it has to be imported — has been an impediment to the new industry's growth. While there are manufacturing facilities in Quebec and B.C., the project's CLT was imported from Austria.
Butt suggests once the first CLT factory opens in St. Thomas, Ont., which is slated for early next year, the material costs will hopefully drop, helping to draw more attention from the building, design and development industries.
As the industry grows, so should efforts to train crews in the proper installation of mass timber.
"Right now (Carpenters') Local 27 has the best training facility in Ontario and pre-COVID they were running courses regularly to get carpenters trained on mass timber installation," the builder says.
Moore sees R-Hauz's residential product suited to non-profit and city social agencies for development on tight sites.
David Moses, principal of Moses Structural Engineers, says time will tell if R-Hauz's model catches on in Toronto and other cities where different approaches to CLT design are under consideration.
"If you narrow it down to mass timber on a tight urban site, I don't think you have a lot of other precedents right now."
Moses points out the concrete construction industry has had several decades to refine designs and building methodologies.
"This industry is still in its infancy."
He hopes building officials across Canada take notice that mass timber can be a viable design alternative for residential midrise construction.
"They (city officials) have to help the developers provide the (residential) solutions that the community needs and try to streamline that process," he says.
The six-storey building is slated for completion in November.
R. Hauz is in partnership with land owners on the Beaches project, which is being marketed under the name Old Stonehenge Development Corporation.