Geoffrey Campbell of Oakleigh Developments is promising 1,800 construction jobs and 700 fulltime jobs upon completion of his company's new Automotive Innovation Park in Oro-Medonte, a few kilometres north of Barrie, Ont.
Ontario Premier Doug Ford was among the list of dignitaries that included provincial cabinet members, local officials and members of the automotive industry who attended the project's initial ground-breaking ceremony in mid-August.   
Oro Station is an ambitious project spanning over 200 acres. It also holds personal interest for Campbell.  "My passion, aside from my professional work, has always been cars," he told the Daily Commercial News. "Vintage cars are works of art to me. This project in Oro-Medonte is an opportunity for me to be at the intersection of my personal passion and development."
The property had already been tagged for industrial employment and economic development under the Township of Oro-Medonte's long-term growth plan, Campbell said, due to its location adjacent to the jet-capable Lake Simcoe Regional Airport.
With the assistance of a provincial zoning order issued in December 2019 by Minister of Municipal Affairs and Housing Steve Clark, Oro-Medonte Council passed amendments that allowed work on the Oro Station facility to commence.
Although building designers and contractors have not been selected at this point, Campbell's plan is to begin construction in 2021, with full completion in 2022 that includes a 4.1-kilometre motor circuit, designed to FIA Grade 3 standards, for performance testing, training, research and commercial use.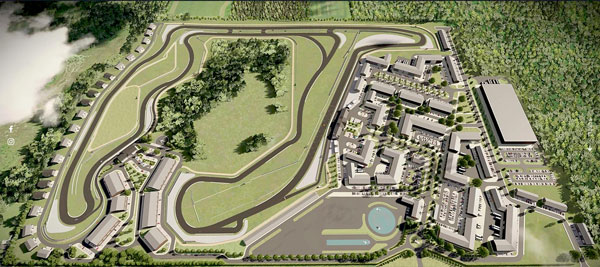 Approximately 700,000 square feet of buildings will be designed and owned by Oakleigh, most of which will be leased to occupants under long-term agreements.
"That gives us continuity over the design of the entire property," he said. "We care about the architecture."
Oakleigh has managed to stay true to its intended schedule, despite the onset of COVID-19 this year. "The pandemic has actually helped because our engineers were all working from home, focussed and not distracted by other things," Campbell said. "We actually got through all our site plan work. The amount of engineering we were able to cover was great."
The Oro Station Automotive Innovation Park will have two active components.
One is to be the home for innovative companies involved in automotive technology.
Although Campbell is unable to name specific tenants, negotiations have included those undertaking electrical conversions of classic cars, two race teams actively competing in North America, performance-based mechanics conducting race car tuning, as well as automotive restoration shops for classic and muscle cars. These are companies that Campbell describes as being in "niche engineering and service fields" rather than large traditional automotive manufacturers.
The second component is the park's 4.3 kilometre track circuit.
Campbell said the circuit will provide various opportunities for auto enthusiasts through member clubs and driver training courses. There is also the opportunity for manufacturers to host client days to demonstrate vehicle technology under controlled conditions, as well as the testing of motorsport technology overall.
Campbell is working closely with the Barrie campus of Georgian College to provide multiple educational opportunities for a variety of faculties such as automotive business and innovation, and architectural and civil engineering. There is also the potential for co-op student placements among the individual tenant occupants.
Campbell remains true to his objective of developing this project without the assistance of any direct government grants.
"This will be financed in the traditional manner. We have land that has increased in value as we have worked through the planning and approval process," he said. "We have tenancy commitments that we have been working towards over the winter months, fees that will be provided by members' clubs, and real estate sales that can provide significant capital for reinvestment into site servicing that will create the business park."
Recognizing the unique potential for the Oro Station facility, Ford said in a release, "There's no reason why we can't make our province the top destination for auto innovation. This project will help us maintain our position as leaders in the sector across North America."