Thanks to a patent-pending hybrid timber floor system developed by the architectural firm Dialog, it is now possible for mass timber structures to enter the supertall division of highrise construction.
How tall? One hundred and five storeys, or 460 metres high, says Craig Applegath, founding principal at Dialog.
He led a dozen designers from his firm and a team of collaborators from EllisDon, RWDI and Pond Tech to create a zero carbon hybrid timber tower prototype.
"The most important thing is not its height, the most important thing is to demonstrate clearly that you can use mass timber in a very tall building and just as importantly that you can have a zero carbon tall building," Applegath explained recently.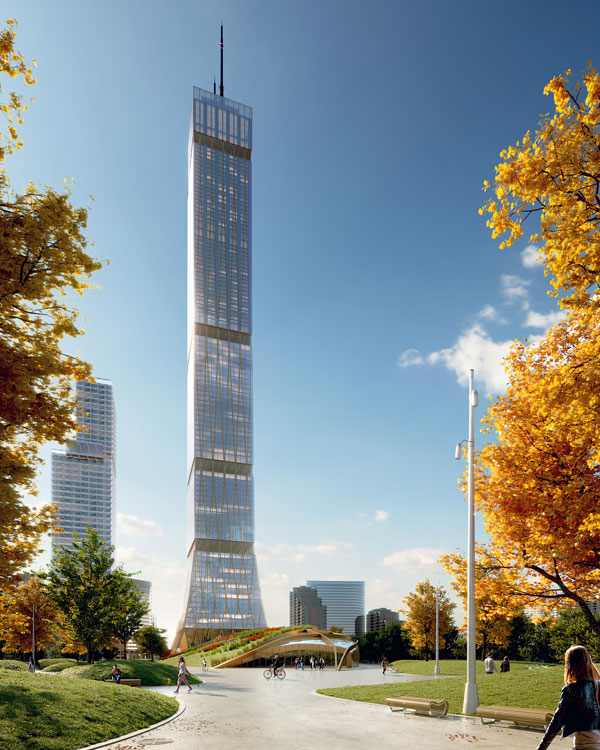 Asked why the specific height, he said, "I wouldn't be getting calls if it was 40 storeys."
The idea for the project came two years ago when a group of partners at Dialog were brainstorming during a company retreat.
Applegath is chair of the Mass Timber Institute and the firm is a supporter of Community Forests International, which advocates for sustainable harvesting of trees.
The partners were noting that timber in cross-laminated timber (CLT) and other forms is suitable for residential construction but at greater heights it's problematic because if used for the frame of a building, more and more has to be used to ensure structural adequacy.
As well, given that the maximum length the product can be used at is around 30 feet, it can't be used for commercial structures that require 40-foot floor plates.
"Wood is not good under compression for height. It is like a waste of wood and it is very expensive per square foot, so it becomes a vanity project," Applegath said of taller builds.
"So we said, this is nuts, we have to develop something that is absolutely feasible within our current time frame."
Given that floor plates, as opposed to exterior exoskeletons and interior vertical support systems, take up to 70 per cent of the material in a building, the Dialog partners were determined to find a way to use mostly timber in a new product for floor plates that could be developed to span 40 feet. The other two systems could be concrete and/or steel.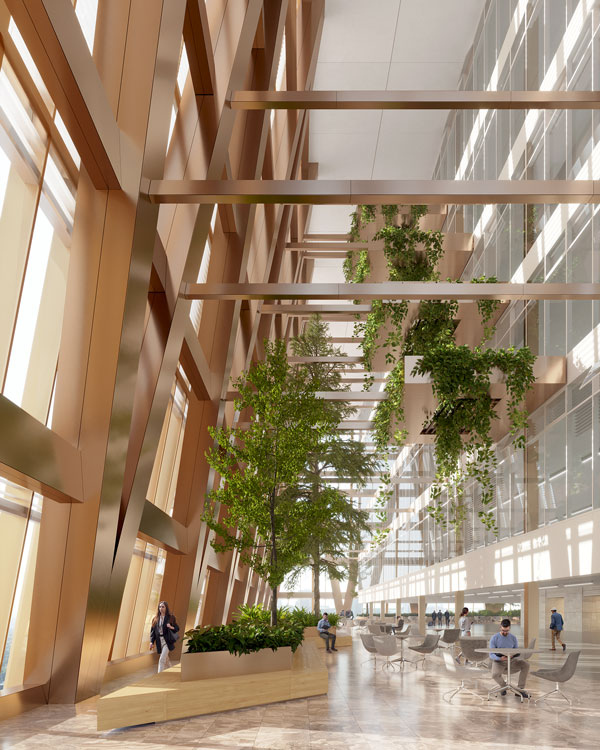 The hybrid system that was developed includes a combination of wood, concrete and steel and offers open spans and fire safety so it can be integrated into any building typology.
EllisDon also had a whole team helping on the project, Applegath said, involved in construction logistics and cost analysis. They determined it was feasible to use sustainably harvested wood that would be manufactured offsite, creating 40-foot hybrid floor slabs that would fit onto a flatbed.
"It is much faster, so you get speed, and you get fabrication in a factory, so you can speed it up there. There is less labour and the cost differential between the hybrid timber floor and the steel and concrete is not that great. We found it was approximately commensurate with a steel and concrete floor system."
RWDI gave insights into tall-building aerodynamics and Pond Tech contributed its expertise in algae bioreactors. Photovoltaics will supply some of the power and natural gas will be burned in a co-generating system to produce both heat and electricity — but right beside that system will be the bioreactors spurred by high-intensity lights to eat up all of the CO2 emitted.
Applegath said he sat in the office of a Pond Tech executive five years ago and when he heard what the algae bioreactors did, "I thought we had the answer to climate change right there."
Literature on the project muses about the 105-storey prototype being built on a property on the northern edge of Toronto, serving as a gateway to an industrious city and also a symbol of the fight against climate change.
Buildings and construction currently account for 39 per cent of energy-related emissions in the world.
"What we are trying to create in the work we do at Dialog is, we are trying to create a zero carbon economic ecology," said Applegath.
"If we don't get our act together in the next 10 years it is game over. It is not a nice-to-have, it is a must-have."
Follow the author on Twitter @DonWall_DCN.