Crews from Ledcor Construction and Sprint Mechanical pulled off an efficient and perfectly choreographed lift of 26 rooftop HVAC units using a helicopter at Burlington Ont.'s Mapleview mall recently.
The early-morning exercise went off more quickly than expected thanks to the hustle of Sprint's ground and rooftop crews, who have ample experience on such jobs, and a pilot, employed by Zimmer Air Services, who saved time by not bothering to turn Sprint's Sikorsky S-58T around as he finished each pick-up and drop-off, flying backwards much of the time.
The average time for each drop-off was one minute 20 seconds, calculated Ledcor health and safety manager Maria Robibero. The job, undertaken at sunrise on Sept. 30, was finished in around 40 minutes.
"It was smooth sailing from start to finish which is exactly what we were planning to achieve," commented Robibero. "It was great for the team, great success for the workers, it went off smoothly, ahead of schedule as well."
Co-ordinating the effort for Ledcor was senior site superintendent Ted Lourenco. Ledcor chose a helicopter over a crane because of the number of units involved, the time available to plan the project, the suitability of the site with lots of laydown space and no obstructions, and of course cost. Using a crane would have taken three days, Lourenco said, with the crane having to be moved once or twice.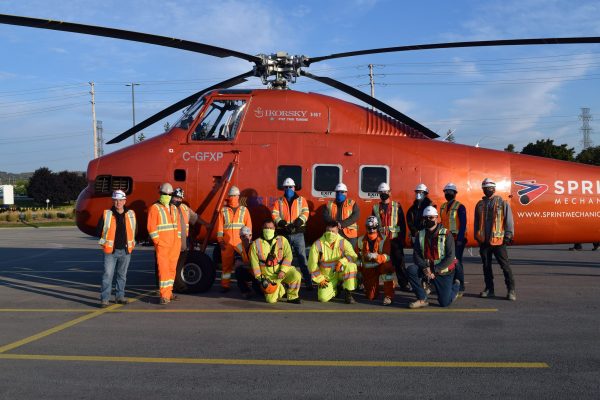 "We didn't have to do traffic control all day long for three days, and we didn't have all that additional labour to handle the equipment at the receiving end and the loading end, so I would say it is cheaper, but it requires more planning," said Lourenco, who was involved in his first helicopter lift. "If you have the time to plan for it, it is far more efficient than using the crane."
Two months prior, Ledcor selected Sept. 30 as the lift day, with Oct. 1 as a rain date — slick and windy conditions mean postponement.
Crews then had to work back from those dates to get supporting work done. The job, for owner Ivanhoe Cambridge, involves retrofitting a former Sears store to accommodate a large Decathlon sports store and four other outlets. Work had to be accelerated with structural steel installed to support the Lennox units, the heaviest of which is 3,218 pounds, and the roofing had to be completed.
Meanwhile, other members of the Ledcor team were involved in logistics. Ledcor safety co-ordinator Ryan Thomas was in frequent touch with his counterpart at Sprint as an airtight workplan was drawn up. Not only were Burlington bylaw enforcement, police, EMS and fire services all consulted, but Transport Canada permission had to be obtained.
The workplan was frequently consulted and updated as the weeks passed.
"We were doing daily and then weekly summaries to make sure the activities were getting completed when they had to, to make sure this lift was going to happen," said Lourenco.
Two weeks before the lift, the units were delivered to the laydown area at the mall.
"There was a plan as to where all the units were located and we knew exactly which order to go in and exactly where the units were going," said Robibero. "They were rigged in advance, which was helpful as well. It was pick and go at that point."
Sept. 30 broke slightly windy but dry. The Ledcor team was out by 4 a.m. to lay out construction tape to keep members of the public away, and a final health and safety meeting was held.
The helicopter arrived after 6:30 a.m., waking up a few curious neighbours who began to assemble around the perimeter to watch.
And then, it was all done.
"It happened so fast," said Lourenco. "Forty-five minutes it was done. Originally it was supposed to take an hour-and-a-half."
Wrapping up a memorable experience, the pilot and the teams from Ledcor and Sprint assembled around the bright red Sikorsky around 8 a.m. for a commemorative photo.
"On a scale of one to 10, it was 11," said Lourenco. "It was phenomenal."
Follow the author on Twitter @DonWall_DCN.