Rogers Real Estate Development and Urban Capital Property Group have launched construction on what will become the tallest building in Mississauga, Ont., the 81-storey M3 residences set to rise as part of the $2.5-billion M City development.
M3 will be the third of eight towers in the 15-acre, 4.3-million-square-foot master-planned community designed by urban designers Cooper Robertson of New York for the Burnhamthorpe and Confederation Parkway community.
Other members of the M3 project team include contractor EllisDon; IBI Group, winners of an international design competition for M3; and interior designers Cecconi Simone.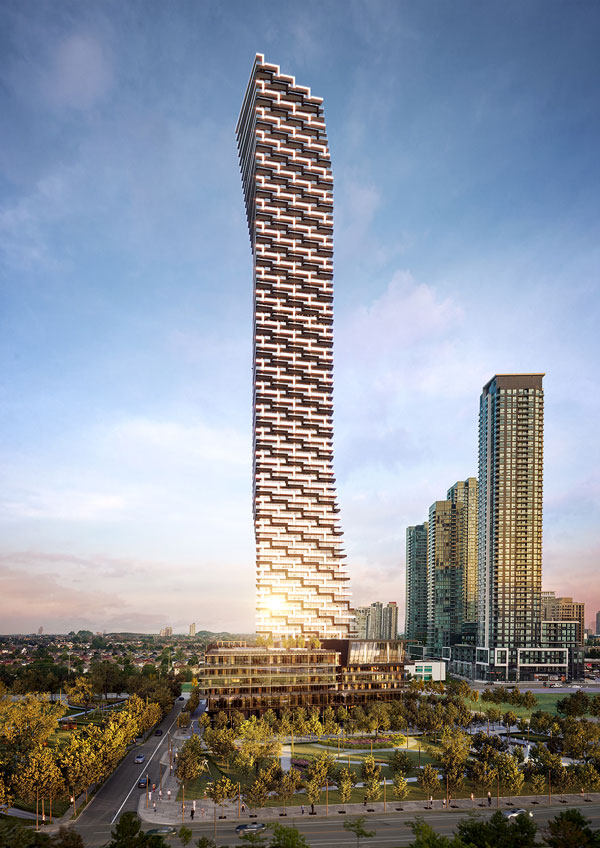 Work is already underway at M1 and M2, which at 60 storeys each are slated to become the two tallest towers in the city when they are competed in early 2023 — until M3 is finished, a milestone projected for late 2026. M3 will have 900 units and M1 and M2 combined will have 1,570 units.
EllisDon director of operations Steven Ferrante noted that operational logistics are challenging given there are currently 220 workers working on three towers at different stages of completion.
The showpiece of Mississauga
"Ultimately it is going to be the showpiece of Mississauga and we want to make sure it is executed perfectly and looks amazing and everyone is happy at the end of the day," he commented.
In the COVID-19 era, Ferrante said, managing the flow of workers in and out of the site and vertically up and down the structures requires extra ingenuity, both at ingress points and employing complex hoist systems that bring workers and the materials they need to the right spaces, with distancing as required.
"With the new social distancing protocols we have had to stagger certain sequences of work rather than working concurrently as we did before COVID," he said, noting for the three towers EllisDon is using Common Tower Man and Material Hoists.
It is fortunate the M City project is being built in a greenfield, Ferrante said, as opposed to congested sites in downtown Toronto, so there is more space for laydown of materials.
Over the course of the spring and summer, EllisDon and its partners have worked hard to improve productivity on the jobsite as they attempted to master health and safety protocols created to deal with COVID.
He estimated productivity, which is carefully measured by the firm, is now at about 85 per cent of what it was pre-pandemic — and that may now be viewed as the new benchmark going forward.
"At different stages of projects the impacts could be less or they could be more. We don't know how they will average out as the projects are still in the first half of their construction life cycle," Ferrante said.
A unique system for 81 storeys
Constructing to 81 storeys will require a unique system to accommodate the resonance of the top of the building to wind stresses — its tendency to sway. Engineers recommended employing a tuned mass damper (TMD) system that consists of a mass, a spring and a damper to reduce the dynamic response of the structure in wind. The TMD, also called a harmonic absorber, works by dissipating energy by the damper inertia force acting on the building.
Meanwhile "sloshing tanks" will be used near the tops of M1 and M2, Ferrante said, to counter the swaying caused by winds or possible seismic events in those buildings.
"There are not too many people who have gone 80-plus storeys and we understand what those challenges are. We brought the right team of subcontractors and consultants together for this build," he said.
M3 features a slender footprint with sloped crown. IBI was said to be aiming to create "verticality…enhanced by a dynamic facade defined by sawtooth balconies that create a black and white diagonal pattern up the building, providing scale, texture and materiality."
The project will incorporate approximately 20,000 square feet of office space and includes an amenity pavilion with an indoor pool and gymnasium. Units will range in size from 480 square feet. to 1,000 square feet.
Follow the author on Twitter @DonWall_DCN.