Elad Canada has unveiled the design for the signature tower at its Galleria on the Park community at Dufferin and Dupont streets in west central Toronto, with a new flatiron-style building to mark the entranceway to the 20-acre project.
The triangular 31-storey residence, called Galleria III, was designed by Hariri Pontarini Architects.
Founding partner David Pontarini said he is aware that flatiron buildings across North America tend to be municipal landmarks, including one on Front Street in Toronto and others in Vancouver and New York City.
He said the form of Galleria III stems from the creation of a diagonal pedestrian mews his firm helped incorporate into the site in their role as co-designers of the master plan with Urban Strategies.
"The challenge was creating these unique parcels of land within the master plan and then being asked to deliver on a promise, which is that we could do something interesting on that site. I think it is an interesting building because of its shape, its form and the material palette we are using," he said.
"This building and another one were two of the most interesting building typologies to work with in that master plan and that is why we were excited to do it, because we do see it as a flagship for the master plan and that block."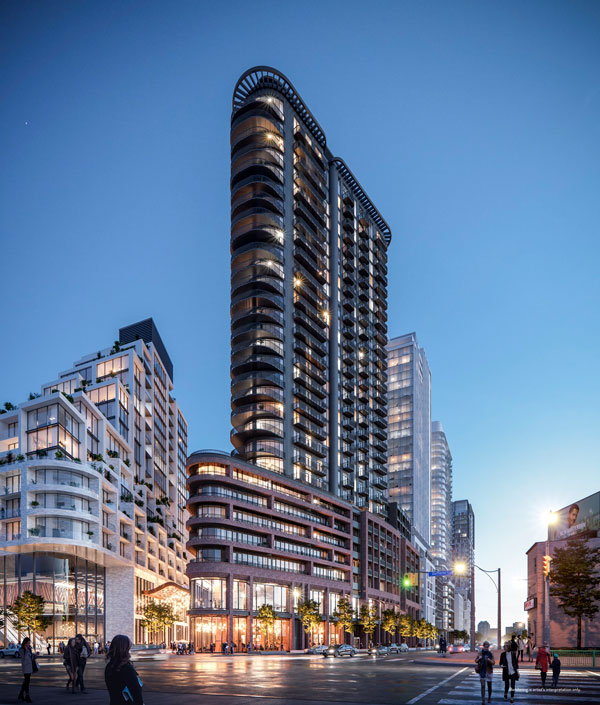 Irregular-shaped buildings interrupt the traditional grid pattern of cities and make for instant markers, Pontarini explained.
"This whole master plan was about taking the city of Toronto's orthogonal grid and turning it on its head with the diagonal pathway that creates these oddball site conditions, so it is really taking advantage of that," he said. "The client has been great in supporting that, the city liked the idea because it was a view terminus, so it's got a lot of positive things going for it."
The pedestrian mews was designed by landscape architect Janet Rosenberg & Studio Inc. and intersects with two new public roads created by the development.
Galleria III will be the third residential building to rise on the site. Galleria 01 and 02 will be 29 and 24 storeys and were designed by Core Architects.
Galleria III will include 426 residences, ranging from studios to three-bedrooms. There will be two storeys of retail at grade offering food, beverage and personal services. Interiors and amenities were designed by DesignAgency.
Wellness amenities include a fitness centre with a yoga room, spin studio, meditation room, exterior dog run and pet wash, outdoor yoga spaces and private pods.
The community will include a new eight-acre city park, a 95,000-square-foot community centre, the pedestrian walkway and 300,000 square feet of retail. Construction on the first phase of the eight-building development began in August 2020.
On full buildout, Galleria on the Park will include 2,900 condominium residences.
The community was formerly home to a radiator factory and other industrial spaces.
Pontarini said the design of Galleria III pays homage to those roots. It features a deep-red brick exterior at the podium, metal panels inspired by the patterns of steel radiators featured on the tower's exterior and vertical metal guardrails on balconies.
"You've got these somewhat interesting industrial buildings along Dupont and we are trying to pick up on that with the brick and metal and aluminum trim," said Pontarini.
The architect said the two functions his firm played, community master planner and building designer, were very different roles.
"A lot of master plans are developed with very schematic ideas of what the building can be like and they tend to be simplified visions of how the future might get developed. What we try to do on a master plan is create a very strong vision."
Follow the author on Twitter @DonWall_DCN.