TORONTO — A Request for Qualifications (RFQ) for the George Street Revitalization project has been issued by the City of Toronto and Infrastructure Ontario (IO).
The revitalization site is located between Dundas Street East and Gerrard Street East in the city's historic Garden District. The revitalization is part of the city's Downtown East Action Plan.
The project, led by the city, is being delivered through IO's design, build and finance (DBF) Public-Private Partnership (P3) model.
The city has contracted IO as the commercial procurement lead and project oversight partner and adviser during construction.
The first step in the procurement process is to issue an RFQ to identify project teams that have the required design and construction capability and experience, and the financial capacity to undertake a project of this size and complexity, indicates a release.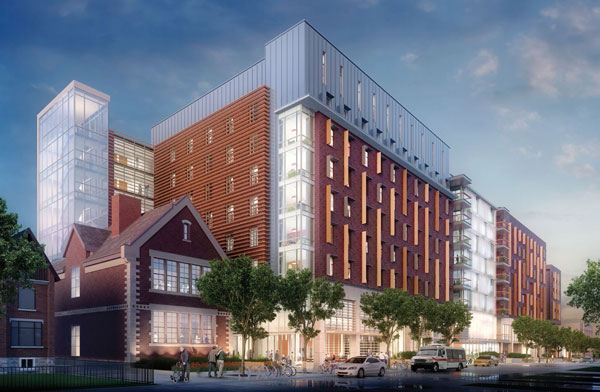 Located on George Street, Seaton House men's shelter and its adjacent properties will be transformed into a new shared facility, providing a range of housing, programs and services to meet the needs of individuals experiencing homelessness and vulnerable and elderly individuals in the community, adds the release. The project will result in a long-term care home, a transitional living facility, an emergency shelter, affordable housing and a community hub. Seaton House is expected to be fully decommissioned by July 2022.
The project will include about 622,000 square feet of new construction and restored heritage buildings. Some proposed features of the new development are:
an emergency shelter program with 100 beds for men experiencing homelessness;
a 130-bed, all-gender transitional living program for people experiencing homelessness who require more intensive health care and substance abuse support;
a long-term care home with 378 beds to better meet the needs of formerly homeless, vulnerable and elderly individuals;
21 units of affordable housing with supports; and
a community service hub for program clients as well as members of the surrounding community.
The project also includes sidewalk and streetscape improvements which will link Moss Park to Allan Gardens.
IO and the city will establish the shortlist of project teams based on the RFQ submissions received. Those teams will be invited to respond to a Request for Proposals expected to be issued in spring 2021.