A Kitchener, Ont.-based restaurant chain has ploughed through the darkest days of COVID-19 to recently complete the construction of a new restaurant in Barrie and is well on its way to opening a second one in downtown Toronto soon.
"One of the questions people ask us is, 'Why are you doing this now? It's bold'," says Jody Palubiski, CEO of the Charcoal Group of Restaurants.
But Palubiski points out the 5,400-square-foot Beertown in Barrie had been in the works for four years and Charcoal couldn't walk away from its commitments, including a long-term lease.
Nor would the restaurant chain want to.
Still, worry over the pandemic has hung over the management's heads since March.
While the development and construction of Beertown Barrie has been one of the more "seamless aspects of 2020" for the company, Palubiski says there have been some "nail-biting moments" including when all of its restaurants were in lockdown "and we were building something that we didn't know we could open because of the pandemic."
The pandemic aside, the project itself was not without its challenges.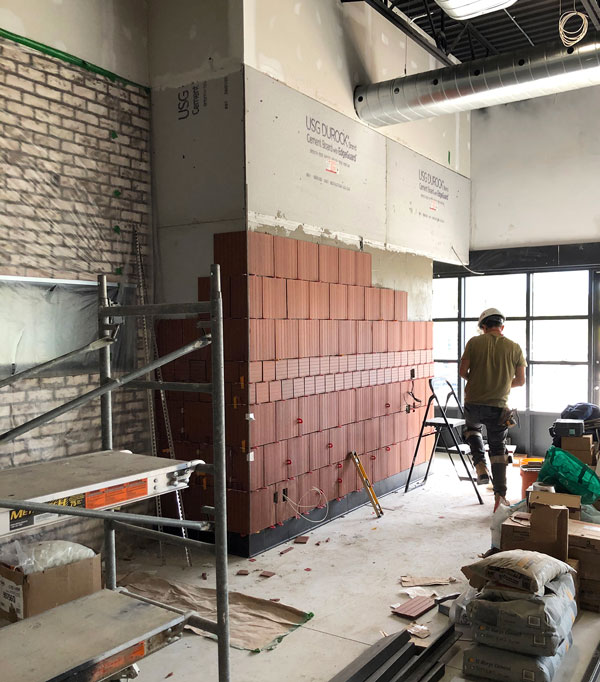 Although the Charcoal Group had built several Beertowns, the Barrie project was a prototype with a number of different fixtures, finishes and other details to work out.
Palubiski says prior to the owner's builder completing the shell to drywall for the restaurant, Charcoal brought its own interior general contractor, Gaydon Contractors Ltd., into design discussions to co-ordinate issues such as utility rough-ins with the owner's constructor.
Pandemic restrictions on construction limited trades onsite and still one worker showed COVID-19 symptoms, prompting Gaydon to shut down the site for two days until tests proved negative.
The pandemic added a couple of weeks to the 16-week construction schedule but overall "it was a pretty clean build," says Palubiski.
Charcoal has faced different hurdles at the 6,000-square-foot downtown Toronto version of Beertown, which is located in an existing 12-storey office building at University and Wellington.
While that site has remained free of COVID-19, the construction space is confined, creating scheduling complexities for both materials and tradespeople, he says.
Another issue has been the discovery of footings from a pre-existing building on the site.  
Palubiski adds when a crane collapsed at a neighbouring construction site in July, the project had to be shut down several days during the investigation. The general contractor for the downtown project is Burlington-based BUILD Construction.
Through fits and starts, Palubiski remains optimistic about the futures of both restaurants.
He's no stranger to hard times, having operated restaurants in downtown Toronto during the SARS outbreak in 2003.
"It was a very difficult four or five months and you felt the repercussions of it for a year or two later, but over a five, six, seven-year period our restaurants performed very well," he says. "We are looking at the same to happen here."