A recent pan-Canadian forum on affordable housing highlighted the diverse social and procurement challenges the sector is facing — and the ingenuity being brought to bear to find solutions. 
Billed as Coast-to-Coast Affordable Housing Innovations, Made in Canada Solutions, the Dec. 3 webinar showcased projects in six Canadian cities. The forum was presented by Kehilla Residential Programme, a non-profit division of the United Jewish Appeal of Greater Toronto.
Among the projects highlighted were the City of Toronto's Modular Housing Initiative, which created 100 units on two sites in the city in barely over a half year; and Montreal's Place Griffintown, which is using passive design strategies to create 55 energy-efficient units with a goal to achieve maximum passive habitability, that is, remaining habitable following a prolonged power outage.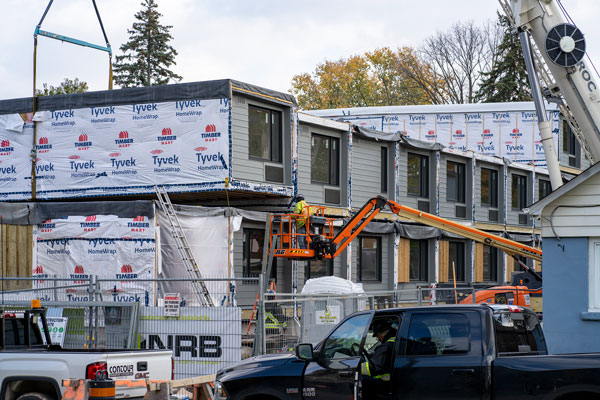 The federal minister responsible for the CMHC Ahmed Hussen kicked off the event by outlining the government's $56-billion National Housing Strategy and its recently announced accelerated building program that aims to see 3,000 units of affordable housing built in less than 12 months.
"The COVID-19 pandemic has reminded us that nothing is more important than a home, a place of sanctuary, a place of safety," said Hussen. "Yet the pandemic highlighted our serious housing challenges."
The government is ready to mobilize and act quickly to build affordable housing, he said.
The solutions being presented "show us what can be done when we innovate with purpose," added Hussen.
The other four projects were:
the Senakw Development, a transit-oriented, mixed-use project of approximately 6,000 units in Vancouver on territory of the Squamish Nation;
Ottawa's Common Zibi, a joint venture between New York City-based Common and Canadian real estate firm Dream Unlimited that will offer 399 beds with a mix of co-living and traditional rental units;
the One North End project in Halifax, created as part of a community benefits agreement to overcome the effects of gentrification experienced by under-employed African Nova Scotians, some of whom descended from families displaced from the historically significant community of Africville; and
the Templemont Project in Calgary, two buildings with a total of 190 units from the Trinity Place Foundation that will house older adults who may have suffered from homelessness, mental illness and addictions over their lives and now need support.
Modular construction was selected by the City of Toronto for its sites on Harrison Street and Macey Avenue, explained Daniel Ling, director and principal at Montgomery Sisam Architects, because of the challenge of the accelerated timetable set by the federal government. Toronto Mayor John Tory said at a news conference June 2 that expedited site selection and permitting were keys to hastening the project.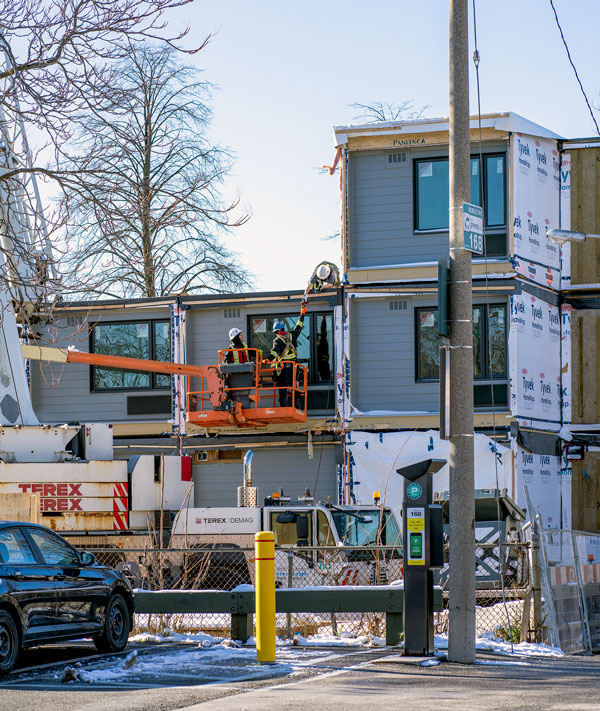 Ling explained the modules, measuring 300 square feet, were manufactured locally of wood, transported to the sites on a flatbed truck and lifted into place in one move by a crane. With electric heating and cooling, the carbon footprint is minimal, he said.
"One of the key advantages is quality control, with most of work done in a shop with minimal work done on site," Ling said.
The whole building footprint at 11 Macey is only 900 square metres and the build was expected to be wrapped up by the end of November. The three-storey, 56-unit building also has common rooms, a dining room, program space and administrative offices. The supportive project is designed to assist people who are currently experiencing homelessness.
Lessons learned, Ling said, can definitely be applied to future projects.
"We hope to be able to make good design accessible to everyone," he said.
The Place Griffintown project is the latest in his firm's decades-long mission to develop innovative and sustainable projects, explained Daniel Pearl, co-founding partner of L'Oeuf Architectural. The project seeks to demonstrate that sustainability and affordability are not mutually exclusive.
Repeatability is a principle goal with this project, Pearl said. Other targets are flexibility — easily allowing modifications and building performance upgrades over time — and building to enable easy monitoring and reporting, to ensure others can learn lessons from such features as its high-performance envelope, operable shading and natural cross-ventilation. Scholars Dr. Ted Kesik of the University of Toronto and Dr. Liam O'Brien of Carleton University are leaders in the field.
In the end, Pearl said, "I would define success by having our residents serve as ambassadors and champions going forward."
Follow the author on Twitter @DonWall_DCN.