TORONTO — It's a stark, grim scene and a reminder of how dangerous construction can be.
The front page of the Daily Commercial News (DCN) today isn't meant to be opportunistic or inflammatory. It's meant to illustrate a point.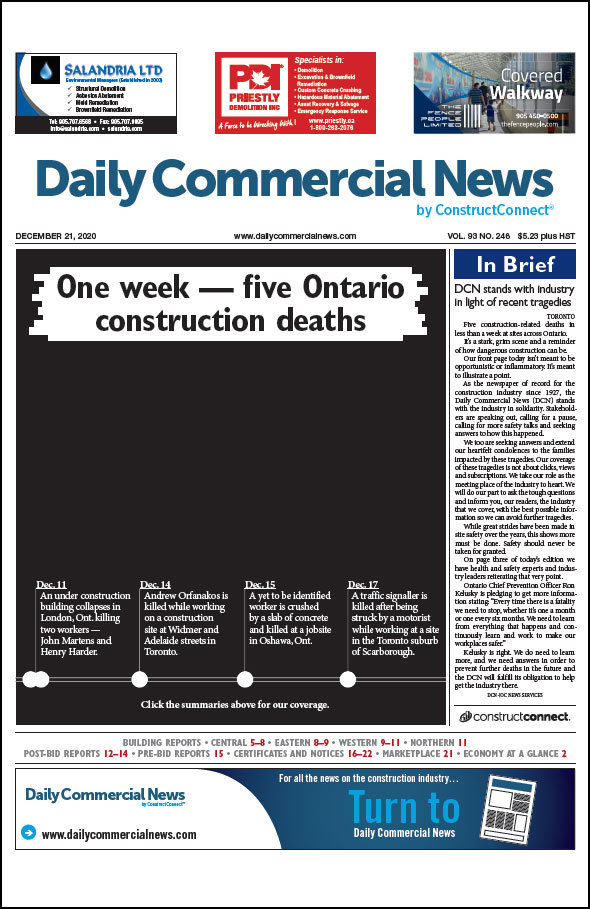 As the newspaper of record for the construction industry since 1927, the DCN stands with the industry in solidarity. Stakeholders are speaking out, calling for a pause, calling for more safety talks and seeking answers to how this happened.
We too are seeking answers and extend our heartfelt condolences to the families impacted by these tragedies. Our coverage of these tragedies is not about clicks, views and subscriptions. We take our role as the meeting place of the industry to heart. We will do our part to ask the tough questions and inform you, our readers, the industry that we cover, with the best possible information so we can avoid further tragedies.
While great strides have been made in site safety over the years, this shows more must be done. Safety should never be taken for granted.
You will see in the links below we have health and safety experts and industry leaders reiterating that very point.
Ontario Chief Prevention Officer Ron Kelusky is pledging to get more information stating: "Every time there is a fatality we need to stop, whether it's one a month or one every six months. We need to learn from everything that happens and continuously learn and work to make our workplaces safer."
Kelusky is right. We do need to learn more, and we need answers in order to prevent further deaths in the future and the DCN will fulfill its obligation to help get the industry there.
CPO says office will address recent deaths through messaging, thorough analysis
Family of construction worker killed on Toronto jobsite speaks out, seeks answers