In an excavation four storeys below ground level in a busy section of downtown Montreal, a small army of heavy equipment operators is on the job.
An operator in a yellow CAT 349F excavator is pulling down a pile of grey-brown dirt. Nearby, another excavator operator inside an orange Hitachi machine is clawing at the ground of the former parking lot.
Most of the retaining walls have been installed. Digging and earthmoving work is now well underway at the site and expected to continue for several more months.
In four years, the site, known as 1 Square Phillips, will be home to the tallest residential tower in the city, with panoramic views of the St. Lawrence River. It will also be a relatively green building with plenty of amenities and a dog park. The idea is to make the building and site a community in the heart of the core.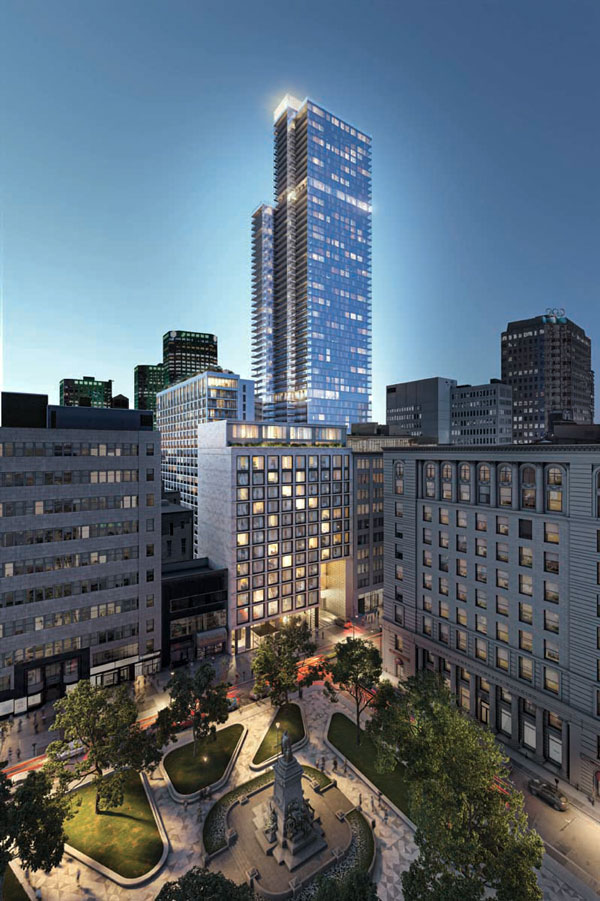 When completed, the $560-million flagship of Brivia Group, a real estate development company with a growing number of projects in Montreal, Quebec and Toronto, will be 61 storeys and stand 232.5 metres tall.
"It's quite a significant project for Montreal in terms of real estate development," says Vincent Kou, vice-president of corporate development and growth at Brivia Group. "Basically, we're around 40 per cent complete in terms of excavation and we're around 75 per cent complete with respect to retaining walls."
The project was first announced in May 2019 and shovels went into the ground this past July. Throughout the summer and fall, crews have been digging the foundation and installing retaining walls. The venture will generate work for more than 16 professional firms, consulting companies and suppliers.
The building will be nestled between Place Phillips and Saint-Alexandre Street, in the block delineated by Sainte-Catherine Street West and Rene-Levesque Boulevard. Completion of the building is slated for 2024.
Working through the COVID-19 pandemic and adhering to social distancing guidelines has been a challenge but the footprint of the worksite is tight, which compounds matters. A number of other construction projects are also underway in the area and as many as 150 trucks a day must access worksites.
"It's located right in the core of the downtown and right in front of Phillips Square, and we're next to Sainte-Catherine Street where all the shopping malls are located and all of the surrounding commercial area," says Kou.
The site itself is also surrounded by a number of existing buildings without much room to manoeuvre. The extra truck traffic means that contractors must plan ahead to ensure deliveries are on time.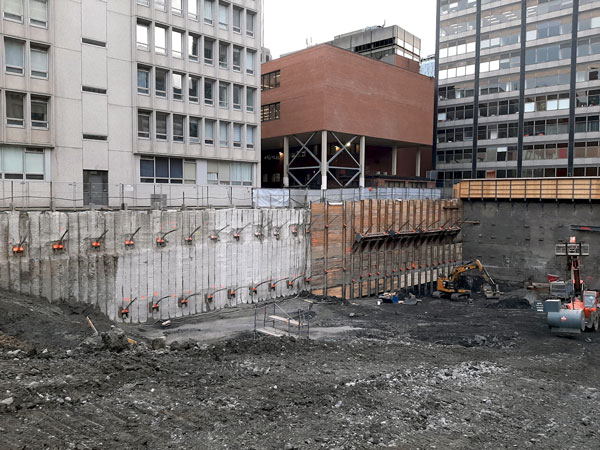 "You have a tight entranceway as well because work is taking place with the city in order to restore Sainte-Catherine Street and Phillips Square," notes Kou. "There's a lot of construction activity taking place all at the same time so that makes it more challenging."
COVID-19, meanwhile, has slowed down work because workers must fill out a questionnaire each morning and the company has to be diligent about making sure sanitary processes are in place.
"We always keep the site as a safe workplace in the context of COVID-19," says Kou. "Every day you have to go through the same questionnaire and check people to make sure they are abiding by the rules and keeping the worksite safe."
The sleek-looking building will have plenty of floor-to-ceiling windows and a 5,700-square-foot lounge on the 50th floor. On the same floor, there will be a 4,100-square-foot outdoor garden.
An exclusive dog park, a 12,000-square-foot wellness area, including a yoga studio, swimming pool and spas, a refrigerated parcel delivery system as well as heated walkways, are among other unique elements.
"Giving space back to the residents is part of what we do," says Kou. "It will be just like a sort of secluded community right downtown."
The building will have a high-energy performance fenestration that reflects more light in summer and absorbs it in winter. It will also have three green roofs, white membranes on the rooftops and numerous trees with heat islands.
The tower will also have a variable refrigerant flow air-conditioning and heating system that will allow for more efficient transfer of energy throughout the building.
Hill West architects of New York City helped design the building with nine specific angles that will allow every facet of the structure to have a clear view and allow a lot of light to flow in. Local architect is Montreal-based Menkes Shooner Dagenais LeTourneux Architects. Claude Cormier + Associates is the landscape architect. Financial partners involved in the project are BMO and the Bank of China (Canada).
Seventy-five per cent of the 498 condo units in the tower have already been sold.
Kheng Ly, founder, president and CEO of Brivia Group, said in a statement that it's a unique project that will meet the expectations of future residents and will certainly be the pride of Montreal.
"With this first phase, Brivia Group will play a key role in revitalizing the economy of the metropolis, especially the downtown core. Montreal has been on an upward path for several years in terms of real estate development, and we continue to firmly believe in our city."