Hamilton is flush with major municipal facilities projects right now, especially its downtown, members of the Hamilton-Halton Construction Association heard recently during the HHCA's annual construction forecast event.
Rom D'Angelo, the City of Hamilton's director of energy, fleet and facility management, told participants attending the virtual HHCA forum Jan. 20 that the department's typical roster of facilities projects had been supplemented in recent years as his team has taken on several significant builds for the city's affordable housing arm, City Housing.
In fact, City Housing's capital budget for 2021 of $43.7 million is more than the $36.6 million budgeted for corporate, long-term-care and recreational facilities.
"The $40 million for City Housing really sits outside of our portfolio," D'Angelo explained. "We've been carving out certain major projects that facility management could deliver on their behalf.
"There's approximately $100 million in new capital to be delivered over a short period of time."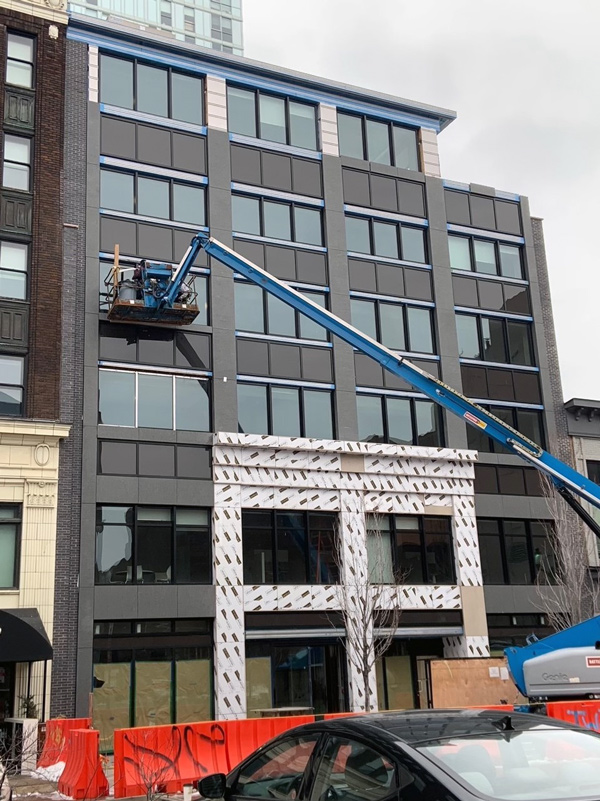 City Housing projects on the go or in the works include the $34-million 500 MacNab Street project, scheduled to be substantially completed this spring; 55 McQueston Road, budgeted at $21.6 million, set to be built in two phases with the phase one tender now out and recently extended to Feb. 1; the $25.1-million Bay and Cannon project, currently in the design stage with a construction manager to be hired soon; the $23.4-million Macassa project at Upper Sherman, set to be developed alongside an expansion of the Macassa Lodge long-term-care home and also in the design stage; and the King William and Wellington project, a $13.6-million low-rise build now in the design stage and potentially targeted to be built using the rapid-housing model.
Another source of major projects, D'Angelo said, has been the city's downtown accommodation strategy. That's been a long-term vision of the city for at least 15 years and in 2016 staff calculated it was leasing approximately 185,000 square feet of office space with agreements that were due to come to maturity between 2018 and 2021. D'Angelo noted the city currently leases 17 properties downtown.
"The focus with the accommodation strategy was to get out of our leased facilities and into our into city-owned facilities," D'Angelo said. "Our focus is to create some savings."
Developing the city facilities required resourcefulness, he explained.
"The Lister Annex, which is next to the Lister Block, was a unique partnership with LIUNA. That parcel of land was owned by LIUNA and the City of Hamilton and LIUNA struck up a deal where they would build and then sell the building and the land to the city, so it was a land acquisition and construction initiative," D'Angelo said, noting the budget was $6.7 million.
The handover was completed last month.
Another project that forms part of the downtown accommodation strategy is the retrofit of the former Stelco tower at 100 King Street West. The city is currently renovating five floors with 82,000 square feet of modernized office space to accommodate 480 city staff.
Other pieces of the strategy include the Provincial Offences Administration building at 50 Main Street East, a renovation job finished in 2018, and the 330 Wentworth Street project. Bids are currently being evaluated for the latter job with 30 bidders now prequalified. The job is a retrofit that will deliver 35,000 square feet of upgraded office space.
In total, D'Angelo said, the city was able to reduce the city's leased footprint by 34 per cent, which produced significant operational savings with a payback of less than 11 years on the four projects.
Over the past four years the facility division has averaged a capital spend of $55 million per year and it delivers an average of 175 capital projects annually. In recent years, the division's project intake and delivery has increased by 41 per cent, D'Angelo noted, in part due to other relatively new responsibilities such as taking on a long-term-care portfolio and four police buildings.
Other major projects currently under construction include the $22-million Ancaster Memorial Art Centre, which is a 21,000-square-foot addition to an old school that will house a 450 seat theatre, a studio theatre and a gallery; and the $12-million Valley Park Expansion and Library project.
Upcoming capital tenders in 2021 include the Carlisle Library renovations; Terryberry and Westdale Libraries roof projects; Hamilton Farmer's Market Roof; Stoney Creek City Hall Building Envelope; MATC Building Envelope; roof replacements at Spring Valley, Carlisle, Beverly and Lawfield arenas; and four federally co-funded projects.
Looking ahead to 2022, there's the massive $272-million, 430,000-square-foot HSR transit maintenance and storage facility to be built in the Birch Street neighbourhood.
"We're creating a campus environment with the Wentworth operation centre and creating, for lack of better word, a super yard," said D'Angelo.
Follow the author on Twitter @DonWall_DCN.