A $216 million upgrade at the Ashbridges Bay Water Treatment Plant (ABWTP) was hit by a year's delay during the excavation phase but is back on track to install an innovative UV disinfectant system.
Nancy Kim, a City of Toronto project manager, says work on the upgrade to the wastewater treatment plant at Lake Ontario by Leslie Street was delayed six months because they discovered a massive sea wall buried along the waterfront.
"It wasn't on any of the drawings and we had to go back several iterations to find it," she says. That means it had to be dug up and excavated before the rest of the work could be completed, adding about six months to the schedule. About the same time they found sheet pilings buried along the waterfront close to a service road.
"We had to figure how to get those out without impacting the road which was right up against them so it meant shutting the road down to one lane," she says, adding they had to go back to the archives to find notes from the 1940s and earlier.
Trouble comes in threes. As they started installing the 1,300 pilings on which the building structures will be placed, engineers began noting they were shifting out of alignment.
"We stopped installation, of course, to find out what was going on," she says. "We started a geotechnical investigation and found it wasn't the design of the piles but the bedrock with its Georgian shale in parts, but not uniformly distributed. It's like a pepper shaker with some in spots."
With that knowledge in mind the team devised a plan to resolve the pile problem. As of early February, some 1,000 of the 1,300 pilings are in place, Kim says. Cost for the extra work required hasn't been calculated into the price of the project yet.
The scope of the work at the ABWTP includes a new disinfection building with state-of-the-art UV equipment and sodium hypochlorite/bisulfite chemical systems along with new reinforced concrete disinfection channels housed within a three storey building.
That building includes underground service tunnels and effluent conduits, mechanical service rooms, chemical storage and dosing facilities, electrical power distribution, office space, automation systems and various electrical and instrumentation and control systems.
The new bypass conduits include weir chambers, UV effluent channels to both the existing and new (future) plant outfalls, water quality sampling buildings, associated chemical dosing and analytical equipment and systems
Meanwhile upgrades also include the existing plant water pumping station, along with associated electrical, instrumentation and controls, architectural upgrades and structural modifications. There are also modifications and upgrades to the seawall substation and installation of new standby generators.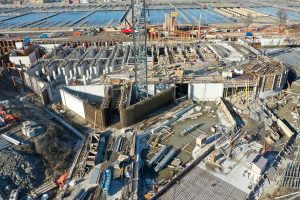 The upgraded plant meets federal regulatory requirements on residual chlorine, disinfection of ABWTP effluent and eliminates reliance on chlorine.
With some 200,000 cubic metres of soil extracted — mostly toxic from the industrial history — the concrete pours are underway with 7,000 cubic metres complete out of the total 29,000 cubic metres required, about 25 per cent.
"We have some of the UV system components onsite now and we're starting to look at it," Kim says. "The building housing it will be the first one completed so we can start assembling the system inside."
Electrical and other infrastructure will follow once the UV system is installed, along with the water conduits which are being poured to connect the flow system.
The UV system is a first for Toronto and uses a specific light frequency to disinfect wastewater and render organic benign.
Graham Construction LP is the general contractor and Trojan Technologies is the supplier of the UV system which is more expensive to install and operate over traditional chlorination systems.
While provincial environmental standards support chlorination, some councillors were convinced that UV is more environmentally friendly.
The UV system was projected to cost at least $66 million more than a chlorination system and cost $440,000 more in operational costs annually.
Originally scheduled to come online in 2022, the delays mean it will be late 2023 before the system starts running.
Trojan Technologies is based in London, Ont., and designs, manufactures and sells UV systems for municipal wastewater and drinking water facilities as well as for the industrial, commercial and residential markets.
It boasts 7,000 municipal facilities in more than 80 countries using its technology, with the largest installed base of UV systems in the world with offices in the U.K., Germany, China, France, Australia, Italy, Spain, and the U.S.
Mark Klustermans of Trojan says the ABWTP system will disinfect a peak flow of 2,000 million litres per day and is their largest UV wastewater installation in Canada to date.
"UV is an effective, safe and environmentally friendly way to disinfect wastewater," he says. "Unlike chemical disinfection, in which substantial contact tanks and time are needed, UV light provides rapid, effective inactivation of microorganisms through a physical process. When bacteria, viruses and protozoa are exposed to germicidal wavelengths of UV light, they are instantaneously rendered incapable of reproducing and infecting.
"The process adds nothing to the water but UV light, has no impact on chemical composition or dissolved oxygen content, and does not create disinfection byproducts."
Also, he adds, UV inactivates chlorine-resistant protozoa, most notably Cryptosporidium and Giardia which increase the potential for drinking water contamination in rivers and lakes.
He says Trojan's first municipal installation was a wastewater plant in Tillsonburg, Ont.
"Today, there are over 11,000 municipal TrojanUV system installations across 100 countries, treating a collective flow rate of over 70 billion gallons every day," he says, noting while their systems are also used for drinking water, "the bulk of the water that is treated by TrojanUV equipment is wastewater."