TORONTO — The three developers involved in developing a new Frank Gehry-designed twin tower project at Ed Mirvish Way and King Street in Toronto unveiled new designs for the project at a virtual community meeting organized by the City of Toronto Feb. 9.
Gehry and members of his team, along with representatives of developers Great Gulf, Westdale Properties and Dream Unlimited participated in the event. As currently proposed, the West tower of the project is set to be 84 storeys and the east tower is 74 storeys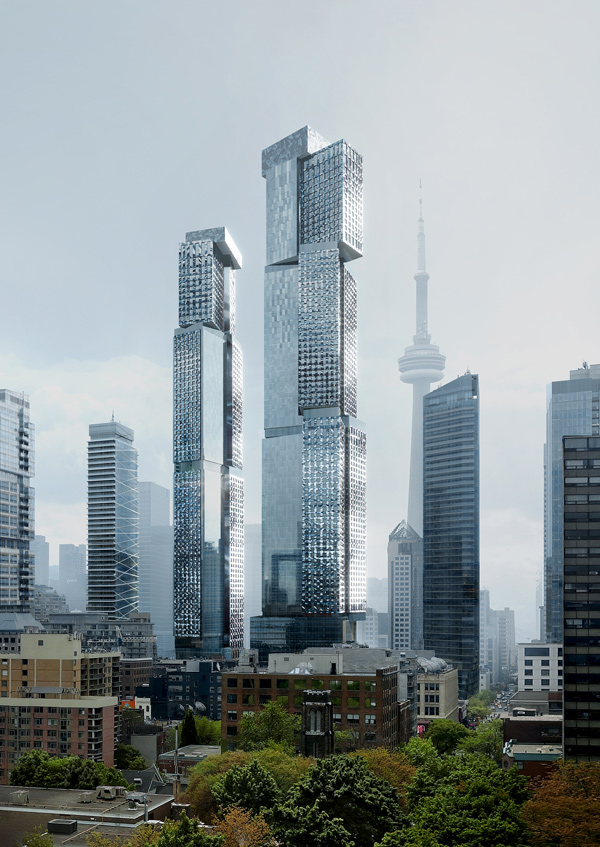 "This will be the most talked about mixed-use development in the history of Toronto and we're thrilled to meet with the public to share the design updates of an unprecedented architectural project," said Mitchell Cohen, COO of Westdale Properties, in a release. "This project represents a coming home for Frank Gehry to the city he loves and will be one of his most significant architectural achievements. He is the heart and soul of the project and it has been an honour working with him and his team.
"We're excited to be progressing in our goal to execute Frank's vision for the development of such an important site in downtown Toronto."
Upon completion, the west tower will be the tallest Gehry-designed building in the world. The development will include new space for OCAD University as well as commercial, retail and residential spaces.
Changes to the podium introduced Feb. 9 incorporate the facade of the heritage Anderson Building, which was built in 1915, the release noted.
The latest revisions to the design maintain both the height and density that were approved in a 2017 zoning bylaw amendment. The design updates include variances that reflect the changes to the massing and design intent for the project.
As a next step, the variances will be brought to the Committee of Adjustment for approval. A package was submitted to the city in December for review.
The buildings will be clad in a variety of energy-efficient materials and feature textured metal and glass facade.
"With this project, I wanted to create an ensemble of buildings that were respectful to the city and referential to the Toronto that I once knew," said Gehry. "I wanted the two towers to each have their own personality, but I also wanted them to talk to each other, creating a dynamic and changing addition to the skyline depending where you were viewing them from in the city."