Purolator plans to move 72,000 packages an hour through their new $330 million national super-hub in Etobicoke on more than 4.5 kilometres of conveyor belts.
Senior Director of Strategic Operations, Roger Alouche says the new plant should open in the fall and is in the final stage of installation now.
From the outside the super-hub looks like any other low-profile industrial building. What's different is its size — at total 440,000 square feet set on 62 acres of landscaped grounds — and the number of loading doors and the state-of-the-art equipment.
The plant itself is about 330,000 square feet and there are two other buildings, one to monitor transport truck traffic coming and going and the other for offices and a retail operation. There's also room for future growth.
Packages come in different sizes, including mail and some are designated dangerous goods and each is moved through at a different pace. Conveyables process at 48,000 an hour, mail at 15,000 an hour, non-conveyables at 4,000 an hour and dangerous goods at 2,000 an hour.
It's a major electrical-mechanical installation which takes packages in through 62 loading doors and starts the process of sorting them by destination to output them through 140 more loading doors on the other end.
In between there's a mass of high-tech gear from cameras which read the package labeling and direct them down the right channels to reach their destination. This will triple Purolator's capacity and is part of a $1 billion investment across Canada.
Alouche says the land was acquired in 2008 and planning for the facility began in 2017 and kicked up in January 2018.
"We're a 60-year-old company and we know we need to plan for the future," he says noting it seems visionary because the Covid pandemic has boosted on line sales and driven parcels to new heights across the globe but it's coincidental because the planning has long been in place.
Pomerleau is the general contractor and Janick Electric is doing the electrical installation and Turner Townsend are the project managers.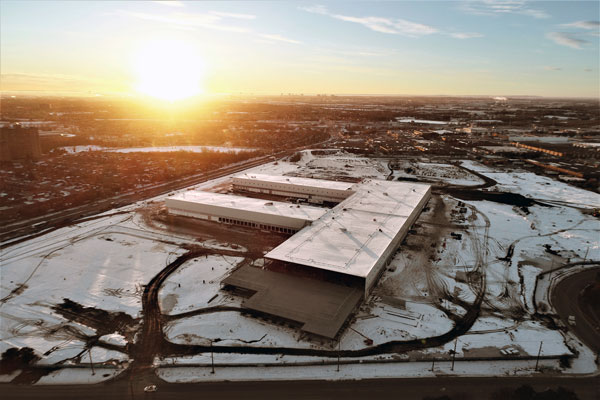 The equipment itself is digitally controlled via an AI algorithm and is provided by Siemens.
Essentially, incoming packages from the Greater Toronto Area and points beyond come into the plant and some are loaded by hand on to the conveyors with some decision making on size and destination.
One of the incoming doors houses a Siemens RUBUS system which automatically unloads up to 12,000 packages an hour pulling them onto the conveyor system as a mass intake.
From there the software takes over with packages physically separated by a Visicon, the label scanned, and automatic measuring & weighing equipment uses a light grid to detect their exact position and size.
They are then pre-sorted by multiple VarioRoute systems and loaded onto a VarioSort EXB cross belt sorter.
Parcels are logically sorted to the respective outbound destinations and dropped down the appropriate chute.
At the output end there are two installation types of VarioReach, which are telescopic conveyors which reach out as arms to load trucks.
However, the ultimate loading, is done by hand and often into a customer's custom container.
"We have a turnkey parcel logistics system," says Alouche.
The installation of the system with all it's automated controls, cameras, light grids, diversion gates is a complex job requiring not only power but also cabling to connect all the addressable devices to the back-end computer system.
He says the facility meets all the requirements for Toronto's green building codes including a white roof and planting of 1,500 trees and shrubs and the installation of a berm along the perimeter road to provide visual screening.