Like the incalculable number of trains which have rumbled across it since it was erected in 1938, a single-lane Canadian Pacific bridge spanning Highway 27 between Royal York and Martin Grove roads in the City of Vaughan Ontario has come to the end of the line.
Or more specifically, the bridge on CP's MacTier subdivision rail line — which extends from Toronto to MacTier — has reached the end of its service life.
In a joint $24.9-million joint Region of York/CP undertaking, it will be demolished and replaced with two adjacent 37.5-metre-long north and south bridges. The general contractor is Soncin Construction and the design consultant is WSP.
More than the structural condition of 83-year-old bridge spelled its demise. Also at play was the need for long-term planning to accommodate future vehicular and rail growth, says Region of York project manager David Atkins.
"Both bridges will be long enough to span a future six-lane Highway 27, which is four lanes now."
CP will use the new north bridge only until such time as they twin the lines in this corridor and when that occurs the second rail line will use the south bridge, he explains.
Construction started in December 2019 and will continue until spring 2022. The north bridge will be placed in the exact same location of the existing one, while the south bridge has already been installed 7.5 metres away and is now carrying trains.
Both are through-plate steel girder bridges on concrete abutments.
"While trail movement has not been impeded, a number of selective weekend highway closures have and will be required," says York Region project manager David Atkins.
The region is the project lead. However, CP has been involved throughout the detailed design and construction stages and is conducting its own track work, he says.
Erecting two new bridges and demolishing the existing one on an active rail line with between eight to 10 trains daily, requires intensive planning, co-ordination, and sequencing, says Atkins.
In the summer of 2020, the contractor began the construction of abutments for the south bridge. Using a 600-tonne crane sub-contractor Niagara Rigging & Erecting Co Ltd. lifted the fabricated steel girders into place in December. It was an operation which required a weekend closure of Highway 27, he says.
North Bay Ontario-based Central Welding & Iron Works was the steel detailer/fabricator.
Work on the installation of 800-metre-long detour track to that south bridge by a CP crew had started in November and then stopped for the winter shutdown. In early April of this year CP returned to the site and completed the track commissioning (or switchover) overnight on April 26-27 and that necessitated a five-hour halt to rail traffic, says Atkins.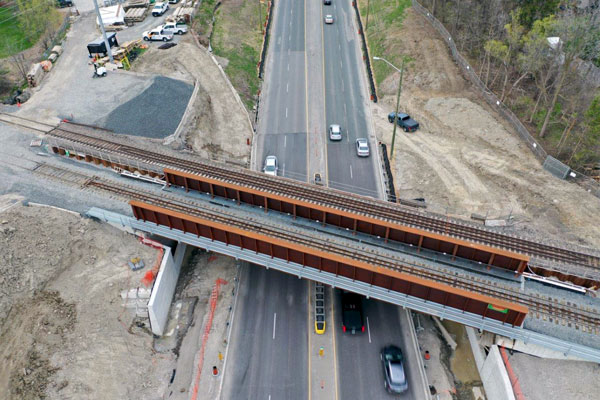 Demolition of the old bridge is scheduled for this August and, once it has been removed, construction of the new north (or main) bridge will get underway. Once that bridge is operational, train traffic will be reverted back to it. At this point, fabrication of the girders is about 25 per cent complete, says Atkins.
The need for a longer bridge was first identified in a 2011 environmental assessment study which examined future transportation requirements in the west half of the City of Vaughan. Planning for the demolition/replacement began in May 2014, with detailed design by WSP starting the following April, he says.
However, in the planning negotiation stage CP advocated for two bridges in anticipation of the time the rail line corridor will eventually be twinned, says Atkins.
"That (the expansion) will be very long term."