At a carefully staged road widening project in southwest Kitchener, Ont., a team of archaeologists and several Indigenous field liaison representatives are as critical to the project's success as truck drivers, heavy equipment operators and labourers.
The project is a planned three-kilometre-long, four-phase widening of Fischer-Hallman Road from Bleams Road south to Plains Road to meet traffic demands in that area.
But this is not a traditional, straight-forward road widening for Waterloo Region, consultant Associated Engineering, and Capital Paving, the first phase contractor.
Fischer-Hallman Road is the site of a massive and intensive archaeological study that has uncovered thousands of Indigenous artifacts, which are hundreds of years old and, in some cases, dating back more than three millennia. And the investigation is only at the half-way mark.
In 2016, an archaeological investigation on private property to the west, as part of an unrelated development, uncovered significant indigenous artifacts including evidence of a village site, says Waterloo Region project manager Justin Armstrong.
Archaeological assessments are required to be completed as part of developmental processes and, because the village site had been identified on the private lands, the region knew there was there was high potential the village site would also be within its property and that has now been confirmed, he says.
In May of last year Fischer-Hallman Road was closed from Bleams Road south to Seabrook Drive was closed so that Wood's archaeological assessment could be conducted undisturbed, he says.
More than 40,000 artifacts in east half of the road corridor were discovered and catalogued and are now being analyzed, says Barbara Slim, associate archaeologist with Wood Plc.
The consulting engineering firm conducted a top-tier Stage Four Assessment, a process which required excavating 800 one-square metres of soil and then sifting the soils through small meshes to recover any artifacts, she explains.
Some of the finds included pottery, clay smoking pipes, chipped stone drills, arrowheads, darts, knives, blades, and scrapers; faunal bone from deer, beaver, turtles, and fish; plus stone beads and bone jewelry. Most of the objects were connected with a Late Woodland Iroquoian village site which probably existed from approximately 1350 to 1600, says Slim.
"Amid several immovable soil 'features', our team discovered remnants of fire pits, refuse deposits and wooden posts used in traditional longhouse dwellings. Soil samples even led to the discovery of 600-year-old carbonized corn and beans."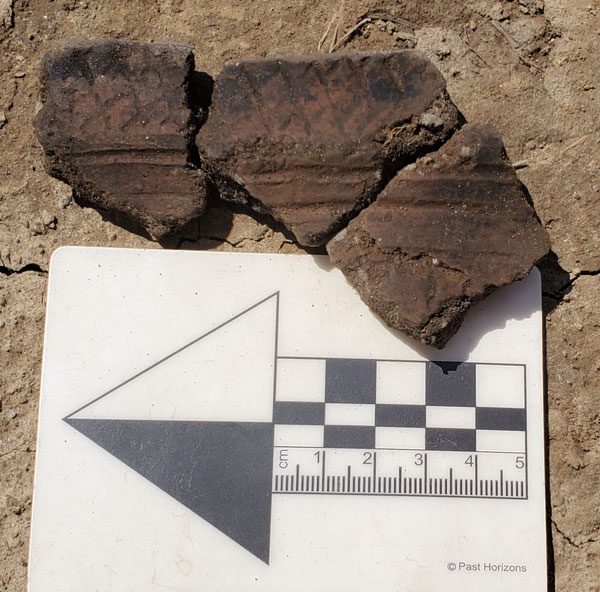 Asked why a First Nations group would have lived in the area, Slim says the presence of a nearby creek would have been a very important resource area where people returned seasonally and eventually established a permanent settlement.
However, there is evidence that Indigenous peoples passed through the area more than 2,000 years before the village was established. Several projectile points dating to the Late Archaic period from approximately 1900 to 1500 BC were also discovered, says Slim.
Near the end of last year Wood received clearance from the Ministry of Heritage, Sport, Tourism and Culture Industries that the objects from the eastern portion of the right-of-way had been removed and shifted its investigation to the west side of the road corridor.
The site is fenced off and team of Wood archaeologists and field technicians are working with several Indigenous field liaison representatives who are monitoring the excavation, says Slim.
Constructing a road through a rich archaeological resource area has required a phased approach, says Waterloo Region's Justin Armstrong.
A twin box culvert was installed at Strasburg Creek to south between May to August of last year. Following the Ministry of Heritage's clearance for the eastern half of the right-of-way in November, the contractor installed two temporary lanes allowing the road to be partially reopened to traffic.
Then, in April, the contactor began the construction of a new roundabout at the intersection of Fischer-Hallman Road and Bleams Road. This is well away from the excavation work being carried out by Wood, he says.
The archaeological investigation is expected to be completed later this year and, once Heritage Ministry clearance is issued for the western half of the right-of-way, the road widening will commence, says Armstrong.