CityHousing Hamilton and a host of partners celebrated the completion of the 18-storey Ken Soble Tower retrofit job in the Ontario city recently, paying tribute to the landmark project as one of the largest Passive House retrofits in North America.
Built in 1967, the seniors residence is the oldest highrise in CityHousing Hamilton's portfolio and was falling into disrepair. After weighing options the agency opted for the Passive House program for a retrofit and at the Sept. 24 ribbon-cutting ceremony speakers praised the vision and results, which include a 90-per-cent-plus reduction in greenhouse gas emissions.
At its peak, the total energy needed to heat or cool each unit will be equal to the energy needed to run three 100-watt incandescent light bulbs.
Hamilton-area MP and recent federal minister of labour Filomena Tassi said in her remarks that the job, which will serve as a pilot for Passive House tower retrofits, checks off several government objectives.
"Helping seniors live well and in dignity, creating more affordable housing and achieving ever higher levels of sustainability in construction and operation, in fact this retrofit aims to achieve 75-per-cent energy savings, and a reduction in carbon emissions of 94 per cent," said Tassi. "That is why our government came to the table with an investment of $17 million of loans and contributions to make this happen."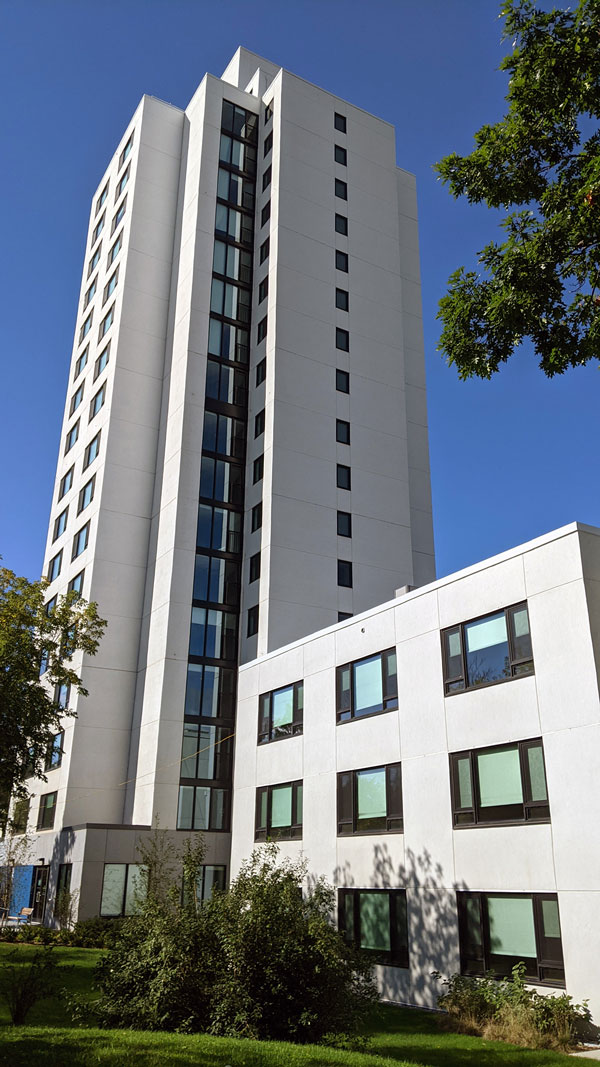 Design and construction collaborators included ERA Architects, PCL Constructors Canada, Reinbold Engineering Group as mechanical engineer, Entuitive Corporation as building envelope and structural engineers, Nemetz (S/A) and Associates as electrical engineers and JMV Consulting as Passive House consultant.
"It was not rocket science, it's not a high-tech solution," said ERA principal Graeme Stewart. "The whole philosophy around Passive House is familiar types of building, getting familiar products, using familiar building techniques, and just doing it to a very high quality. That's what was demonstrated here."
The renewal is designed for a changing climate, using multiple temperature projections to ensure thermal comfort into the future. A five-stage cooling strategy included glazing with a low solar heat gain coefficient and a decentralized cooling boost through a variable air volume unit activated by in-suite controls.
A typical wall section achieving R-38 effectiveness contains over a dozen air-tightness features including AWB flashing, silicone transition strips, galvanized steel girts and fibreglass cladding clips.
While a lot of the products are "off the shelf," Stewart said, "You need people to be familiar, you need certified trades, you need products where people understand how the components come together."
Stewart said while the Hamilton project was a first, there have been thousands of Passive House buildings certified in the past 30 years around the world. The system's strengths, he said, include simplicity, vigorous testing at all stages of a project and significant wellness standards.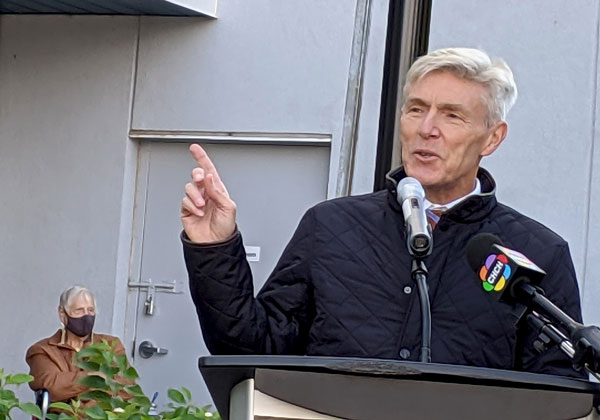 "The biggest contributor to this working as planned is air tightness," said Stewart, who suggested Passive House seems to be "having a moment" among sustainability certification programs.
"We did a whole series of air-tightness tests throughout construction on a unit-by-unit basis and then the floor basis and then the full building test, which is part of the final construction certification, and they all not only passed with flying colours but beat the design by about 300 per cent."
PCL undertook extensive thermography to identify thermal anomalies that would be the result of air leakage, thermal bridging, missing or wet insulation or other problems. The tests ensured high-performing glazing assemblies and the absence of thermal bridges.
Earlier in the week, four PCL managers discussed the project at the Passive House Tower Retrofit symposium. PCL building envelope engineering specialist Lori O'Malley said that so much has been proven with the Soble project and others being undertaken across the country that Passive House standards are becoming attainable for all projects.
"In my opinion, we can actually apply them to all of our new construction projects as well as revitalization projects," she said.
Stewart acknowledged given that it was a pilot project, efficiencies were learned as the project went on.
"I think it's completely reasonable to say that there was a novelty premium," the architect said.
But now, Stewart said, "I think we're at a point where, let's do 10 more and doing 10 more, we'll be able to do it better, faster and cheaper each time because of that familiarity and knowing how things work."
CityHousing Hamilton CEO Tom Hunter said the project will become known for success across the spectrum.
"This is a building that's going to have social impact. It is going to have impact socially, economically and environmentally, all of these challenges that we face moving forward," said Hunter.
"And this is a building that I hope that will shift the conversation about affordable housing as a liability to affordable housing as a cutting-edge landmark."
Follow the author on Twitter @DonWall_DCN.