KING, ONT.—Priestly Demolition Inc. (PDI) has won a 2021 World Demolition Award at a summit in Chicago for a remote mine project in northern Ontario that took some creative planning to get to.
More than 50 projects and products from 36 companies were presented with awards from a record number of entries. Priestly won in the category of contract of the year over US$1 million.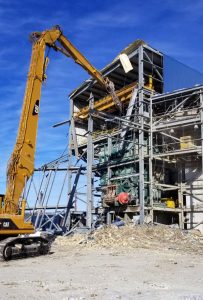 The winning submission was for the Debeers Victor mine demolition, a remote fly-in/fly-out project located in the James Bay Lowlands of northern Ontario, approximately 90 kilometres west of the coastal community of Attawapiskat First Nation. The closest urban centre to the site is Timmins, Ont., which is 515 kilometres away.
The project posed major challenges from its planning to its execution, indicates a release from PDI. Some key considerations were:
Remote location with no access roads and harsh weather required extensive planning and contingency plans.
Hercules plane program was developed to fly in all the necessary machines, equipment and materials to site.
Personnel had to be flown in on weekly-chartered flights. Crews worked on two-week rotation shifts, seven days a week, 12 hours a day.
PDI worked with Indigenous communities offering employment opportunities.
Strict manpower clearance requirements meaning the employees accessing the site needed to undergo a full medical assessment and be security cleared prior to arrival. Additionally, a strict COVID testing and prevention program was implemented with not a single positive test in the duration of the project.
All the material that could be recycled was processed onsite and is scheduled to leave the site via ice-road at a later date.
Job was completed ahead of schedule and under budget.
Zero recordable incidents in 88,571 man hours.
To view a short documentary of the project on YouTube visit https://www.youtube.com/watch?v=3O2YeQ2l0L8