Timber framing is generally associated with residential construction but there are plenty of reasons it should fly in the commercial sector.
If only more owners knew about it.
"I think the biggest thing for commercial is making people aware that they can do it," says Tim Buhler, technical manager with the Ontario Wood WORKS! Program, part of the Canadian Wood Council (CWC).
Many developers of anything from a small retail shop to a six-storey office building don't realize they could build the structure in timber and still get the same environmental benefits of a residential building constructed in timber.
Buhler, who gave a webinar presentation on timber in commercial applications at Timber Talks, a series presented by the Wood WORKS! Program, says it is an option he hopes more owners will consider.
"The potential is huge. There are not many restrictions in the building code for these types of buildings (and) the esthetic and environmental appeal is getting more traction."
In late November the CWC will release a lowrise commercial timber guide to help owners who want to build a wood building but don't want to design it from scratch.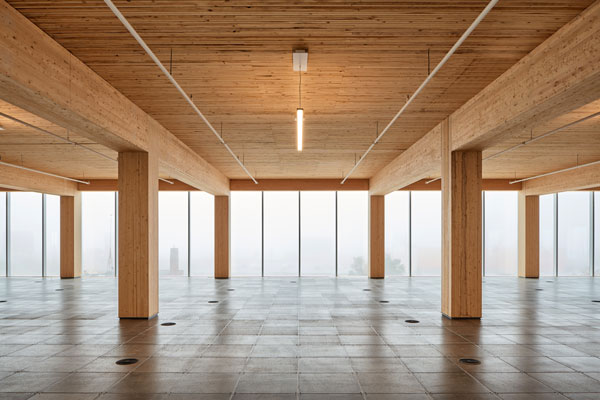 The document will include the types of products and how to use them and it will include structural drawing examples.
Essentially, the guide will provide pre-design examples, as is commonly done for steel and concrete structures, that can be tweaked to an owner's requirements, be it for anything from a small retail shop to a several storey boutique hotel.
The CWC document contains six categories, including: single-storey retail big-box in mass timber; an office and retail front; and a large office building;
It also contains three lightwood frame options including: single-storey retail; a large warehouse and adjoining office; and a large office and adjoining warehouse.
Buhler says Quebec is a leader in the commercial mass timber market where hardware and furniture stores and even a supermarket have turned to the medium for its esthetic and environmental appeal.
The 2020 edition of the National Building Code of Canada that allows up to 12-storey structures in mass timber will be released soon, but Ontario isn't expected to adopt the code for a while, Buhler says.
That doesn't mean the province won't continue to see tall mass timber projects accepted under "alternative solutions pathways" to the building code.
"The interest is definitely there. We've had developers reaching out to us, looking at eight storeys, 10 storeys all over the Toronto area and other parts of Ontario."
There are several high-profile tall mass timber buildings already in the works including a multi-storey tower on the University of Toronto's main campus and a flagship centre for George Brown College.
Buhler says while developers have been discouraged by high construction insurance premiums paid for mass timber structures, the CWC is working with the insurance industry to ensure it has all the facts before setting rates.
He points out many insurers are in the dark around mass timber projects, largely because it is a relatively new building material and has seen few claims to date.
With the right design/building team, Buhler says mass timber projects price out on par or a slight premium to concrete and steel.
In other areas, the benefits of wood — particularly mass timber — override any negatives. The best example might be speed of construction, especially in prefabricated mass timber projects which can be built weeks to even months faster than concrete.
"It can be especially important for the commercial sector…you get your store open quicker or your hotel rooms renting faster. It can also reduce your insurance premiums because you have a tight schedule."