A proposed 40-storey hybrid wood tower in Vancouver, possibly the tallest in the world, still needs to clear neighbourhood planning approvals and complete design refinements, but the city is "quite enthusiastic about the project," largely for its low-carbon and high-performance attributes.
So said Peter Moonen, the national sustainability manager of the Canadian Wood Council, during a seminar on mass timber systems for tall buildings recently at the Buildings Show in Toronto.
Vancouver is not alone in its support for the project called "Canada's Earth Tower."
Natural Resources Canada through its Green Construction through Wood Program sponsored a design competition for the building. It hopes to spur innovation in the sector developing wood systems for tall buildings, Moonen told the seminar audience.
Sidewalk Labs's (SL) submission was selected over two other finalists, each given $50,000 for full-scale mockups of next-generation panelized systems.
Moonen said the winning entry is a kit of "plug and play" parts that follows some of the design and assembly principles advanced by the auto manufacturing sector. SL's submission covers bath, kitchen and bedroom pods but its prime focus is of the curtainwall system on the facade panels.
The winner's panelized wood system was the "most precise" of the three — a key objective in tall wood buildings because "any errors or mistakes are compounded as you go up," he told the audience.
The competition criteria required that the panelized system be open source (non-proprietary) so any company can use it or improve upon it.
Moonen said both of the other finalists, Element5 and the now-defunct Katerra, provided sound designs.
The 40-storey tower by the Delta Land Development in collaboration with architectural firm Perkins+Will is striving for Passive House certification and a zero-carbon standard.
Moonen said among the evaluation criteria of the competition was that the cost of the structure would have the same value as constructability, thermal performance, esthetics and design. That's unusual in the industry where structural costs can represent up to 50 per cent of the criteria for approval.
He said a building's structural materials represent at best only 20 per cent of a project's costs.
As the industry moves to green-friendly designs, materials and construction methods, Moonen sees buildings judged not just by their construction costs but also their environmental impact, socio-economic benefits, durability and livability, summed up as a development's "value proposition."
"People who have figured out how to do wood competitively have some consideration for the value proposition of building with wood."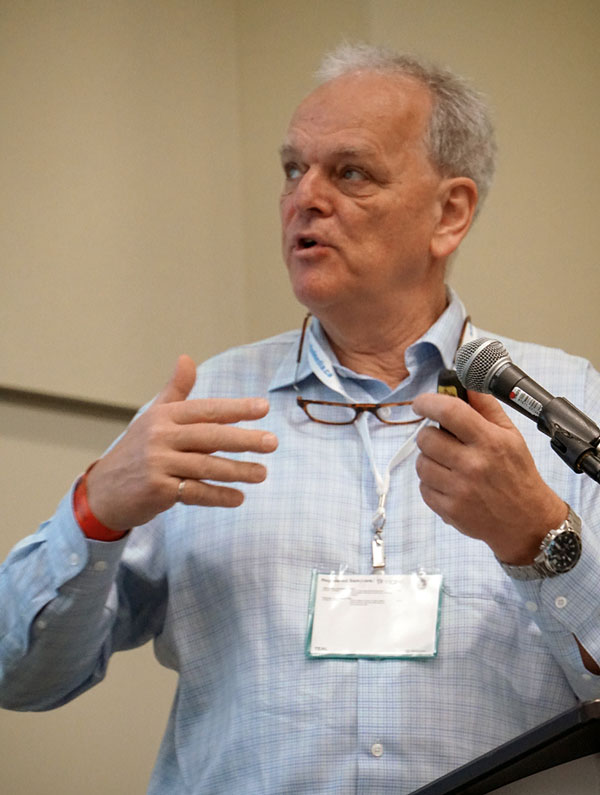 He told the seminar that a key advantage to mass timber in tall towers is the speed of construction made possible through repetitive component assembly designs. A case in point is the 18-storey Brock Commons tower completed on the University of B.C.'s campus in less than 10 weeks.
Mass timber curtainwall facades for tall buildings are suitable not just on wood structures but also on concrete and steel ones.
"There is a real opportunity for them there," Moonen told the audience, adding he knows of three companies looking at prefabricated wood panels for exterior walls only. "It can add an element of beauty, of performance."
He told the audience as long as buildings are built, "you as designers, builders and engineers have to understand how to merge wood, steel, concrete and masonry into a building that is cost-effective, high performing, low-impact, beautiful and desirable by the people who are going to occupy it and live near it."
Adding that embodied carbon (a key benefit to mass timber) will likely be embedded in building codes in the next decade, Moonen noted as of 2017, the City of Vancouver required all city developments to have an embodied emissions report prior to rezoning approval.
Moonen's seminar was sponsored by the Ontario Building Envelope Council.