A 27-year-old civil engineering student at the University of Waterloo has caught the attention of mass timber engineering and design professionals in Europe through his design proposition for a seven-storey teaching and lab research facility for engineering students.
Tyler Hull was presented in Cortaccia, Italy, with the top prize in the student category of Build the Impossible, an international competition organized to increase visibility around the world to mass timber innovation.
The contest was created by mass timber expert Peter Lang, a partner at Rothoblaas, a global supplier of screws and fasteners for modern timber construction.
Hull's proposed University of Waterloo campus project, which faced stiff competition from Austrian and Swiss counterparts, employed Rothoblaas's new spider and pillar flat plate system in tandem with long-span hollow-core timber panels which he has been researching at the university.
His proposal calls for a campus facility consisting of two towers on either side of a main foyer.
Using efficient hollow-core panels for long spans eliminates "big beams and load bearing walls that block mechanics, partitions, things like that," he says.
Not requiring glulam beams in a supported column load is a materials cost saver and reduces the tab for mechanical and electrical.
"I really want to push timber's adoption and work to solve industry problems hindering it," says Hull, who is conducting his research with several fellow grad and undergrad students.
"This is an award-winning product that Rothoblaas is very excited about for the future," says Brock O'Donnell, technical sales representative with Rothoblaas.
While his submission is merely "a thought exercise to show the university that we don't have to default to concrete or steel," the student sees timber as a real possibility for future campus buildings.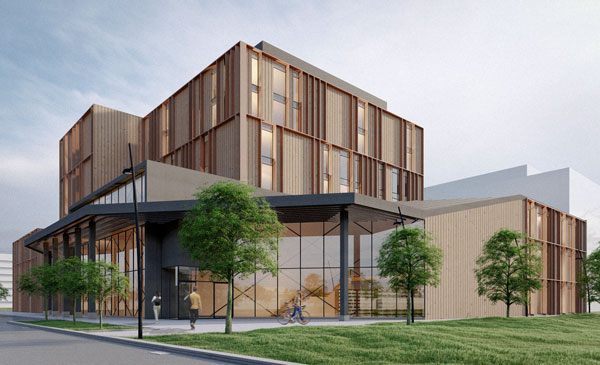 One of Hull's objectives in the contest was to show that seven-to-14-metre spans can be achieved using hollow-core panels. Solid panels of cross-laminated timber or nail-laminated timber by comparison are heavy and reach efficiency limits at about seven to eight metres, preventing their specification for Class A office projects that typically require nine-by-nine-metre grids, he says.
His use of long-span hollow-core panels has caught the eye of Ontario-based timber manufacturer Element5.
"We have to figure out how we're going to join this, with glues, fasteners…and they have really seen the potential in it and see a market need for something long-span like this."
Hull's project is being done through START — the acronym for his Structural Timber and Applied Research Team — which includes a handful of grad and undergrad civil engineering students and a university supervisor.
Hull isn't the only one interested in hollow-core panels.
The design team behind a three-storey office building going up in Kitchener-Waterloo has specified the innovative panels but the project team there had to provide an alternative solution to meet building code compliance, he says.
"They had to go through building a mock-up, do testing on it…to get approval," he says, noting he hopes through diligent research that hollow-core designs will be accepted in the building code one day.
Hull, who didn't expect to win the contest because stiff competition came from European countries where mass timber technology is building a credible reputation, says his interest in mass timber probably stems from being raised in a farming community where working with wood was common.
"I think it sparked an innate connection with the material for me."
The winner in the professional category of the Rothoblaas competition was Austrian RWT Plus, the team behind the design and construction of a 24-storey mass timber building in Vienna, billed as the tallest wood building in the world.