TORONTO — Canderel has issued an update on its two properties at 900 and 908 St. Clair Ave. W. in Toronto.
The first building of the St. Clair Village project, currently under construction at 900 St. Clair W., reached a milestone last month with the completion of the ground-floor ramp. The second-floor slab was nearing completion and next up was installation of building fly-forms.
Reliance Construction is the project manager for the 12-storey, 122-suite mid-rise building which will have co-working spaces and retail at grade. The project was designed by BDP Quadrangle Architects.
Nearby, at 908 St. Clair W., Candarel has launched the second phase of St. Clair Village, a boutique 12-storey residential project that will feature four two-storey townhouse units with direct street access.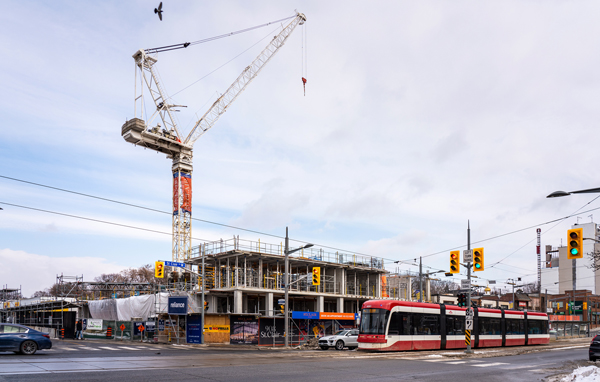 The second building was designed by TACTS Architecture with interior design by DesignGenics.
"Characterized by clean, straight lines and natural materials, the building is not an attention seeker but has a subtle, sophisticated design that respects the masonry character and privacy of surrounding homes," said Prishram Jain, principal at TACT, in a statement. "While it is a new building, it will feel as if it has always been there."
Amenities will include a lobby with 16-foot ceilings and a stone fireplace that will serve as a co-working space in the day, a private dining room, gym, 2,800-square-foot fire pit and barbecue lounge on the fifth floor and stargazing terrace on the 10th floor.
The residential suites will feature nine-foot ceilings with the option to combine suites to create larger homes. The suites will run from studios to three-bedrooms plus den starting from $600,000.
"The St. Clair West neighbourhood is one of my favourite pockets in the city. It's a tight-knit community, surrounded by great schools, parks and eclectic main street retail, while also being close to some of the city's most coveted areas, such as Cedarvale, Wychwood and Forest Hill," said Ben Rogowski, COO of Canderel.