While growing up in Guelph, Ont. Lee Piccoli was very familiar with the W.C. Wood fridge and freezer plant on the banks of the Speed River on the periphery of downtown.
"This site's history mirrors the history of the city," Piccoli explains. "It started as a grist mill, then was a distillery and then became a manufacturing facility. W.C. Wood was the largest employer in Guelph. The site has significance to the whole city."
By the time the Albert Street plant closed in the late 1990s, Piccoli had started a residential construction company, Fusion Homes. He would often drive by the vacant factory and its eight-acre property, envisioning how he'd redevelop the industrial site.
However, he never imagined he would one day own it and spearhead a $350 million redevelopment that includes a heritage restoration and a five-phase, mixed-use community. The development, called The Metalworks, is providing new public spaces and a place where people can live, work and play.
A new 50-foot-wide river walk connects the development to downtown and the residents of its condos and townhomes are less than a kilometre from the GO Transit and Via Rail station.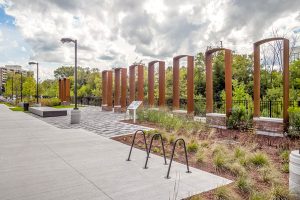 When the factory site came up for sale in 2010, the remediation of the brownfield was beyond Fusion Homes' scope, so it was purchased by Kilmer Brownfield Management Ltd. Kilmer carried out the process that involved protecting the heritage buildings, removing decayed infrastructure, disposing of contaminated soil, replacing sewers and adjusting elevations. Kilmer received a $3.4-million brownfield redevelopment grant to recover up to 80 per cent of eligible cleanup costs over a 10 year period. Fusion bought the site from Kilmer in 2011.
When the city updated its official plan and created a downtown secondary plan to identify sites that could accommodate increased commercial and residential density, Fusion's site was one of them. A brownfield Community Improvement Plan provided financial incentives to developers and Fusion was approved for grants of up to $11.7 million over 10 years for downtown renewal and brownfield cleanup. Developments such as The Metalworks have helped Guelph become an example of the positive effects of the province's growth plan on mid-sized cities' downtowns, developed to curb sprawl and create vibrant downtown neighbourhoods.
Although the remediation work had been completed when Fusion bought the site, the challenges were far from over. While trying to get the site rezoned for the development Piccoli envisioned, there was pushback from neighbours.
"We sat down with the neighbourhood group and none of us wanted to see an empty factory on the land. The relationship went from slightly confrontational to incredibly collaborative."
The height of The Metalworks buildings was an issue for the neighbours, and their top priority was access to the river.
"From our standpoint, we wanted to provide access to all residents," says Piccoli. "Being able to connect the river walk with downtown and the existing trail system was incredible."
While Fusion's plan for the site included five condo and townhouse buildings 10 to 14 storeys in height, Piccoli says he didn't know what to do with the 200-year-limestone and wood beam 39,000-square-foot heritage building. He invited Sleeman Breweries founder John Sleeman, who was looking to start a craft distillery in the area, to tour it. When they discovered a trap door in the floor and a crawl space with three huge copper barrels tucked away, Sleeman realized bootleggers stored liquor there during prohibition.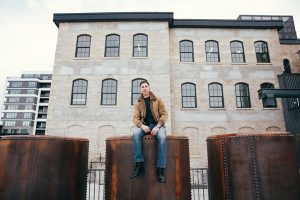 "He said, 'I need to put my distillery here,'" Piccoli recalls. "That kick-started the restoration of the building. We'd never done a heritage building before and you don't know what you getting into until you're into it."
Fusion had to reach an agreement with the city's heritage committee for a restoration plan, and it took some effort to find a compromise on what should be restored and to what level.
"The heritage folks obviously wanted it restored perfectly to how it was 200 years ago and the budget perspective to do that is a challenge," Piccoli says.
The building was stripped back to its core elements, supporting beams and columns added and it was adapted for use as a distillery.
Some original windows were protected and new ones added to match the originals. The partially dilapidated building was fully restored, with new additions on the east and south sides. About 80 per cent of the building has been leased by Sleeman's Spring Mill Distillery while the rest contains office suites and space for a future restaurant. Two condo buildings have been completed (10 and 11 storeys) and a third 12-storey tower is soon to be fully occupied, with two more to come before the development is completed.
One of the major heritage elements, a brick wall along the river's edge, had to be removed due to structural issues and to give better access to the Speed River. But where it stood, a series of oxidized metal windows with the same shape, size and spacing have been placed to give the same feel.
A host of consultants have been involved in The Metalworks, including Kirkor Architects and Planners, Valdor Engineering, structural engineer Jablonsky, landscape architect Land Art Design and heritage consultant ERA Architects.
The Metalworks has won several awards, including in 2019 when the project was recognized at Queen's Park by the Ontario Association of Architects for part of a World Architecture Day celebration at an exhibition. Fusion Homes also received the Gordon Couling Award for Heritage Restoration from the Architectural Conservancy of Ontario Guelph-Wellington in partnership with Spring Mill Distillery for the restoration and creation of a landmark destination.
Piccoli's company's most ambitious project before buying The Metalworks site had been one four-storey building.
"Sometimes it's better to be a little naïve," he says, acknowledging at the time, he had more ambition than capital to achieve his vision.
"We loved doing this mostly from the standpoint on the impact we were able to make in downtown. From a company vision perspective, when we look at land, we are really imagining the impact it will have on the community and that's what gets our people inspired. We definitely want to do this again."